I want to say a great big "Thank You" to my lovely July sponsors.   From wedding planners to artists to positivity pioneers, they are quite the fabulous and eclectic group.  Just read their stories and you're guaranteed to crush hard on each and every one of them.
Allison Nance of Blessed Events Weddings
My name is Allison Nance, and for as long as I can remember, I have always loved entertaining and creating a beautiful atmosphere in which people could celebrate and enjoy each other. Pairing this with organizational excellence, the support of my family, and some plain hard work, I founded Blessed Events in 2009. Since then, we have been recognized as an award-winning wedding planning business based in Houston, Texas and have had the privilege of planning weddings worldwide!
Whether you envision your wedding as being stylish and modern or tender and traditional, Blessed Events will assist you in transitioning your wedding wishes from dream into reality. From budget management to napkin folds, every aspect of your wedding will be coordinated in-depth and to your desired outcome. Offering a variety of services with unparalleled personal assistance and attention to detail is what sets Blessed Events apart from the rest, but seeing the joy on your face and those of your family and friends is what makes us love what we do.

The Radical Uprise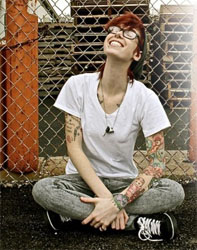 Jetta Vegas is a crusty, queer weirdo currently dwelling in Seattle. Another PMA blogger writing about how awesome life is and how you should jump on the bandwagon, Jetta provides you with seven ways to kick the week's ass, every week, as well as gentle reminders to brush your teeth daily. She takes pictures of her food, watches movies with the subtitles on and thinks you're great.
Jetta is giving Kisses & Chaos readers 15% off their entire purchase in The Radical Uprise store. Just use the coupon code "kissesandchaos" at checkout.
Tenpenny Splendid

Hi! I'm Jess, the girl behind Tenpenny Splendid. I'm 24, a graphic designer, and a grad student living in sunny Philadelphia. I'm also a foodie in training, a crafter, an artist, an entrepreneur, and a girlfriend to the best guy in the world. My boyfriend, Charlie, is a photographer and taught me everything I know about photography. We have been dating for over 5 years and are still going strong!

I love meeting new people in this little blog world of ours so don't be shy, drop me a comment so we can get to know each other!
Shibby Fashion

My name is Gem, I have crazy coloured dreadlocks and I'm a fashion graduate with a love of all things twisted. I love anything out of the ordinary and I adore people who aren't scared of dressing up and standing way out from the crowd. My design work totally reflects this ethos. I try to be as eco-lovey as possible wherever possible, whether it's recycling fabrics/clothing, using organic products or just being very aware of waste by trying to re-work any scraps of fabric back into garments or accessories.
My inspirations? Japanese Street Fashion, anime, historical costume, pirates, Tim Burton movies and anything that is either really cute or totally macabre (preferably a mix of both). I adore Tim Burton for his amazingly creative mind, Alexander McQueen and Vivienne Westwood as amazing designers/artists and my style idols are Gwen Stefani, Lady Gaga and Helena Bonham Carter.
Fizzy Pop Vintage

Make sure to stop by their sites and give 'em some Kisses & Chaos style lovin'.
Kisses & Chaos,
Alli Woods Frederick
PS – If you're interested in becoming a Kisses & Chaos sponsor click here for details.  Not a business owner but still want to help support Kisses & Chaos?  Find out how you can give your support and love and help Kisses & Chaos goodness a flowin' by clicking here.