*TRUE BLOOD TUESDAY ON A THURSDAY?  YES.  BECAUSE I'M WILD LIKE THAT (AND BECAUSE MY COMPUTER WAS BEING A PAIN IN THE ASS ALL WEEK).  BETTER LATE THAN NEVER.  SPOILERS FOLLOW.  YOU HAVE BEEN WARNED.*
THE BUDDHIST MONSTER
THE bad seed, the pretty and pretty f'ing horrible villain we all love to hate, Sarah Newlin, is back and is running for her narcissistic, psychopathic life.  As though being chased by the Yakuza (who are not to be toyed with) isn't bad enough she now has Eric and Pam on her ass.  I hope she has her affairs in order because I think her time on this earth is quickly drawing to a close.
I WONDER WHERE EX-CHRISTIAN, SOCIOPATHIC, GENOCIDAL, MEGALOMANIACAL, NARCASSISTIC, PSYCHOPATHIC MONSTERS GO WHEN THEY DIE?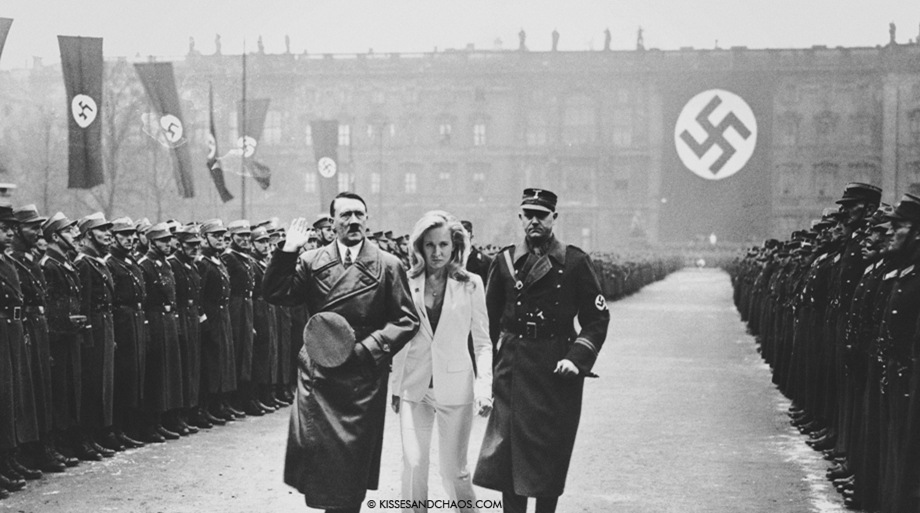 Yeah, you're right…probably hell.  That's what I was thinking too.  I can easily envision the unbelievably spoiled, mind-blowingly self-righteous, egomaniacal, power-hungry psychopath seducing Hitler (my stomach turns at the thought) and luring him into her villainous web in a heartbeat while organizing the legions of the damned and their overlords to overthrow Satan…and she would not doubt succeed inside of a week.  She may be insidiously evil and completely obnoxious but I give her credit – that bitch is good at setting goals and getting sh*t done.  I'll give her that much.  If only she had used her powers for good she could have made a killing working the self-help/create your own success/how to be empowered seminar and retreat circuit.  Ah, well.
EVIL IS AS EVIL DOES.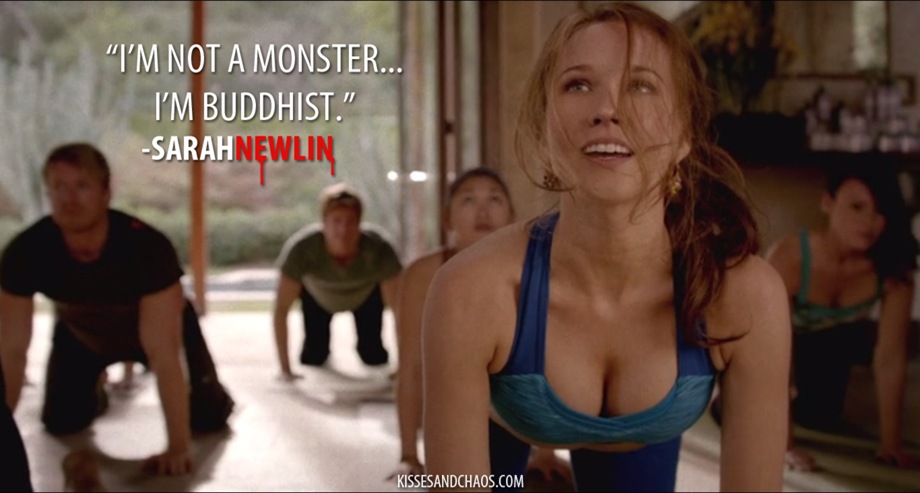 SWEET REVENGE
How deliciously perfect would it be for Eric to turn her…given her hatred of vampires it would be the worst punishment imaginable…and vampires wouldn't have to worry about her being immortal because she'd be infected by Eric's blood which carries the very disease she unleashed on the world; the unintentional creator of her own painful, terrifying demise with a big ol' cherry of self-loathing for what she's become on top.  Man I really hope that's how they wrap up her storyline…with glorious, glorious just deserts.
So what do you think about the chimera, Sarah Newlin? Do you think she's truly turned over a new leaf or is it just more of her power-hungry, delusional, I'll-do-anything-to-pretend-I'm-good-and-give-my-life-meaning (false though it may be) bullsh*t? Personally I think she's still a self-serving evil bitch. What about you?  Share your opinion in the comments below.
Kisses & Chaos,
Alli Woods Frederick
IMAGES  ::  TRUE BLOOD TUESDAYS ©2014 ALLI WOODS FREDERICK  ::  SARAH NEWLIN'S LIFE IN HELL © 2014 ALLI WOODS FREDERICK. ALL RIGHTS RESERVED.  ::  VIA TRUEBLOOD.NET  ::