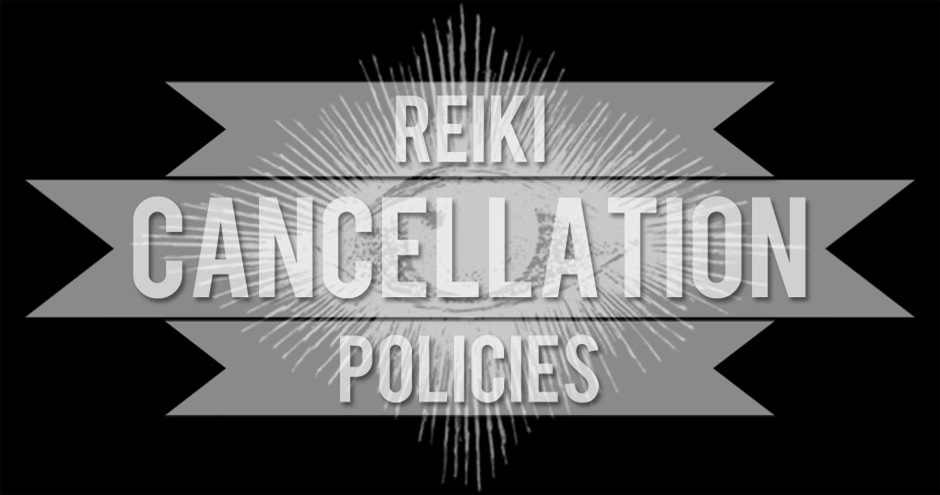 **NOTE: BY PURCHASING A REIKI SESSION OR REIKI PACKAGE YOU HEREBY AGREE TO ALL THE REIKI POLICIES REGARDING CANCELLATIONS, RESCHEDULING AND REFUNDS AS DISCLOSED BELOW.**
Due to some ongoing incidents it has become necessary to institute a cancellation/rescheduling policy for all reiki sessions.  Please read the following before booking your appointment and feel free to contact me with any questions:
CANCELLATION POLICY
*  Cancellations must be made at least 48 hours before your scheduled appointment date.  Less than 48 hours notice will result in the loss of your appointment without refund.   Exceptions will be made at my sole discretion for emergency situations.  That means what constitutes an emergency is up to your reiki practitioner (that would be me).
*  You are allowed one cancellation/reschedule per appointment (again, barring emergency situations which will be determined by yours truly).  A second cancellation for non-emergency purposes will result in the loss of your appointment without refund.
*  All cancelled appointments must be rescheduled within 72 hours of cancellation. This does not mean your session must occur within 72 hours, only that it must be rescheduled during that time frame. Schedule it two months from the day you cancel. That's totally fine.  But you have 72 hours to reschedule.  (Once again, this is barring emergency situations.)  Failure to reschedule within 72 hours will result in the loss of your appointment without refund.
* Obvious abuse of this system (as determined by me) with constant emergencies resulting in constant rescheduling will result in the termination of our client/reiki master relationship with loss of all appointments and without refund.
WHY ARE YOU INSTITUTING THESE POLICIES?  THEY SEEM PRETTY HARD-ASSED.  ARE YOU PUNISHING US?
I promise this is not a punishment.  It's establishing healthy professional boundaries that protect both you and me.
WHAT THE HELL IS THAT SUPPOSED TO MEAN?
When someone schedules an appointment, they aren't just paying for the services, they are paying for the professional's time.  Sadly, there are individuals who take advantage of this fact and constantly (and consistently) cancel and reschedule and cancel and reschedule and cancel and reschedule.  This is not only disrespectful of me and my time, but of you as well, since it takes appointments away from you, clients who do not abuse the system and would like to have a session but can't get in because people continue this cycle of cancelling and rescheduling.
I have put these policies into place not to punish anyone but to protect my business and my clients both old and new.
SO WHAT CONSTITUTES AN EMERGENCY?
I understand that shi*t happens and some things are beyond our control.  You can't help it if you blow a tire and are stranded on the side of the interstate during rush hour waiting for a tow truck.  I would never expect you to sit in your car on the side of the road and have your reiki session.  That would completely defeat the purpose.
Forgetting you had a manicure, deciding you want to do something else that day or have a business meeting that conflicts with your session is not an emergency.  You get the idea.
Exceptions will be made for emergencies but they will be made at my sole discretion on a case by case basis.  I'm not an ogre.*  It's okay.  But you need to let me know ASAP if there is an emergency and you will be unable to make your session.  If you don't cancel, your session will be conducted as usual – side of the road, or not.
*(Sorry to any ogres who may be offended by the previous statement.  It was very speciest of me.)
OKAY.  THOSE SEEM REASONABLE ENOUGH, BUT WHAT'S WITH THE 72 HOUR RESCHEDULING POLICY?  WHY DO I HAVE TO GET BACK ON THE BOOKS SO DAMN FAST?
Again, this has to do with boundaries.  This is primarily for my own sanity.  Plain and simple.  It would be impossible for me to keep track of every single client who has an appointment waiting to be rescheduled and who just sits on it for over an entire year, especially since some people procrastinate (which I'm totally guilty of, so no judgment).
Not to mention that in my many, many years of having my own massage therapy practice I learned that if clients don't reschedule immediately then they forget about the session completely, never reschedule and that's money wasted.  I don't have to tell you how much that sucks.
So it's easier for everyone involved to just make it a policy that you must reschedule within 72 hours of cancelling.  Again, I don't care if you schedule your session for two months from now.  That's fine.  It just has to be rescheduled within 72 hours.  It's not that complicated. (again, exceptions will be made for emergencies.  I sound like a broken record.)
SO WHY CAN'T I HAVE MY MONEY BACK?
As stated on the reiki scheduling/information pages, there are no refunds offered on reiki sessions, reiki packages or tarot readings.  All sales are final once the purchase is made.  This has always been the rule.  You are welcome to reschedule, but there are no refunds offered.  No exceptions.
I hope that clears everything up and puts us all on the same page (a good place to be when working together, don't you think).  Again, if you have any questions, just holler.
**NOTE:  By purchasing a reiki session or reiki package you hereby agree to all the policies regarding cancellations and rescheduling as disclosed above.**
Kisses & Chaos,
Alli Woods Frederick