IT'S no secret that tomorrow is Thanksgiving Day here in The States – a day dedicated to family and gratitude for all the blessings, both great and small, that we are fortunate enough to experience…and yes, family – be it a family born of blood or one we've built by bonds of loving friendship – is one of those blessings (even if it doesn't always seem that way; after all, what is a family without its little squabbles and annoyances?)
Loving and forgiving each other despite how much we may drive each other crazy is precisely what makes a family, regardless of what that family looks like, a family.  We suppress the urge to spike Know-It-All Cousin Nettie's wine with fast-acting laxatives and we keep on loving each other despite our shortcomings…because that's family.
Since this wonderful holiday of food, family and fun can be a little stressful I've put together a couple of things to make your day a little easier with these…
EASY AND FREE LAST MINUTE THANKSGIVING GOODIES!
"GIVE THANKS" RUSTIC WOOD GARLAND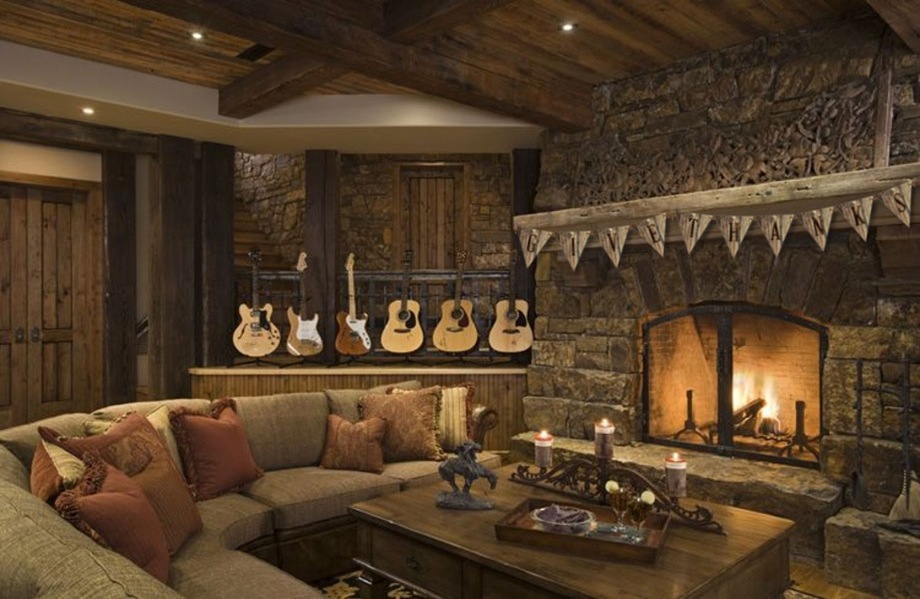 I created this easy to make barn wood garland for those of you who need a little last minute help with decorations for the day.  Just download the garland pdf here, print it on heavy weight paper or card stock (so the edges don't curl), cut out the pieces, punch out the holes in each corner, string it together with ribbon, raffia or baker's twine and hang it from anywhere – the wall, the fireplace mantel (do I need to tell you be mindful of any fires you light? No, I thought not…but I'm neurotic so it couldn't be helped)…you get the idea.  Super easy!
** BONUS:  FOR ANYONE THAT HAS THE TIME AND NEEDS SPARKLE AS MUCH AS THE AIR YOU BREATHE, YOU CAN TAKE A TINY BIT OF ELMER'S GLUE, USING AN ARTIST'S BRUSH, PLACE A SMALL AMOUNT OF GLUE (THE EDGES OF LIGHTER WEIGHT PAPER WILL CURL IF YOU USE TOO MUCH) IN A FINE LINE ALONG THE EDGES AND SPRINKLE GOLD, SILVER OR COPPER GLITTER TO CREATE A TWINKLING DECORATIVE BORDER TO EACH PIECE OF THE GARLAND.  **
PRINTABLE GRATITUDE LIST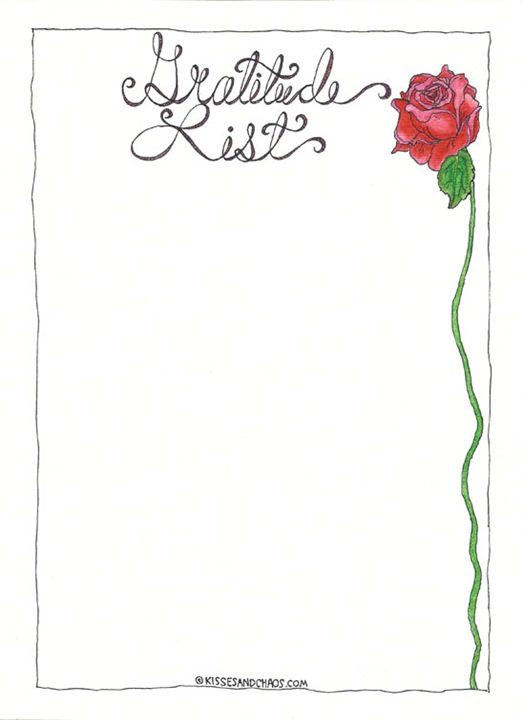 I created this free printable gratitude list for you to use as you see fit for the day.  I thought it would be perfect to give one to every person joining in your festivities and let them jot down exactly what they're thankful for and then everyone shares their list.
I intentionally left the sheet blank (instead of lined) so that the younger people who are present (or those who are more visual than verbal) can draw their list instead of writing it.  Not everyone is comfortable expressing themselves with words so make sure there are pencils and crayons available for the budding artists in your group so they can show you exactly what they are grateful for.
AND WITH THAT I'LL LEAVE YOU TO IT.
I hope you all have a beautiful day overflowing with love, warmth, compassion and, most of all, thankfulness.  Because, despite the hardships we each face, despite our burdens and our sufferings (because we ALL have them, each and every one of us – no one is exempt from troubles and hard times), there is always, ALWAYS, something to be thankful for, even if it's something as simple as being grateful for a slice of delicious apple pie – there's always something.  Always.
And in case you were wondering, tomorrow one of the things I will be (and am always) thankful for is you.  You are appreciated and loved and every day I think of how lucky I am to have such wonderful people share in this journey here on Kisses & Chaos.  So thank you, from the bottom of my heart, forever and always and Happy Thanksgiving to you and yours. Until next time…
Kisses & Chaos,
Alli Woods Frederick