Alli Woods Frederick is an artist, photographer, writer, reiki master, intuitive & zombie slayer extraordinaire.  She is also the art editor for All Things Girl Magazine.  Her feline companion, Mischa the Wonder Cat, is currently being considered for sainthood.  She has a deep and abiding love of fancy dress, Bruce Campbell, Bob Hope, Adam Ant, the 1930′s & tea parties.  She can quote "Dune," "Twin Peaks," "Star Wars," "Harvey" & "Buffalo '66″ word for word.  Whether or not that is a good thing or a creepy thing is undecided.  She has a borderline unhealthy obsession with ghosts, shoes, zombies, the deep south, England and glitter, though not necessarily in that order.  She is a tattooed driver of a Mini Cooper named Alice Tinker and her sunglasses are usually absurdly large.  Her dreams are hyper-vivid and she will tell you about them in great detail whether you care to hear them or not.  Her grandmother asked her when she was 2 years old if she "ever stopped talking," to which she replied "but I have so much to say."  That explains a lot.  You can find her love emanating throughout this universe as well as all parallel and imaginary ones…'cause it's all about the love, baby.
Her photography has been featured in
F-Stop Magazine
and
All Things Girl
and her writing has been featured on
HelloGiggles.com
and in
The Radical Uprise Issue #021: Grow/Create.
Her work is currently on exhibit at
Springbox Gallery
in Portland, Oregon.  To view more of her work visit
AlliWoodsFrederick.com
.  If you are interested in contacting her regarding her freelance work feel free to
shoot her an email
.  To schedule a reiki appointment click
here
or, for more information about reiki, visit the
reiki faq
page.  For details on where to buy her work, support Kisses & Chaos as well as her creative endeavors or snag some primo ad space at mind-blowing rates, please visit the
Sponsor & Support
page.
     Artist Statement: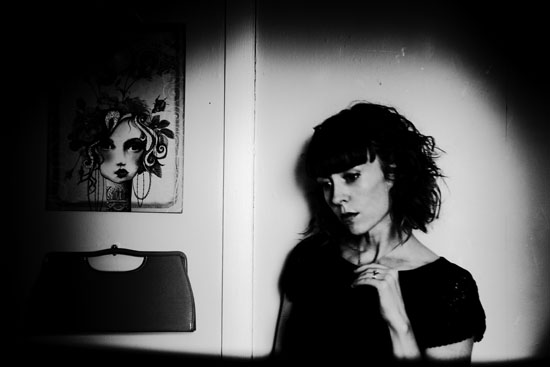 Photography mystifies me.  It is a record…a record not only of light but of time.  It takes a single moment and holds it in safe keeping forever. 
Photography is, by far, my favorite medium.  I love to manipulate the light to create my own dramatic universe where the past lives in the present.  There are no limitations.  The camera allows me to give my vision to you.
 Where You Can Find Me
You can usually find me fiddling around and posting random trivia, contests and photos of the day on my facebook page or twitter.  I am prone to extreme bouts of pinterest addiction.  I am also above and beyond hooked on instagram (username AlliWFrederick) where you can catch snippets of my personal life (which is mainly photos of me, my beloved Mischa and other random bits and bobs of daily life/wanderings).  My work is available to purchase as digital downloads as well as fine art prints.  Limited edition fine art photographs are currently available through Springbox Gallery.