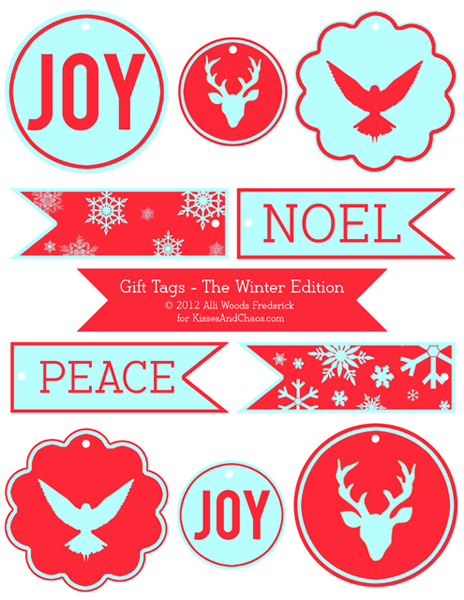 Here's a little gift from me to you: a page of free winter gift tags.  Hopefully this will save you a little time & money (the price of tags can add up when you buy them year after year after year).
These babies are ready to go. 
Since you can print these out as many times as you like, you'll never run out of tags again. No more last minute runs to the store to pick through the ugly tags that no one wanted all because you misspelled your cousin's new wife's name (but seriously…how the hell were you supposed to know she spelled her name with a "PH?" Who the hell has ever heard of Pheather?) Check that off your list of "sh*t that will go wrong at the last minute." You are covered.

Click here to download your free set of Winter Gift Tags. 

Print them, cut them out, make a hole using a hole punch, run some string or pretty ribbon through and viola!  Super-cute homemade gift tags.  Enjoy!
*These cuties will do best if you print them on cardstock. Plain paper will work in a pinch, but be forewarned: there is an excellent change that the anything you write on the back will bleed through & the paper will get all funky and wrinkly from the printer ink. You can grab inexpensive cardstock at your local craft store. *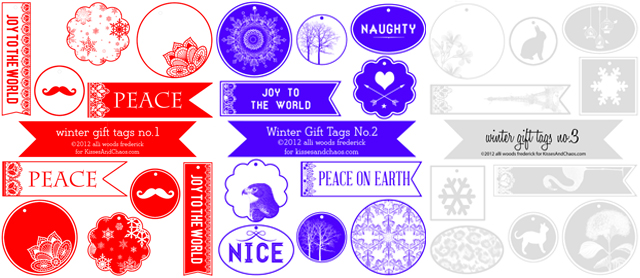 Want more ways to pretty up your presents?  Give your gifts some added flair with the rest of my Winter Gift Tag Set.  You can check them out by clicking here.


Kisses & Chaos,
Alli Woods Frederick
PS – These files are pdfs.  You will need a pdf reader like Adobe Reader installed to be able to open the files.  If you don't already have a copy (which you probably do) you can download it for free here.

images:  © 2012 Alli Woods Frederick