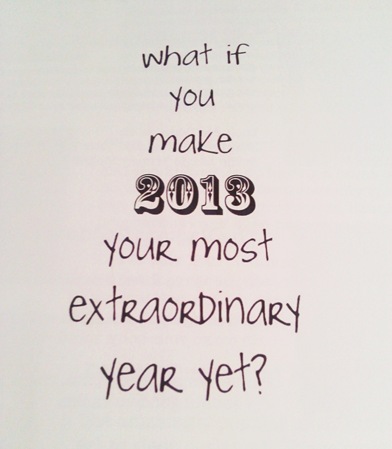 For the past 3 years I have seen people rave about Leonie Dawson's positivity and love filled annual calendar/workbook/planner "Create Your Incredible Year"…and for the past 3 years I have put off buying it.  But no more!  This year Leonie released not 1 but 2 versions, a business edition and a life edition, and I got my hands on both of them.  I can't wait to dig in.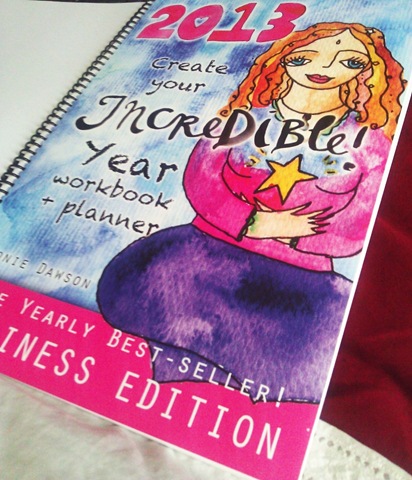 I printed the business edition with Lulu.com (which was insanely easy & didn't break the bank like all the other printing options out there…mine was about $25-ish with a discount code & that included shipping…FedEx wanted about 4 times as much for the exact some binding.  Yikes!) and, now that I see how excellent the quality is, I'll be doing the same with the life edition.  They are so bright & vibrant, even I, who usually avoids bright colors, am drawn in.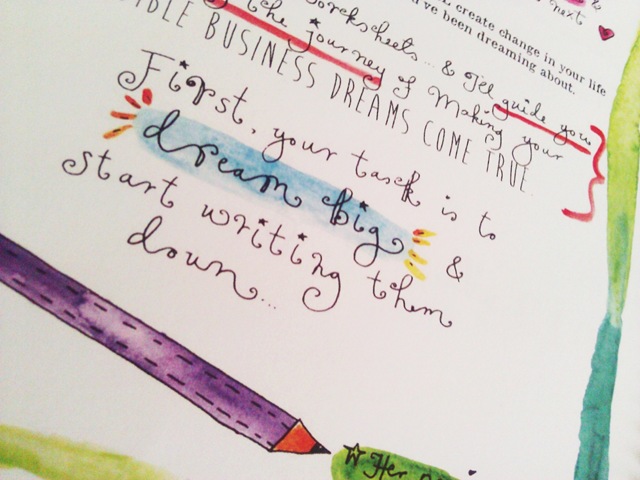 Both editions are geared towards setting goals and not only achieving them, but achieving them with gusto, love and joy.  I have never been a goal-maker and I'm beginning to suspect that it's because it always made the result seem like a chore instead of something joyous.  I'm hoping Leonie's approach will change all of that.  For the first time ever I'm excited about setting 'em up and knocking 'em down.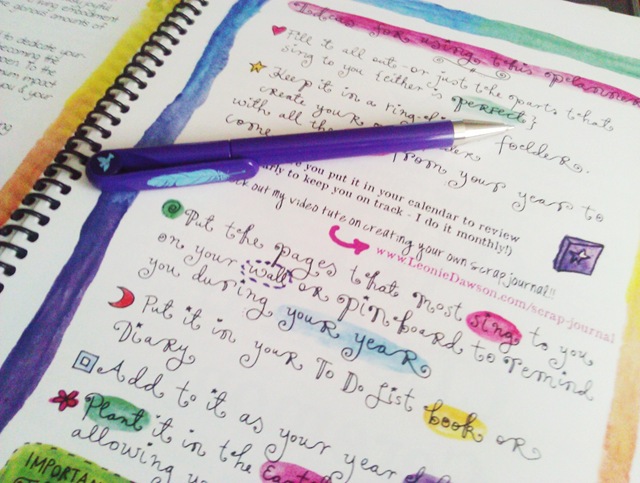 I've read the reviews and so many women claim that this book has transform their lives that I can't help but be excited about adding some extra sparkle to mine.  I'm hoping that 2013 will be the best year of my life, full of transformation, growth & love & that these books will provide me guidance & inspiration along the way.  I'll be sure to let you know how the process goes and if they work for me.  Wish me luck!
If you want to join me in this adventure you can grab your own copy of Leonie's "Create Your Incredible Year." (These are digital products but you can use them for reference & keep a separate journal, print them at home and pop 'em in a binder or have them made into a journal like I did.) Let me know if you're coming along for the ride.  I would love to hear about your journey.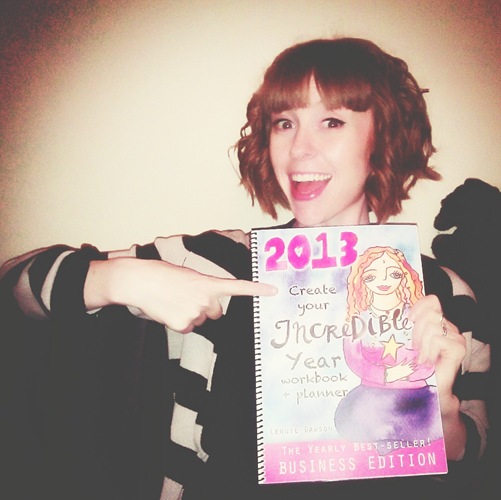 XoX   I can't wait to get started!  Let's rock 2013, shall we?   XoX
Kisses & Chaos,
Alli Woods Frederick
About Leonie Dawson:
Leonie Dawson is a mentor to women wanting to create + grow massively successful and heart-centered creative + soulful businesses. She is also an author, retreat leader, visual artist, mama and guide for the tens of thousands who receive her free "SHINE IN YOUR LIFE + BIZ" ezine each week.
Purposeful, passionate & unendingly prolific, Leonie published her first book at 22, held her first solo art exhibition at 23, began leading women's circles the same year, created her first retreat at 25, launched the Goddess Circle — a subscription-based women's art, soul + biz community — at 27, and has guided thousands of women through transformational experiences over the past 3 years. She's also released 5 e-courses — including her signature workshop for entrepreneurs, Become A Business Goddess program — 4 meditation kits and 2 workbooks into the digital ether. Her latest book "73 Lessons Every Goddess Must Know" shot to the top of the Amazon bestseller list.
In the process, she has created a half million dollar a year company that doubles in size each year and helps thousands of women every single year. Her mission is to help as many earth angels – women with creative or spiritual gifts – to have profoundly profitable businesses so they may nourish themselves and heal the world.
You can find her on Twitter @Leonie_Dawson, Facebook www.facebook.com/leoniedawsonpage & at her blog www.leoniedawson.com.
images: © alli woods frederick & leonie dawson
This is NOT a sponsored post but it does contain affiliate links.