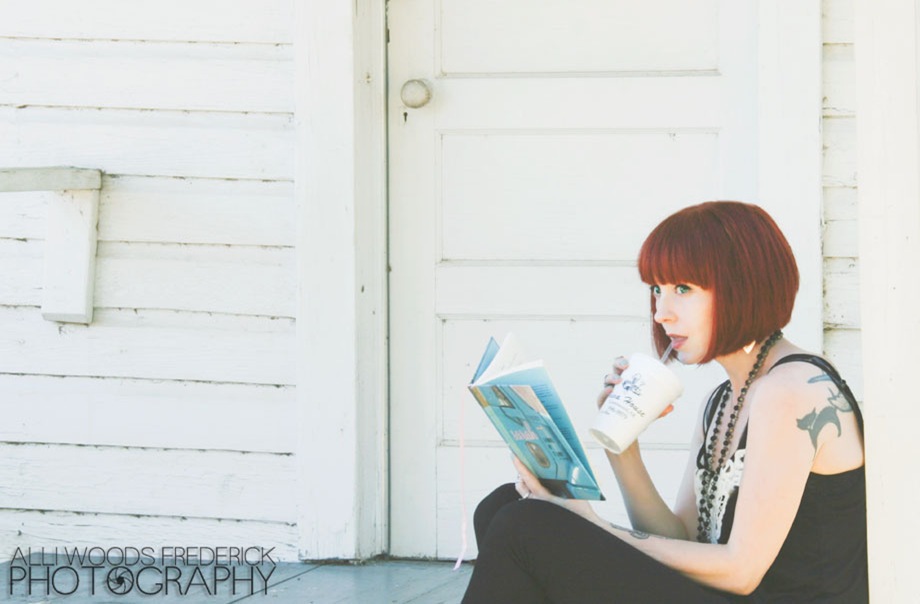 There are two things I think we all know about me by now:
1)  I am not easily impressed with products and their claims and
2)  My hair is one of my greatest blessings and one of my greatest frustrations.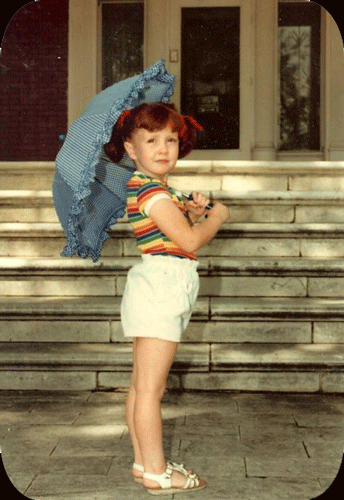 (ME WITH MY COPPER LOCKS AND UNIQUE FASHION SENSE – AGE THREE)
I love my locks.  I've been known for them since I popped out of the womb. "…You mean that girl with the gorgeous red curly hair?"  Yup.  That's me.  And when you're known for your hair it naturally becomes something in which you take pride.  You take care of it and give it lovin' (yes, even when it was every color of the rainbow I still gave it lovin').
My naturally course and curly hair (and I mean big ol' fat corckscrew curls) which I love has always limited my choice of hairstyles…especially as a redhead it can be easy to cross over into clown territory if the haircut isn't just right.
NO ONE WANTS TO SEE THAT.  TRUST ME.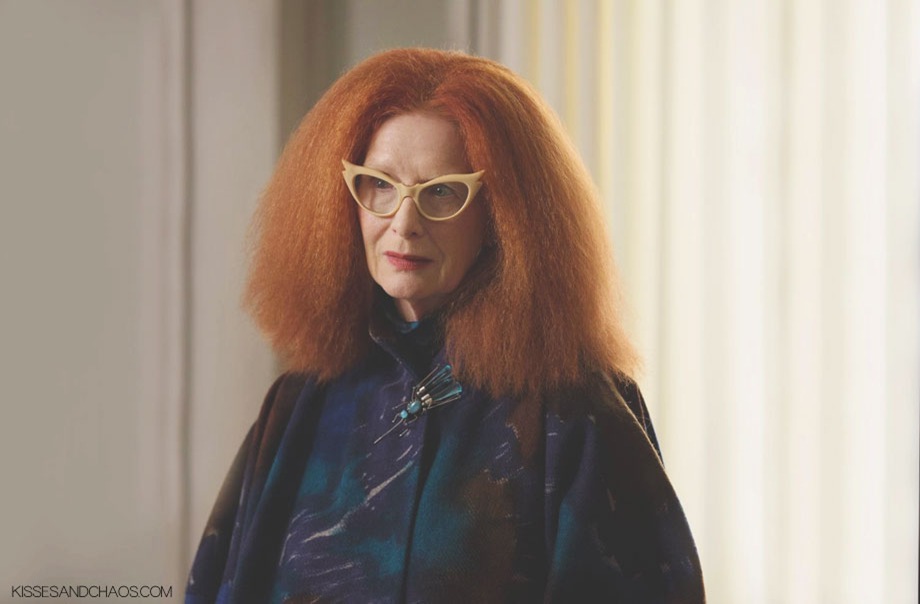 (MY HAIR LOOKED EXACTLY LIKE MYRTLE FROM AMERICAN HORROR STORY COVEN IN 5TH GRADE AFTER ONE TRAGIC HAIRCUT.  NOT AN EASY LOOK FOR A 10 YEAR OLD TO PULL OFF.)
Many years ago I decided that, even though I could never straighten my hair and have it look pretty, smooth and soft (like naturally straight locks look) I loved a stacked bob, so a stacked bob I shall have and I would just wear it in all it's glorious curly grandeur.  And wear it I did.
AND I LOVED IT.
I still love my beloved bob (as is evidenced by the fact that I have continuously rocked a bob for almost ten straight years now – let's face it, it's timeless and never goes out of style.  EVER.  It is the pencil skirt of hairstyles).  Over the years I have learned to wear it both curly and straight and make do with products that controlled my straightened hair (to a degree), but left it feeling dry and with no swing or body.
BUT NO MORE.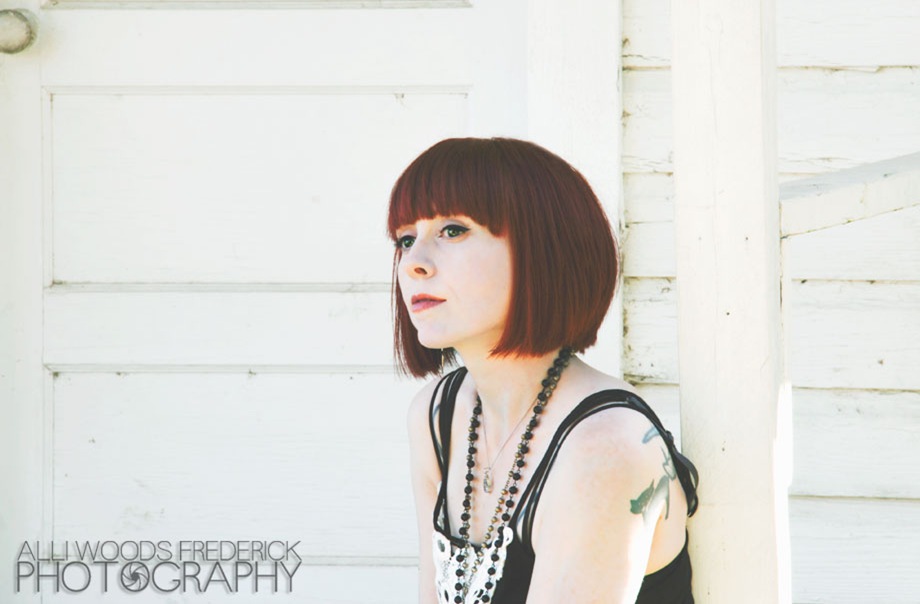 The lovely people at Dove sent me their latest line, the Dove Pure Care Dry Oil collection, and I. Am. In. Love.
I confess I was skeptical when I read the claims. (5 x's silkier hair after one use?  I had to see it to believe it.)  Even with my course hair most conditioners leave my hair greasy and limp so I was naturally skeptical about one made with oils.  So the first thing I did was to try the conditioner and oil as lotion. Yes, lotion.
If it's as light as it claimed then it should soak right in.  So I rubbed each one into a hand and (gasp!) they both melted into my skin. They weren't sticky, thick or greasy.  I wasn't coated with silicone.  The blend of African Macadamia oil and Coconut oil melted into my skin.  Melted.  So I jumped right in the shower and lathered up my noggin'.
IT'S A HAIR MIRACLE.

The Dove Pure Care Dry Oil Collection is like angels in a bottle…delicious angels sent to make my literal crowning glory, my beloved ginger locks, soft and silky whether I wear it curly or straight.  And it does it all while being completely weightless.  Color me impressed.
(AND REMEMBER THAT LACK OF MOVEMENT I COMPLAINED ABOUT?  YEAH.  WELL YOU'LL NEVER HEAR ME COMPLAING ABOUT IT AGAIN.)
Did I mention it smells divine?  Divine.  The aroma is subtle and delicious.  I catch myself sniffing my hair throughout the day (which is challenging with a bob).  I'm pretty sure I look insane…as though that's anything new. *wink*
I AM NOW A FAN FOR LIFE.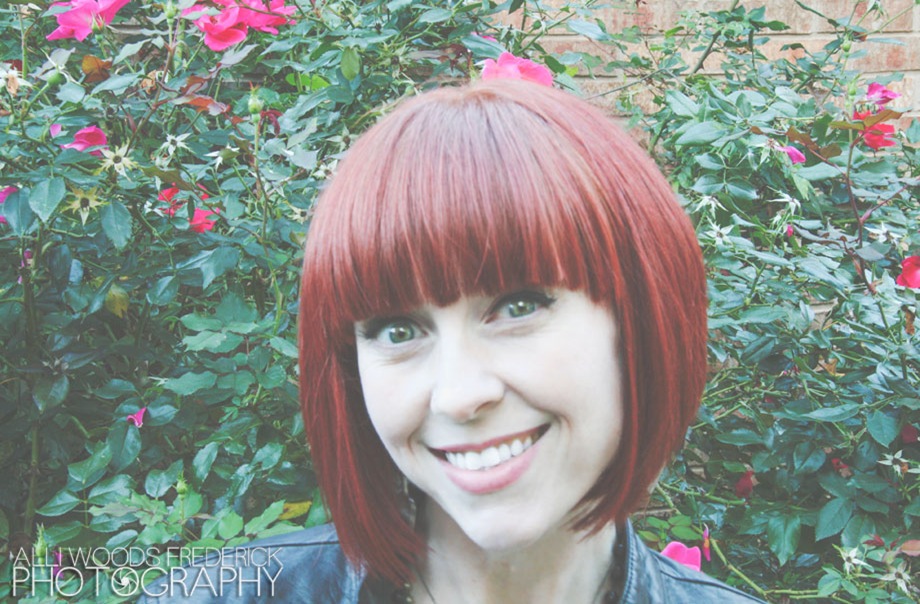 My hair is healthy, happy and feels like spun silk…and isn't that we all want?  No woman wakes up and prays for a hair care line that makes their hair feel like a cross between straw and steel wool.
Thank you, Dove, for transforming my hair. (For the record, and not to toot my own horn, I'm now receiving even more compliments on my lovely locks. Hand to God.)  After years of frustration, you've made me fall in love with my hair all over again.
THINK I'M EXAGGERATING?
(because another thing we know is that I'm prone to fits of hyperbole…)  I challenge you to take the "Dove Silky Hair Dare."
THE DOVE SILKY HAIR DARE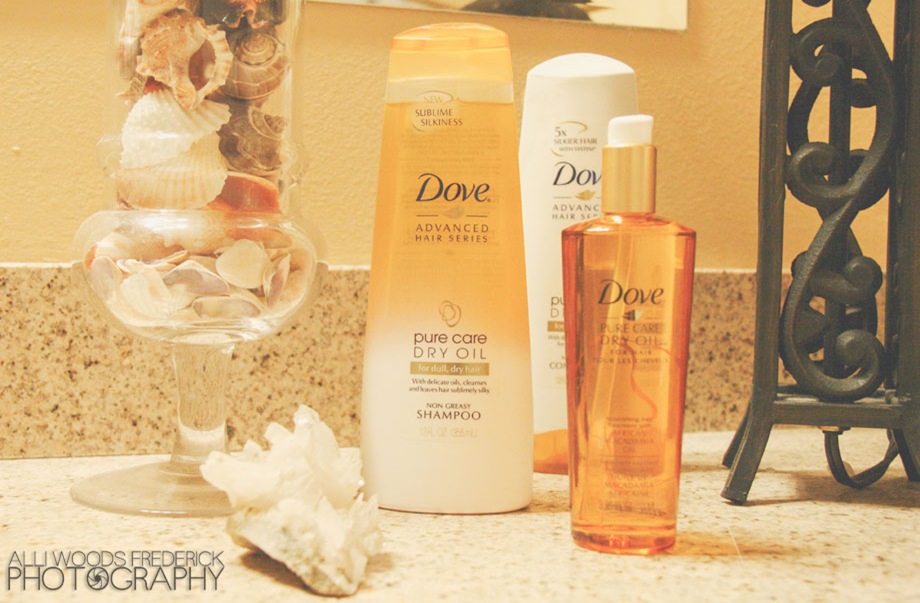 Dove Hair is daring women everywhere, whether your hair is curly or straight, fine or course, to try Dove Pure Care Dry Oil, risk-free now through December 31, 2014.  Dove and I dare you to try Dove Pure Care Dry Oil (available at major food and drug retailers nationwide) and fall in love with the touch and feel of your hair or your money back.*
Make sure to share your silky results at #silkyhairdare.  You can also enter for a chance to win** $20,000 in prizes that are up for grabs by sharing your results with the hashtag #silkyhairdaresweeps.  Visit Dove.com for more details on how to enter.
Now if you'll excuse me, I have to go strut around town and show off my stellar coif.  Until next time!
Kisses & Chaos,
Alli Woods Frederick
IMAGES  ::  © 2014 ALLI WOODS FREDERICK.  ALL RIGHTS RESERVED.  USE WITHOUT PERMISSION IS STRICTLY PROHIBITED.  ::  MYRTLE © FX & AMERICAN HORROR STORY COVEN  ::
I was selected for this opportunity as a member of Clever Girls Collective and the content and opinions expressed here are all my own.
*If you are not completely satisfied with the Dove Advanced Hair Series Pure Care Dry Oil system, Dove will refund your purchase (from 9/21 – 12/31). Visit hairmoneyback.com for details. (Though I would be genuinely shocked if you needed to. I'm telling you…this stuff is amazeballs…and how often do I make that claim. Yeah, not very.)
**No purchase necessary. Void where prohibited. The Dove Silky Hair Dare Sweepstakes is sponsored by Conopco, Inc., d/b/a Unilever. Open to legal residents of the 50 U.S. & D.C., 18 & older. Begins 12:00 p.m. ET on 9/25/14 and ends 12:00 p.m. ET on 11/20/14. For Official Rules, visit