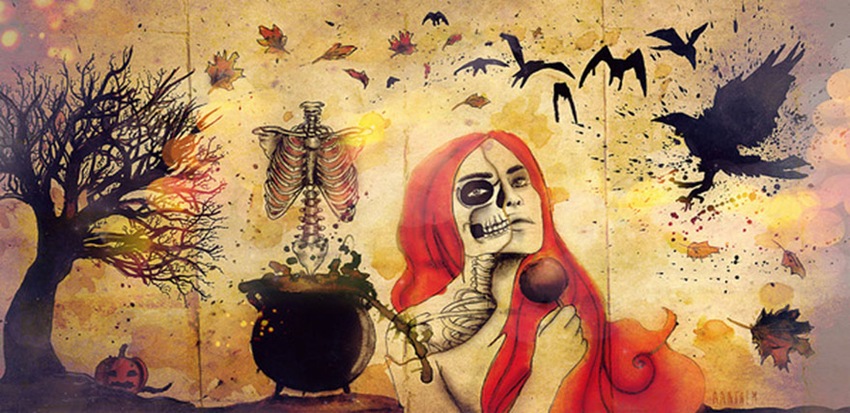 SO it's Halloween.  You've patiently waited for the party invites to roll in but…*crickets chirping*  Unbeknownst to you that's what all your friends were doing to – waiting.  So what's a ghoul to do?  Throw your own last minute party, of course!
I know.  You're thinking I've clearly lost my mind.  You've had your suspicions for quite some time, but this is it.  You are now convinced that I'm completely bat sh*t crazy.  After all, there's no way you can throw together a last minute Halloween party.  Or can you…?
A HELPING HAND FOR LAST MINUTE HALLOWEEN PARTIES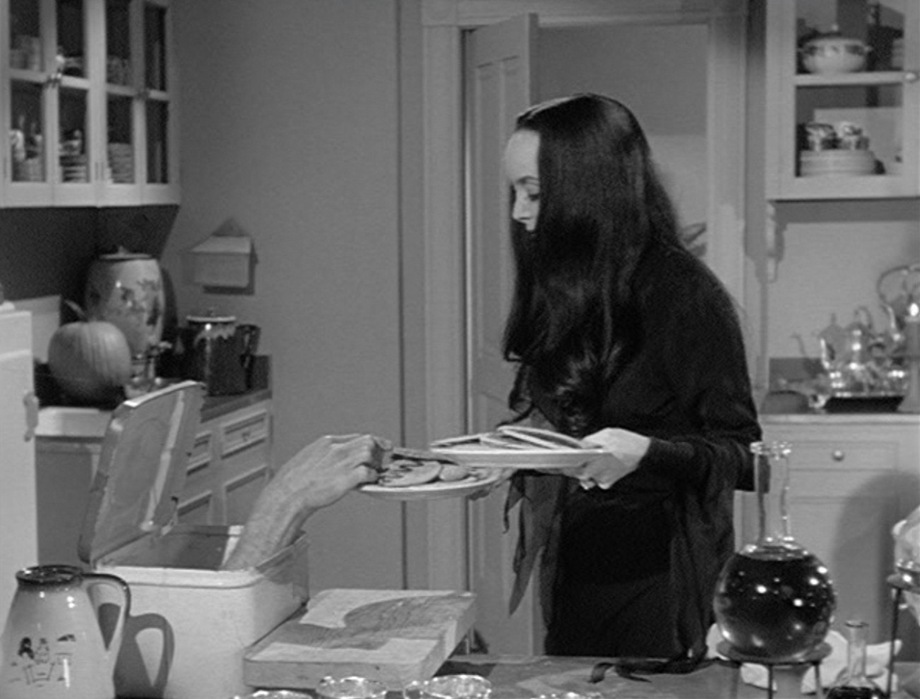 LET'S START WITH FAST & EASY GORE DÉCOR, SHALL WE?
(WE SHALL)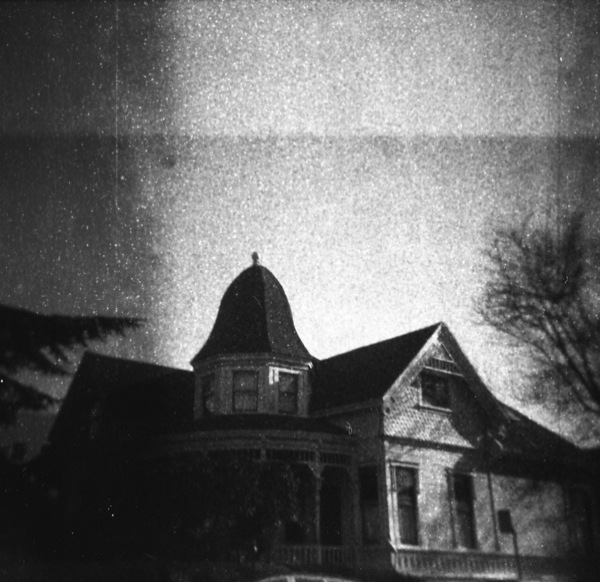 *  ALIEN/SPIDER EGG SACKS  *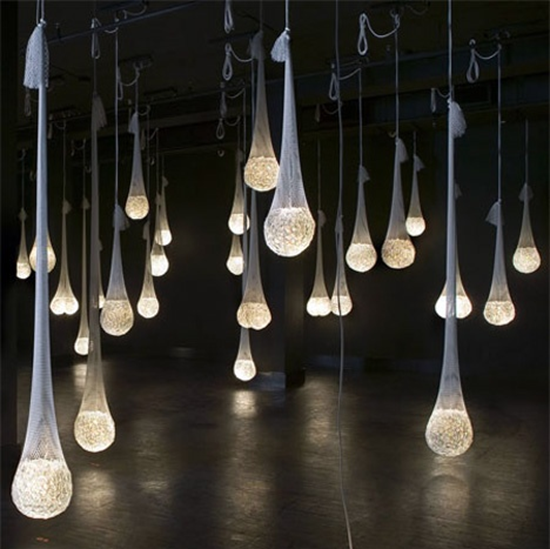 *  Set the mood before people even get in the door with this clever and easy outdoor décor idea from Fun Holiday Crafts.
Pick up some small glow sticks in the color of your choice (though I do suggest you stick to just one color), some white balloons and several pair of white hose/stockings.  Now the quick & easy fun begins:
~ Cut the hose/stockings/tights straight across each leg close to the crotch or don't cut and leave them in tact (either way will work – it makes sense in a moment. Promise).  Set them aside.

~ Next activate the mini glow sticks and drop several in each white balloon.  Now fill the balloons with enough water to make them round, but not too full.  Tie off the balloons and carefully slide one balloon into each leg of the stockings.

~ If you cut the legs of hose then take each leg and tie them to tree limbs, arbors, etc.  If you didn't cut the hose then just allow them to drape over the limb by the crotch/waist.  You can adjust the lengths of the egg sacks by wrapping the legs around the limb to achieve the desired length.
End result?  Creepy glowing egg sacks.  If you want to add plastic spiders or other creepy crawlies just stick them to the hose.  Simple…and simply creepy.
*  COBWEBS  *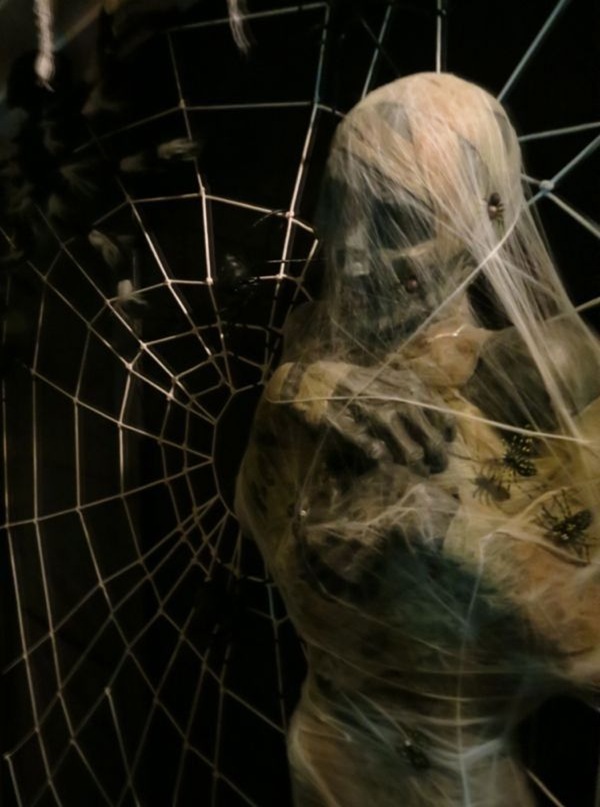 *  Hop on your broom and fly over to your local craft/sewing store and grab a bag of cotton batting and some double sided tape.  (Avoid the synthetic stuff.  Trust me.  It makes horrible cobwebs.  A blend is okay but pure cotton is going to give the best results.)
~  To make your cobwebs just tear off different sized pieces of the batting and gently pull the cotton apart in different directions and at different thicknesses and lengths to create a spider web effect, then use the double sided tape to tack it into place.  (Use the mummy pictured above (not the huge web in the background) for reference.)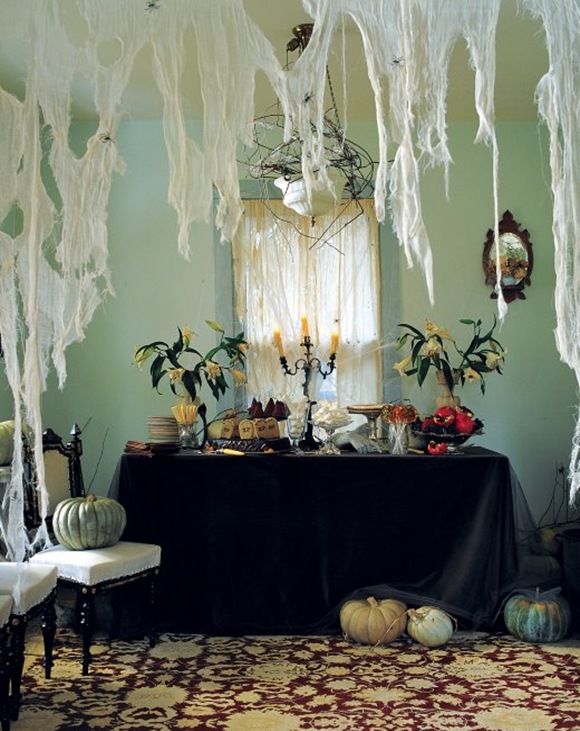 ~  If you're looking for something less subtle and more attention grabbing you can always buy cheesecloth or cotton gauze from your local fabric store and apply the same basic technique.  The main differences?  Instead of tape use pushpins, carefully shred it with scissors, a knife or a razorblade (then use your fingers to pull the fibers apart and fray the edges) and don't use it for smaller, daintier applications.  Leave that to the batting.
~ TIP:   PRACTICE WITH A SMALL PIECE TO GET THE HANG OF IT BEFORE YOU START SHREDDING THE ENTIRE BAG.
~ BONUS POINTS:    SCATTER THOSE CHEAP DOLLAR STORE PLASTIC SPIDERS AROUND THE WEBS.
*  JACK O' LANTERN…LANTERN  *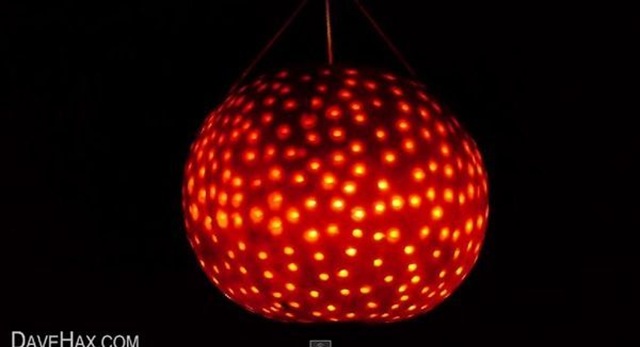 *  Expertly carving a pumpkin can take a stupid amount of time…and I mean stupid amount of time.  Want a quick and easy work around?  Of course you do.  This is last minute, remember?  So check out this awesome idea from DaveHax.com:
~  Cut and clean your pumpkin as you normally would.

~  Then take just about anything pointy and round (a large nail, a drill, a screwdriver…you get the idea) and poke holes all over the pumpkin (and as evenly spaced as you can – no need to measure, just eyeball it.  Perfection isn't necessary).

~  Instead of a candle you can stick an electric flameless candle inside.  If you want to up the ante use a light with a strobe feature.

~  Set it on a table as a center piece or string it with some thick twine (all those little holes now come in handy) and hang it from the ceiling for a disco ball effect.  Lighting and requisite Jack O' Lantern = done.
*  FANCY PUMPKINS  *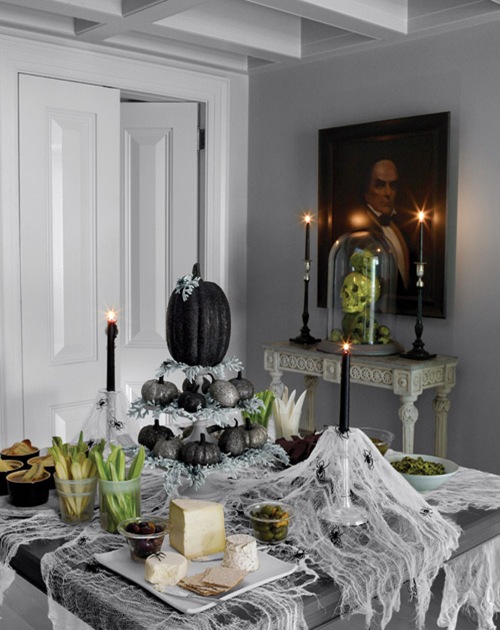 If you really don't have time to clean a pumpkin but feel like Halloween just isn't Halloween without one then this is the perfect party project for you:  Glitter Pumpkins.
~  Run to the craft store and grab a handful of the artificial pumpkins (which will be insanely cheap today since it's Halloween.  Thank god for sales, eh?) in whatever sizes and shapes you like.  Also grab glue (I like mod podge), a ton of glitter (you can never have too much glitter.  This is a proven fact.) and matching spray paint in the colors of your choosing.

~  In a well ventilated area spray paint your pumpkins with a light and even coat (but make sure you get that baby covered – we don't want them to be splotchy and sloppy).  Wait for the paint to dry (this is a perfect time to ice the bleeding cupcakes listed below. Multi-tasking is a must if you're throwing together a fabulous last minute fete.)

~  Once the paint is dry, coat it with a thin layer of glue and then, while the glue is still wet, pour the glitter all over your pumpkin.  Set aside to dry.  Done and done.
~  NOTE:  DEPENDING ON HOW HUMID IT IS WHERE YOU LIVE IT CAN TAKE A LITTLE TIME FOR THE GLUE TO DRY, SO YOU MAY WANT TO START ALL PAINT AND GLUE RELATED PROJECTS FIRST.
NO TRICKS, ONLY TREATS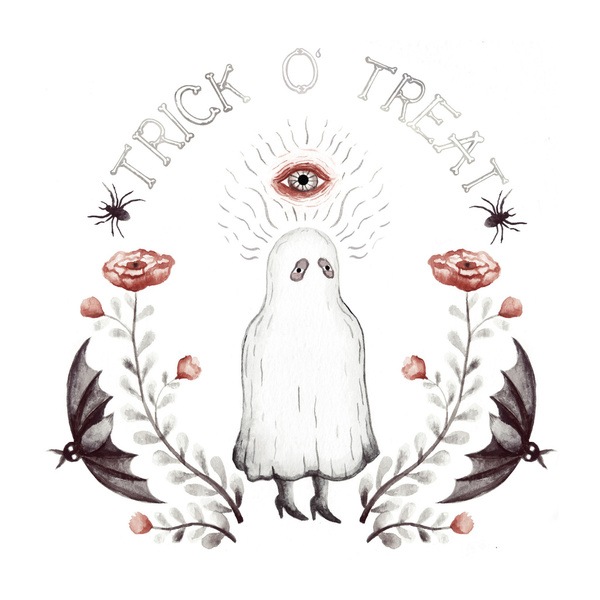 *  BLEEDING CUPCAKES + PRINTABLE CUPCAKE AND STRAW FLAGS  *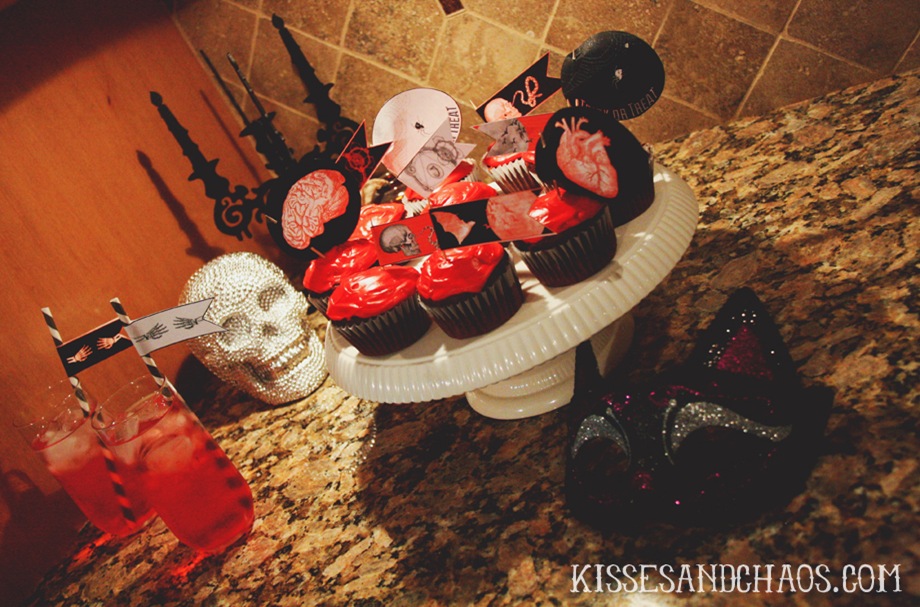 Last year for Halloween I told you how to whip up a batch of deliciously disgusting bleeding cupcakes.  Not only that but I gave you some creepy Halloween themed printable flags to top of your cupcakes and straws.
I realize that bleeding cupcakes and decorative toppers don't sound quick and easy, but I promise when you read the recipe you'll see the longest part of the process is actually baking the cupcakes (and if you make sure to set your timer you can take care of other party preparations while they bake).  You can get the recipe and the downloads here.
*  HALLOWEEN GARLANDS  *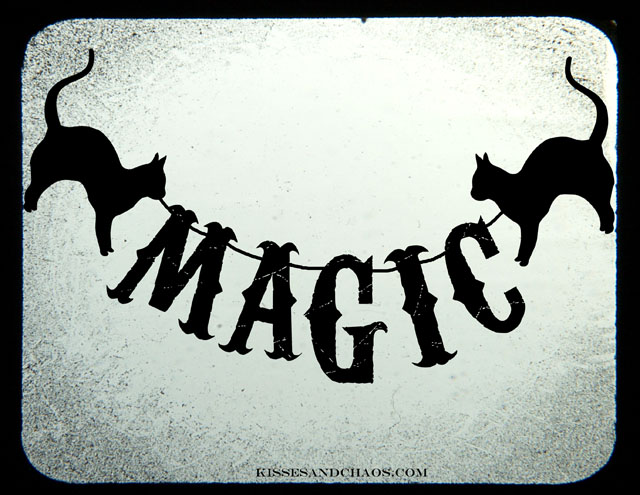 A couple of years ago I also whipped up some cute little printable Halloween garlands.  You can print 'em, cut 'em, string 'em and go or, if you want to get fancy you can always cut 'em out and cover those cute and spooky babies in glue and glitter to give them that extra bit of oomph.  Grab all three free printable Halloween garland templates here.
*  HAIR RAISING HALLOWEEN SOUNDTRACKS  *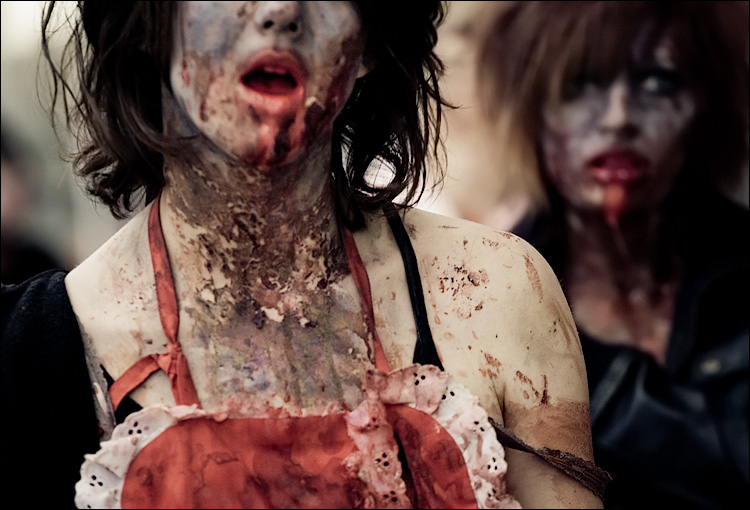 Of course, no party is complete without music!  There must always be music!  No time to create a Halloween mix of your own?  No problem.  You can give my Halloween and Zombie mixes on 8track a try (and just in case you don't want to deal with having your computer up and running there's an 8track app for your phone).  You can give them a listen here:
~  By The Pricking Of My Thumbs (Halloween Mix)
~  Music For Battling The Zombie Hordes
~  Music For The Apocalypse
If my mixes don't strike the right chord with you (Yeah, I said it.  I'm sorry.  I'm a sucker for a really bad pun) then swing by Pandora and check out the Halloween channel.  Yes, you will hear The Monster Mash, but you will also hear a ton of songs that are perfect for a gore-inspired get together.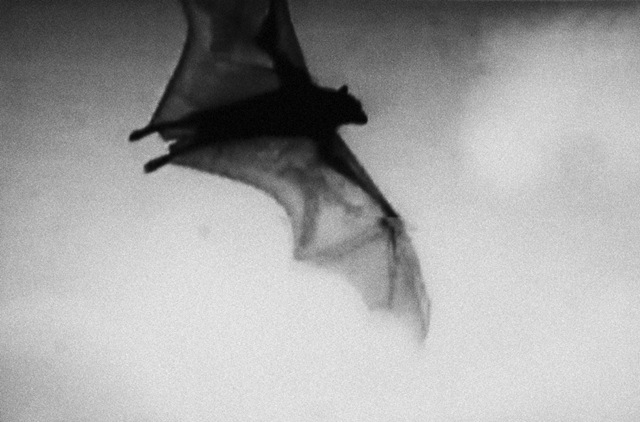 It's never too late to throw a spooktacular Halloween bash.  Now get a move on!  There are cobwebs to be made, cupcakes to be baked, costumes to be donned and bloody makeup to be skillfully applied.  I hope you have a bloody good time tonight…and remember…that strange noise you heard wasn't the house settling…*insert evil laugh here*  Until next time, my deadly darlings…
HAPPY HALLOWEEN, BOILS AND GHOULS!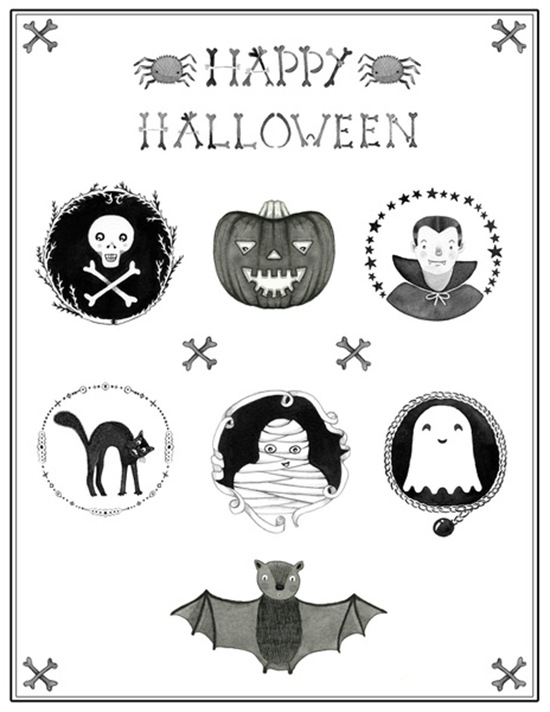 Bloody Kisses & Ghastly Chaos,
Alli Woods Frederick
IMAGES  ::  HALLOWEEN – AANTHEM  ::  ADDAMS FAMILY © FILMWAYS TELEVISION  ::  HAUNTED – DIDI JEAN  ::  EGG SACKS VIA FUN HOLIDAY CRAFTS  ::  SPIDER WEB MUMMY & PUMPKIN LIGHT VIA HOMES AND HUES  ::  GAUZE COBWEBS & GLITTER PUMPKIN VIA MARTHA STEWART  ::  TRICK OR TREAT – KATHLEEN LOLLEY  ::  BLEEDING CUPCAKES HALLOWEEN STILL LIFE & MAGIC CAT BUNTING © ALLI WOODS FREDERICK. ALL RIGHTS RESERVED.  ::  ZOMBIES VIA TOP LEFT PIXEL  ::  UNTITLED – VASIO NEFT  ::  HAPPY HALLOWEEN – SARA OLMOS  ::