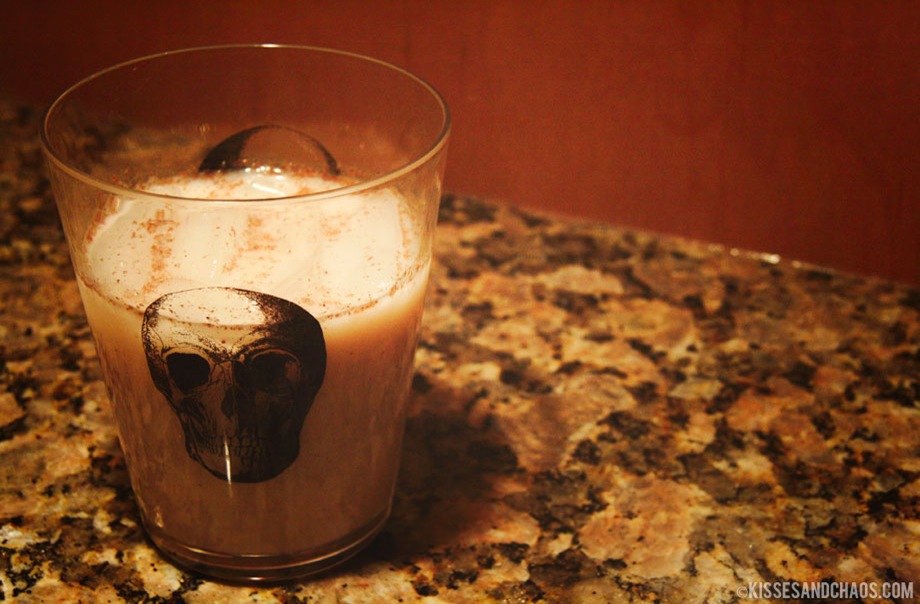 HORCHATA.  What can I say.  It's f**king delicious.  Of course, it's probably lethal if you're diabetic, but damn is it good.
Do you know what else is delicious?  Pumpkin spice…well…everything.  Pumpkin spice everything is delicious.  So I was sitting about contemplating delicious things and having a desire to consume said delicious things when my brain had an epic "Duh" moment…
(not to be confused with Oprah's "Aha" moment…which I wish someone would inform her she did NOT invent and that prior to her coining one of the most annoying phrases ever it was known as an epiphany.  Too bad she doesn't spend some of her never ending money to hire someone to tell her when something she is about to say or do is stupid – like listing a $5000 cashmere throw as something "everyone should have" in an old issue of her magazine.  I can think of much more fun things to do with 5 large…but I'm going off on a major Oprah-hating rant which isn't the point).
PUMPKIN SPICE WINTER HORCHATA
And BAM!  Deliciousness squared was born.  Your taste buds are getting ready to thank me.  Wait.  That sounds creepy and weird and borderline molest-y.  So let's strike that and rewind it.  You are about to thank me.  Yes.  That will do quite nicely.  You will thank me.  So here we go with this amazingly easy (though it does take a bit of prep time) and yum yum in your tummy goodness.  Let's go!
PUMPKIN SPICE WINTER HORCHATA RECIPE: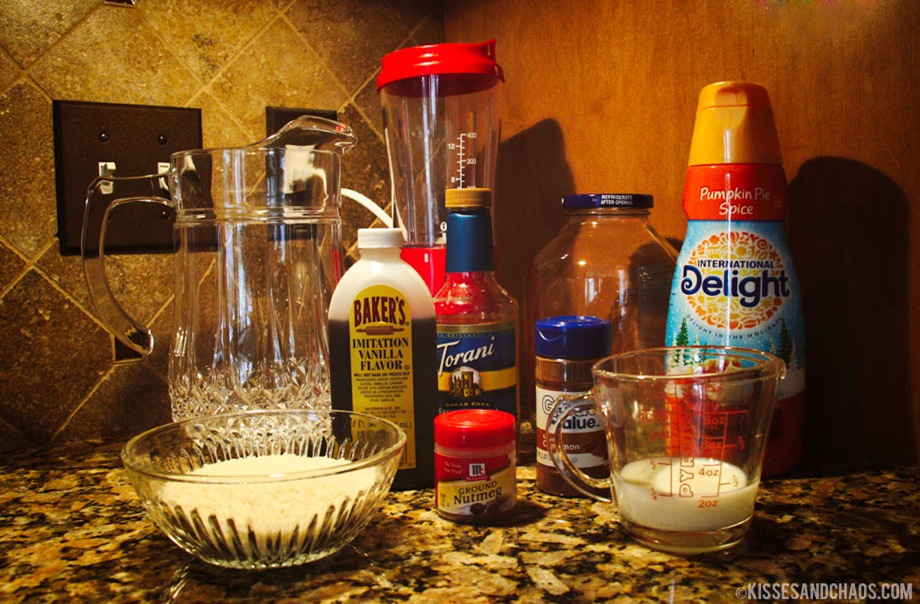 INGREDIENTS & SUPPLIES:
* THIS RECIPE MAKES 4 SMALL CUPS OR 2 LARGE GLASSES.  TO DOUBLE THE SERVING JUST…WELL…DOUBLE THE INGREDIENTS.
3 HOUR PREP TIME BUT WITH ONLY ABOUT 5 MINUTES OF ACTUAL WORK.  IT'S FREAKISHLY FAST AND EASY TO MAKE. *
*  Blenders
*  2 Pitchers (Trust me…it's easier than trying to clean rice sludge out of a blender.)
*  Cheesecloth (available at craft and fabric stores; usually comes in little bags)
*  Fine Mesh Strainer
*  1 Cup of Uncooked White Rice
*  5 Cups of Water
*  1/4 Cup Almond Milk (or soy or regular dairy milk.  I prefer almond for personal reasons.)
*  1/2 Cup Pumpkin Pie Spice Creamer (I used International Delights though any brand will do.)
*  1/3 Cup White Sugar
*  1 tbsp Vanilla Extract
* 1/4 tbsp Sugar Free French Vanilla Torani Syrup (not necessary but it gives it an extra kick of yum.)
*  1/2 tbsp Ground Cinnamon
*  Nutmeg to Taste (a few pinches – approximately 1/6 tbsp.  Just eyeball it.)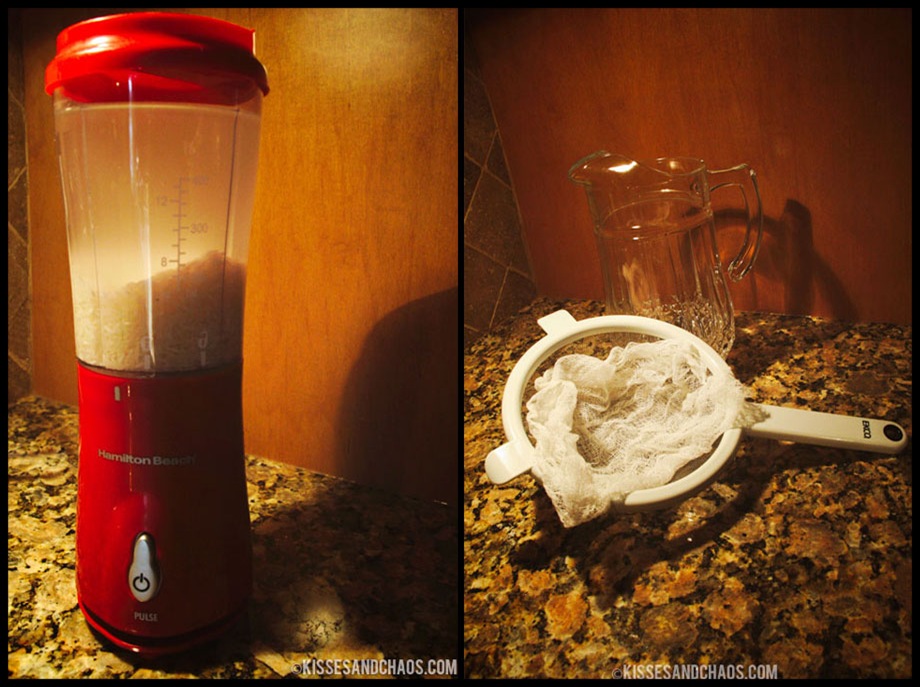 *  IN A BLENDER, mix your 5 cups of water with your uncooked rice and blend the over-loving hell out of it.  The rice should resemble sludge and the water should start to look like it has cataracts.  Not the most appetizing comparison, but that's how it looks. *shrugs* Sorry.
(Depending on your blender this can take more than a few quick whirs of the blades.  Mine belongs to the itty bitty blender committee so I have to break it up into batches and hit it for about 5 minutes per batch to get the right consistency.)
*  POUR your rice/water mix into a pitcher (trust me, you don't want to scrub that rice sludge off blender blades) and let it sit for at least 3 hours.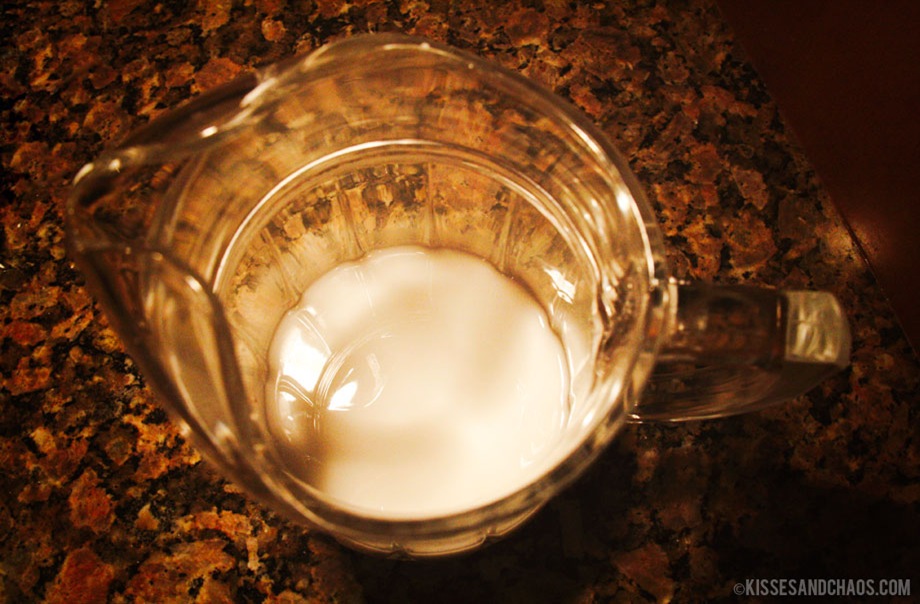 *  AFTER 3 hours, strain the now very, very white water into a new pitcher using your fine mesh strainer lined with cheesecloth.  Squeeze the cheesecloth to get out the rest of the water and then chuck the rice-y sludge cheesecloth in the bin (unless you find a new, creative way to recycle it, in which case please let me know in the comments.  Waste not, want not).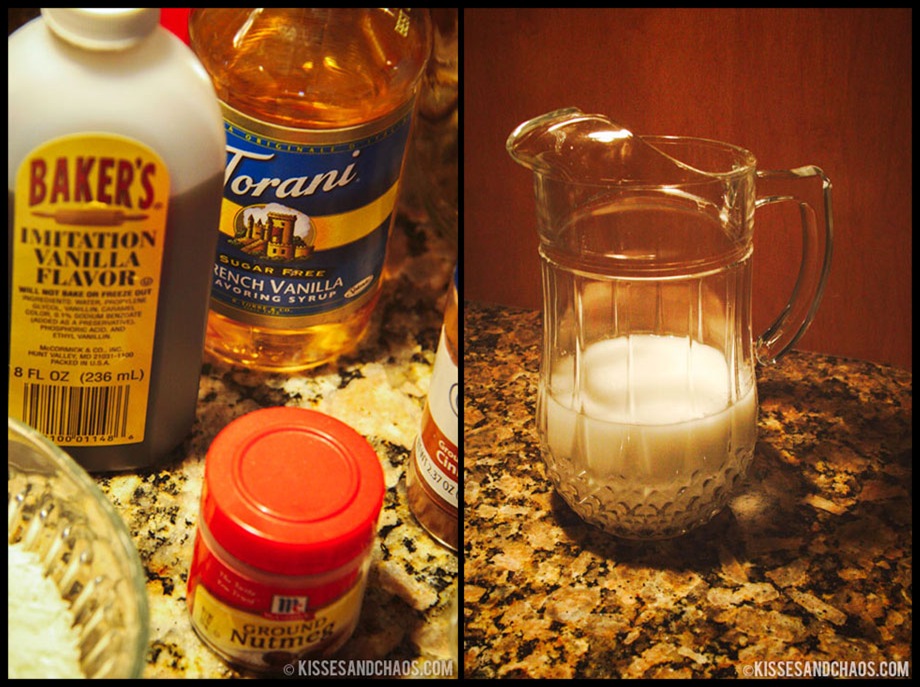 *  ADD your almond milk and pumpkin pie spice creamer.
*  ADD your sugar**.
(**THIS IS SUBJECT TO PERSONAL TASTE, BUT HOLD OFF ON ADDING ADDITIONAL SUGAR UNTIL YOU HAVE ALL THE OTHER INGREDIENTS ADDED. YOU'LL WANT TO GIVE IT A TASTE BEFORE YOU TWEAK IT. TRUST ME. I MADE A BATCH ONCE THAT MADE MY TEETH HURT. LEARN FROM MY DIABETIC COMA INDUCING MISTAKE.  ALSO, IF YOU OPT FOR A SUGAR SUBSTITUTE LIKE STEVIA OR SPLENDA, PLEASE KNOW I HAVE ZERO IDEA HOW THIS WILL TASTE OR THE QUANTITY TO USE.  SUGAR SUBSTITUTES SOMETIMES WORK AND SOMETIMES DON'T.  IF YOU DO USE IT AND IT TASTES GREAT, PLEASE LET ME KNOW THE TYPE AND QUANTITY USED.  I PREFER SUGARFREE WHENEVER POSSIBLE AND WOULD LOVE TO KNOW IF YOU ARE SUCCESSFUL WITH THIS RECIPE.)
*  ADD your vanilla extract and your Torani french vanilla syrup (either regular or sugar free).  You can adjust this to taste once you're done.
*  MIX in your cinnamon and nutmeg
*  STIR really, really, really well.  And I mean really well.  And you'll need to stir it again before every serving because all the spices settle to the bottom.
*  GIVE it a little taste and then adjust everything to your liking – more vanilla, more pumpkin pie creamer, more sugar, more cinnamon.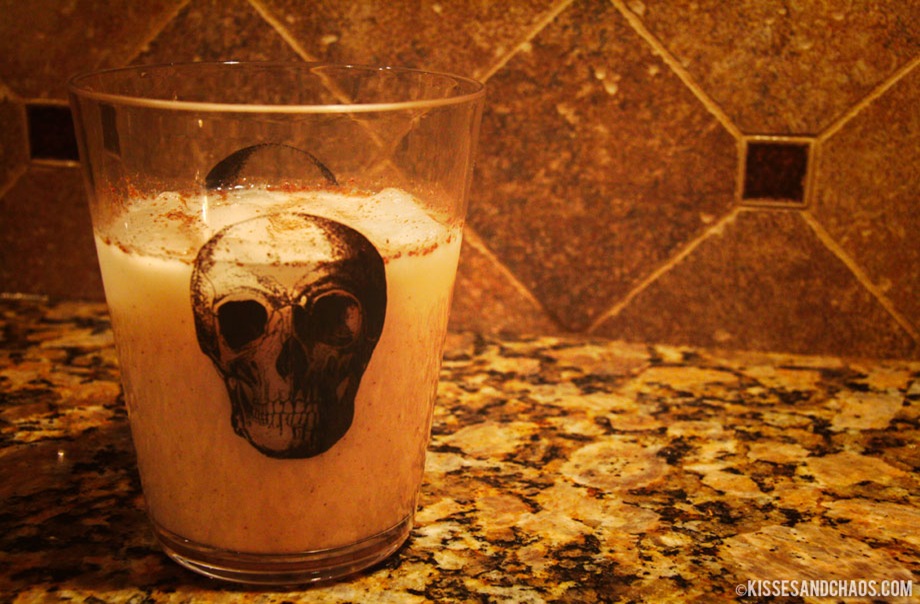 *  SERVE chilled.  I prefer it without ice (I despise ice what with all its diluting and too coldness) but I know others like it and it does make it look prettier.  So, yeah, serve chilled with or without ice.
That's it!  It's done and ready to get straight into your tummy.
Pumpkin Pie not your thing?  You can make any variation with any flavor creamer of your choice.  Or if you like your drinks on the hard side you can always add some liquor.  I've heard good things about Rumchata or you could try a flavored vodka.
Me?  I'll be making eggnog horchata for the family this Christmas…even though I know my mom will be the only one to taste it and she'll say it's too sweet and everyone else will decline because they're not ones to try new things.  But's that okay because that means…
THERE'S MORE FOR ME.
If you come up with a unique horchata recipe, feel free to share your genius with the rest of the class. *wink*  Happy drinking!…
Kisses & Chaos,
Alli Woods Frederick
IMAGES  ::  ALL IMAGES © ALLI WOODS FREDERICK. ALL RIGHTS RESERVED.  ::