*YOU KNOW THE DRILL.  SPOILERS GALORE SO READ AT YOUR OWN RISK*
DO YOU have any idea how hard it is for me NOT to make every single True Blood Tuesday about Pam and Eric?  Well, it's hard.  It's really f'ing hard.  They slay me.  (There I go with my bad puns…again.  I know.  Sorry.)
This week's episode,"Karma," kicked off with another of Pam and Eric's brilliant exchanges: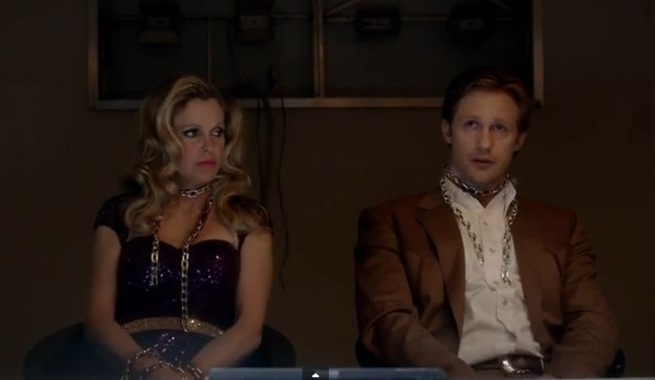 Pam – "This is bullshit.  I imagined my death many times but I never thought I'd meet the sun in someplace with wall to wall carpet."
and then with a smirk and a hint of sentimentality…
Eric – "Our first sunrise together."
knowing, loving and indifferent but amused expressions exchanged.
That.  That right there.  How do you NOT love it?  Yeah.  You don't.  You don't not love it.  I love them and their chemistry so much that they drive me to use double negatives even though doing so causes me to have mild strokes, as that one just did.
So I'm wondering if it was just me or did anyone else notice a striking resemblance between Bill's waiting room scene and the waiting room scene from Beetlejuice?  I wish I could find stills of the exact shot from both, but these were as close as I could get.  The parallels were striking.  So striking that I have to wonder if Beetlejuice was a source of inspiration.  If you have no idea what I'm talking about, queue up both scenes, give 'em a watch and tell me if you see what I see or if I'm just connecting imaginary dots (as I am, admittedly, prone to do on occasion).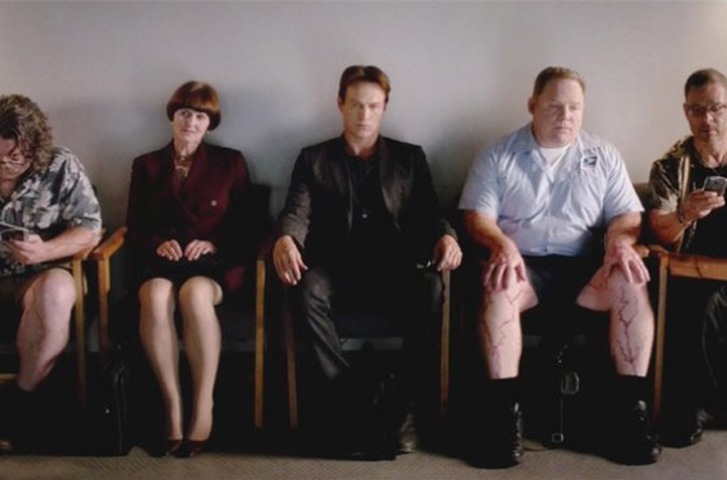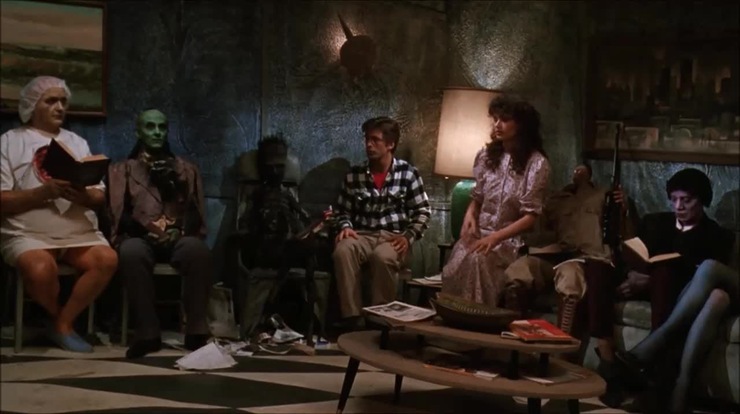 Although I found this episode to be a bit scattered in its editing for my liking (it jumped all over the place and tried to fit too many of the numerous storylines into one episode…which I hope they don't make a habit of doing.  I know we're getting down to the wire but that's no excuse for sacrificing quality storytelling) it did have one of the only truly thoughtful, simple and heartfelt scenes between Jason and Sookie in the entire series…
SOOKIE TALKS LOVE WITH JASON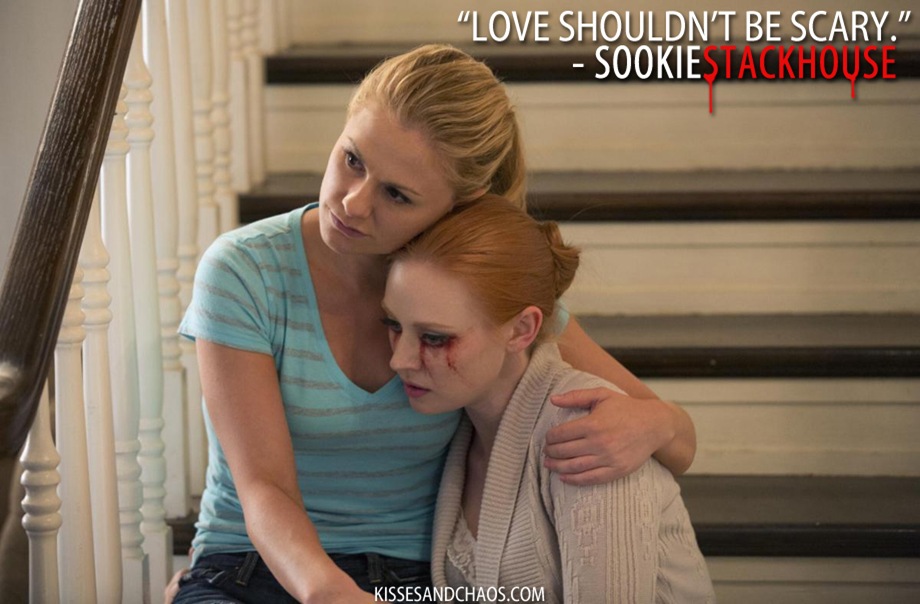 I love those rare moments when Sookie speaks and Jason not only listens, but actually understands and absorbs what he's being told (though to be fair Jason's intellect has miraculously improved since season one…or his common sense has at least…either way it's worked out in his favor even if it does mean we've lost some of his hilarious one-liners.)
And while I am disappointed that Sarah Spewlin, erm I mean Newlin, is a giant healing blood bag now and that she's not going to meet her karmically perfect demise the way I had hoped in last week's TTB, I am thrilled that there is a cure…which isn't all that surprising. Can you imagine the rioting that would occur if the show killed off EVERYONE?!?!?!  It would not be pretty.  The writers would likely be tarred and feathered before being drawn and quartered , their heads then left on pikes all over Studio City as a warning to other writers who are contemplating slaughtering an entire and much beloved cast.  All out revolt, I tell you.
WHAT ARE YOUR PREDICTIONS FOR NEXT WEEK?  WILL BILL BE SAVED FROM THE TRUE DEATH?  WILL HIS OUTRAGE AND DISGUST WITH THE EXPLOITATIVE SYSTEM RESULT IN MORE HOMICIDAL BINGES?  WHAT WILL SARAH'S FATE BE?  HOW CAN SHE HEAL THE WORLD AND STILL RECEIVE JUSTICE AT ERIC'S HAND?
Enquiring minds want to know!  What do you think the future holds?  It's always fun to see if who nails it…and who comes up with better storylines than the writers.  Share your theories in the comments below.
Clever Kisses & Creepy Violet-esque Chaos,
Alli Woods Frederick
IMAGES  ::  TRUE BLOOD TUESDAY © 2014  ALLI WOODS FREDERICK. ALL RIGHTS RESERVED.  :: SOURCE UNKNOWN  ::  ALL OTHER IMAGES © HBO  ::