* MAD MEN MONDAY ALWAYS HAS AND ALWAYS WILL CONTAIN SPOILERS AND IS MADE IN A FACTORY WHERE NUTS ARE PROCESSED.  READ AT YOUR OWN RISK. *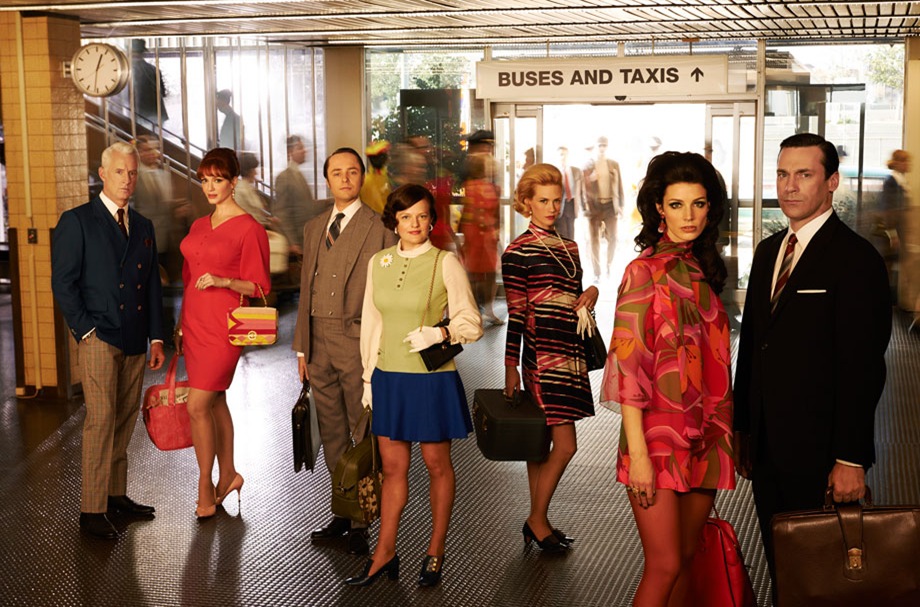 I know we are one day and three weeks behind (I've been MIA due to some personal matters) so consider this a whirlwind wrap up of the final three episodes of everyone's favorite slice of nostalgia pie served up with a side of extraordinarily compelling storytelling, Mad Men.
JOIN ME NOW AS WE BID FAREWELL TO MAD MEN WITH THIS FINAL EDITION OF MAD MEN MONDAY.
(ON A TUESDAY…OF COURSE.)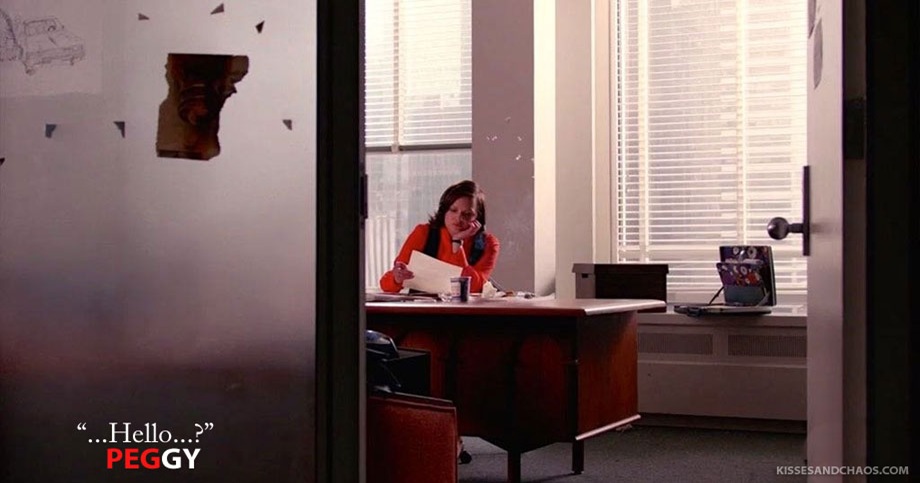 A few weeks ago, in the aptly named (and I mean to the point of insulting my intelligence) 'Lost Horizon,' everyone was adrift.
Everyone had relocated to their new offices and SC&P was a ghost town, save two lone inhabitants, Peggy (who had initially been mistaken for a secretary and then left to languish with no office and no way to work) and, eventually, Roger, who simply wasn't quite ready to leave the familiar shores of the home he loved so dearly.  Drunken bonding complete with roller skates and organ music was had in what has become one of my favorite scenes of the series.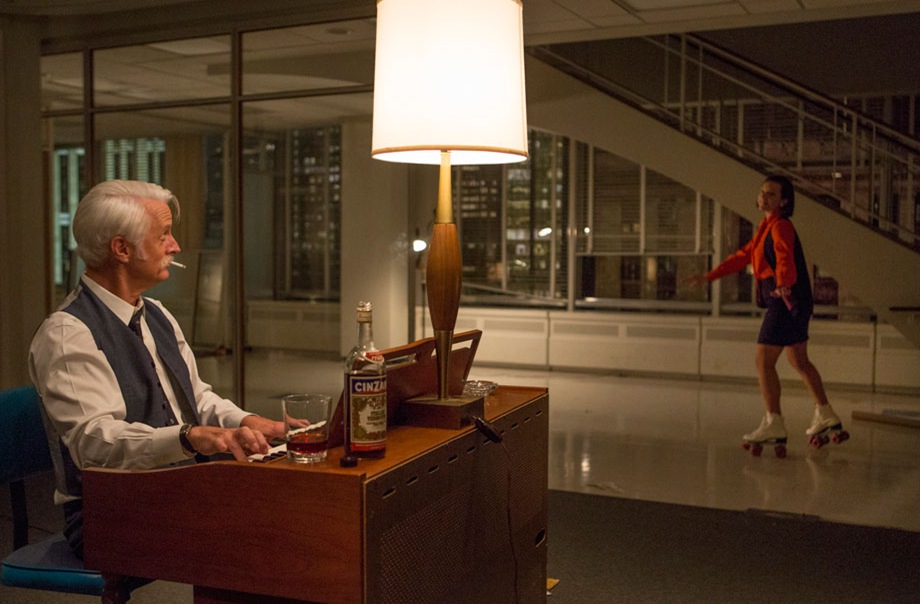 Even the most surefooted of the team found themselves loosing ground, unsure of where to step…feeling lost, confused and more than a little frustrated.
Joan had nothing but headache after headache as she found herself hurtling backwards into the land of sexism, abuse and discrimination.
Even the ever confident Don found himself floundering and disgusted despite his best efforts to the contrary, finally saying 'F*ck it' and deciding to just leave mid-meeting for destinations unknown (which I longed to do during my office days, so kudos to you, Don).
In fact, the only person who found herself truly stepping into her power as she entered her office was Peggy, who got a massive reminder of how badass she is courtesy of her drunken day with Roger…
AND DAMN DID SHE STRUT…PEGGY OWNED HER SH*T THE MOMENT SHE WALKED IN AND IT WAS GLORIOUS TO BEHOLD.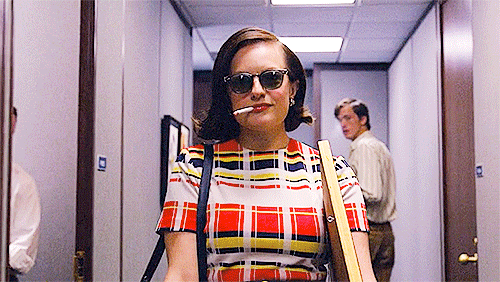 Ludacris would do well to heed his own advice when Peggy's rolling through.
Enter last week's episode, 'The Milk and Honey Route.'  While Don is trying to drive away from his problems, looking for the something that's always been missing, it proves to be a mixed bag of blessings and bad news for the rest of the former SC&P team.
LIFE HAS A WAY OF DOING THAT…
Betty gets diagnosed with late stage metastatic lung cancer (am I the only one who finds it hard to muster much sympathy for her?  I've found her wretched from day one, despite her efforts to redeem herself or the writers' to attempt to humanize her).  She refuses treatment which results in her husband unraveling and Sally, after several traumatic false starts at the whole becoming an adult thing, has it forced upon her in the cruelest of ways by facing the inevitable and painful death of her mother.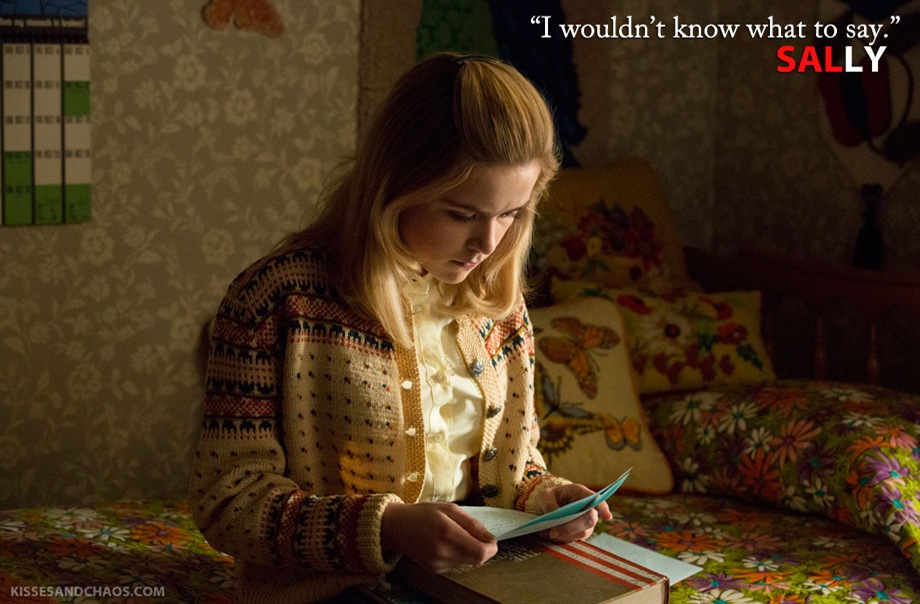 Joan quits after her attempt at demanding fair and equal treatment backfires (thank god she took her Rolodex, the clever girl).
Roger is…well…Roger.  He's a damn cat, he is, always landing on his feet, even if you tie buttered bread (which always lands butter side down when dropped) butter side up to his kitty cat back he'd still manage to thwart all bad luck and strut away with buttered bread and nine lives squarely in tact.  He adapts and just keeps on rolling.  I wish they could bottle his essence.  I'd buy it by the case.
Pete, another who I've despised since the earliest of days, manages to score a dream job after years of being an absolute weasel and conniving backstabber.  How is he so lucky all of a sudden?
And Don.  Poor Don.  Forever running.  Forever hiding.  But never, ever escaping.  As he traipses across the country on the most random road trip ever, he knows what awaits.  His subconscious whispers his greatest fears to him every night…

But he's beginning to realize it's not other people and situations he's running from…
HE'S RUNNING FROM HIMSELF.
We begin to see Don being honest and coming to grips with who and what he has been and has become as he opens up to his fellow veterans and then gives a healthy dose of brutal, first hand real world advice to a clueless kid from the sticks who considers himself to be quite clever and world-wise.
The road trip that was intended to help him escape to the land of milk and honey, is clearly turning out to be less of what he wants and more of what he needs.  The kicks on his Route 66 are anything but the fun variety.  Did I mention…
LIFE HAS A FUNNY WAY OF DOING THAT?…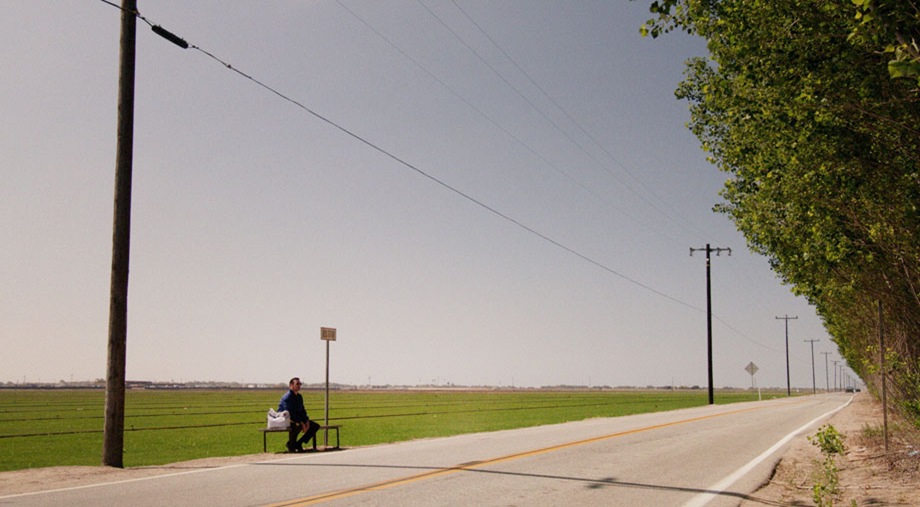 That brings us to the series finale *sniffle sniffle,* 'Person to Person.'  I know I'm not the only one thinking this episode really needed to be two hours long.  It was a bit slapdash as the writers tried to tidy things up and slap a bow on it which was a disservice to fans and cast alike.
That being said, this far too abbreviated episode, while not providing us with the level of depth to which we've become accustomed did provide us with closure…mostly.
LET'S BREAK IT DOWN, SHALL WE?

JOAN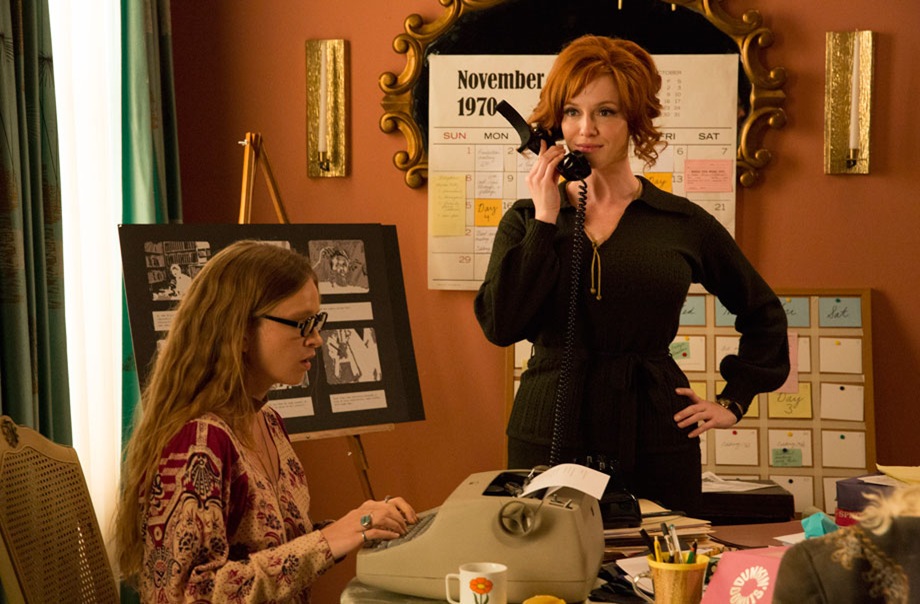 She seizes an opportunity to start her own production company and build something great…for herself…without any men oppressing and harassing her.   There was a price.  She had to lose that self-centered, controlling, spoiled as hell but richer than God asshat she'd been dating, but I don't think she'll miss him long.  She finally gets to live life on her own terms.  Thank god for that Rolodex.
ROGER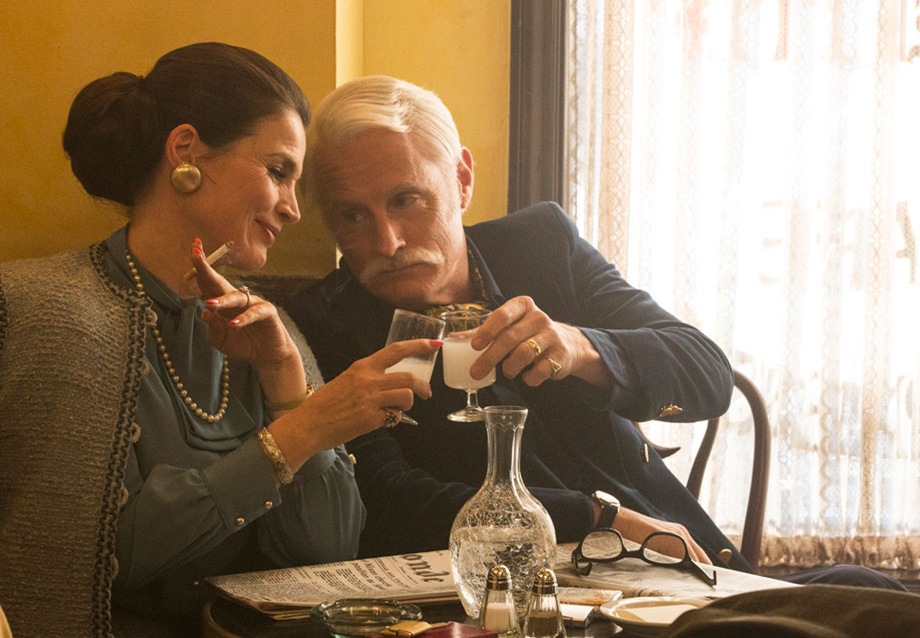 Like I said, Roger the cat always lands on his feet.  We leave him in Canada, with the assumption that he's (finally) living in wedded bliss (check out the wedding rings) and being his usual charming and smart ass self, even if his French sucks.  Roger, more than most of the characters, truly deserved happiness.  Despite his philandering, he was a good and loyal person and would and frequently did everything he could to support his friends…and was always 100% Roger, something that, in and of itself, should be rewarded.
PETE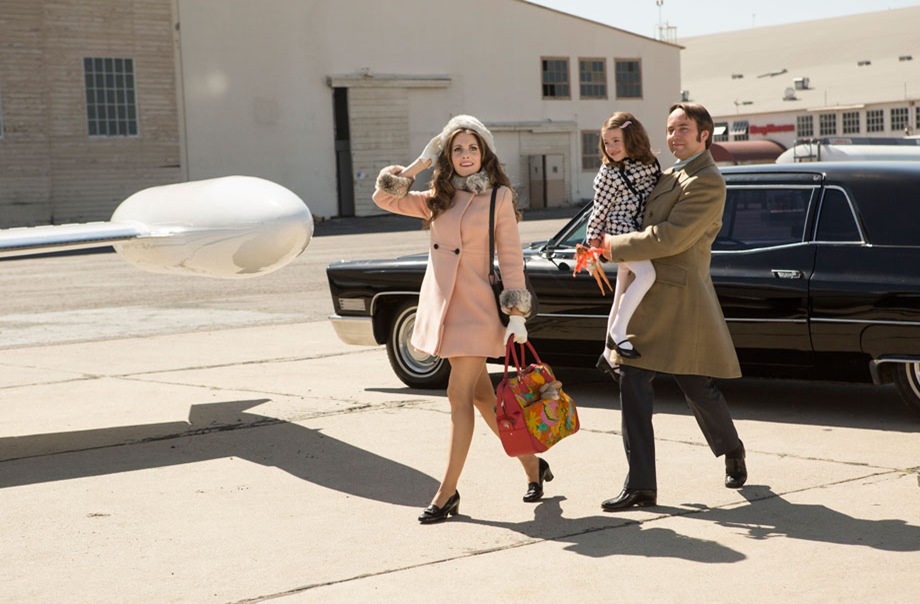 Seriously.  WTF.  Just wtf.  He lands his dream job with a killer salary and insane perks.  He even manages to get his family back?  How the f**k did THAT happen?  More power to him, I guess…he's hardly deserving of any of it, despite his epiphanies and personality overhaul at the end of it all.  But I suppose everyone deserves a second chance, especially when they recognize their mistakes and change.
SALLY & BETTY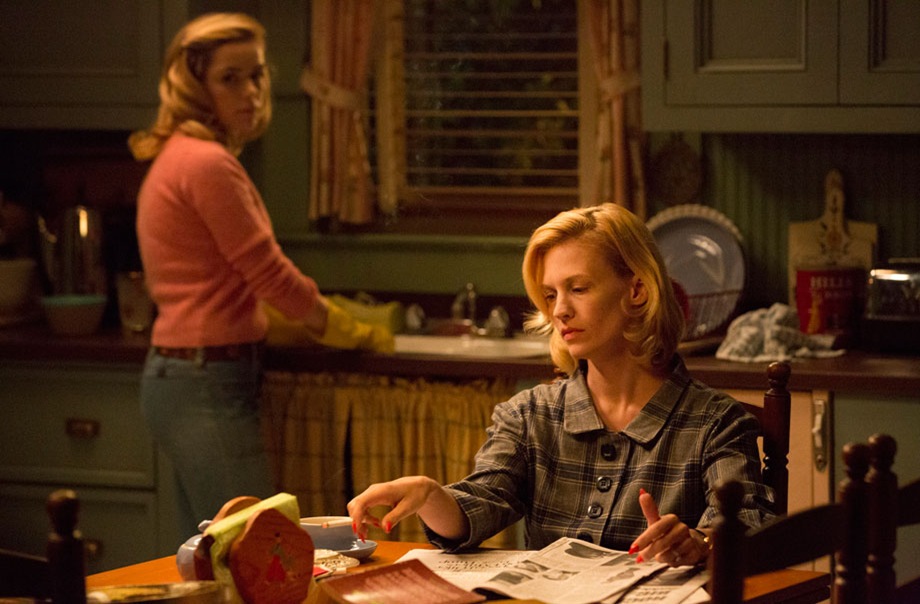 Despite Betty's protests and promises that Sally won't be allowed to watch her die, Sally puts her life on hold and stays with her quickly fading mother.  Why Betty changed her mind we'll never know.  But Sally steps up and makes the loving, noble and brave decision to care for her mother and family as her mother slips away.
It's a hard road for them both but I think it's clear that this is the best thing that could have happened to their relationship as they both come to respect each other in ways they previously had not which opens the door for a healthier way of loving each other…and that is a gift given by the tragic ending of their storyline.
PEGGY & STAN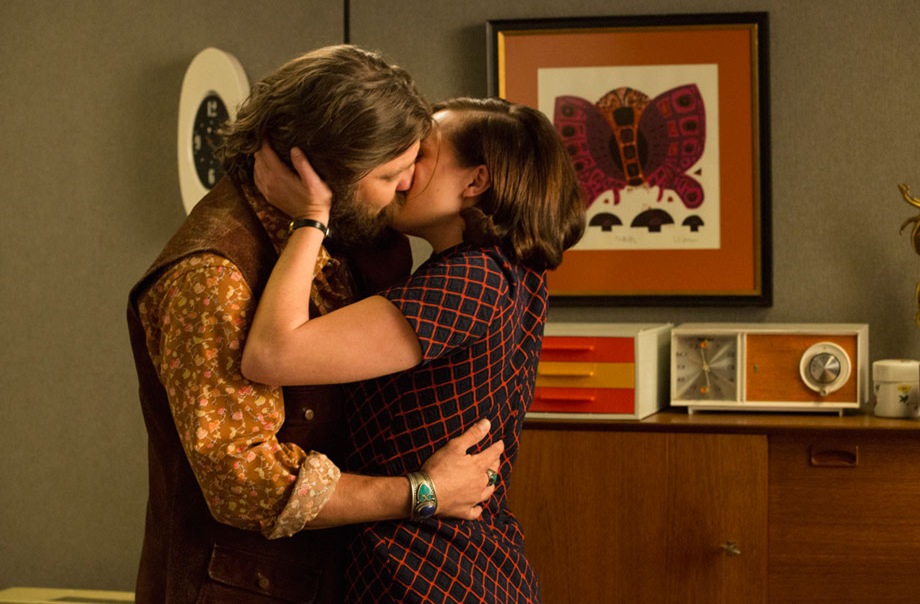 It's.  About.  Damn.  Time.  And the way they professed their love for each other, how it was said, the words that were used – absolute perfection.  I admit it.  I cried.  My heart melted and I totally cried.  I have been waiting for them to get together for years.  And even though they're fictional characters, it gives me hope that things can and do work out if you're patient.  This was my favorite ending of all the characters' stories.  I'm a sap and hopeless romantic.  I know.  Just don't tell anyone.  I don't want word getting out.
DON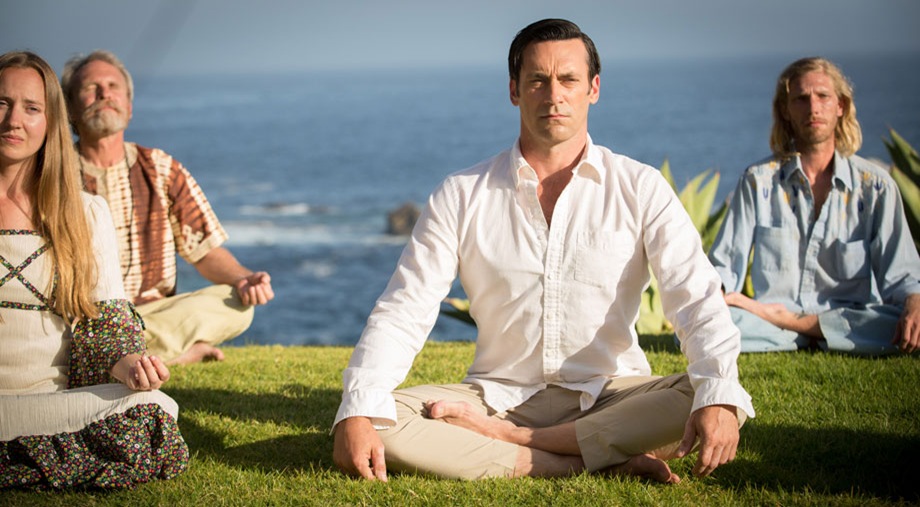 Talk about a major transformation.  When he left he was lost.  He had been lost for so very, very long.  But he finally found the truth.  He finally found himself.  He had been trapped and tangled in a web of his own making for so long and was constantly afraid, looking over his shoulder and unable to settle.
Like so many of us he kept thinking the problems existed outside himself.  That if he merely found the right person then everything would be okay.  But after being abandoned on a retreat the truth of life, his life and everything he had believed finally came to a head.
On the verge of a real breakdown (not the close but no cigar breakdowns he's had before) he half asks half cries to one of the hippies at the retreat…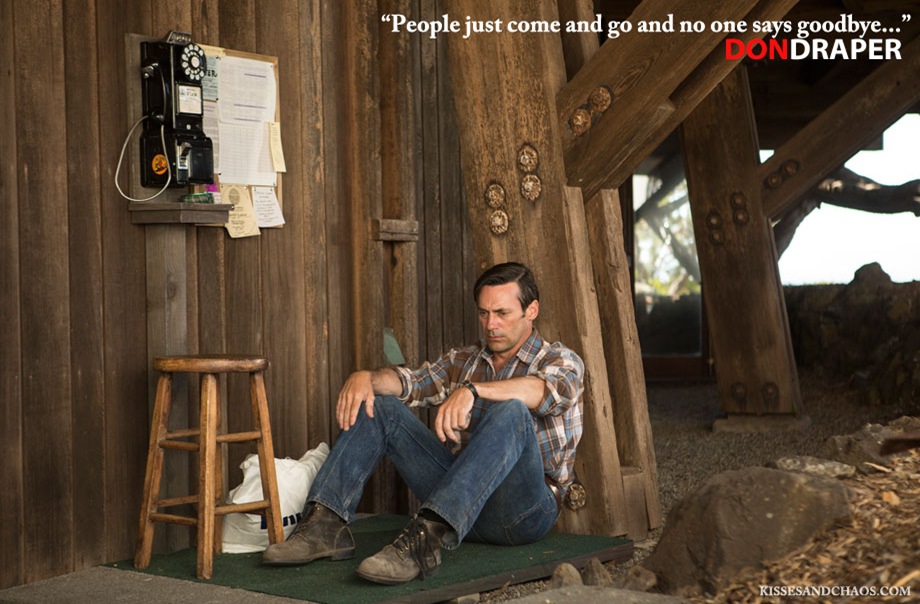 To which the young hippie girl gives an unintentionally profound reply:
"Sorry, but people are free to come and go as they please…"
Thus begins Don's tearing down and building back up of his heart, mind and soul.  All the people that he thought would "fix" everything…they were placebos.  He was the constant and he was all he needed.  He had lied, cheated, deceived, betrayed and manipulated out of what he perceived as a need to survive and to escape both his past (and we're talking all the way back to childhood), his present and to secure his future.
But what he needed was to accept himself, to see himself, to love himself and that everything, all of it, all of what had been weighing him down and tormenting him…that he could let it go.  He is who he has always been and he can embrace it…and so can others.
He didn't skate by on his charm and his looks (though they certainly never hurt him).  He created it all.  He created himself.  He created brilliant ideas.  He did it.  Not someone he made up.  It was him.  It was all him.
And as he sat on that cliff, meditating, trying to center himself and calmly claw his way out from the bottom of the pit he had dug, there it was.  The epiphany.  The truth.  The reality.  And one of the best and most enduring campaigns in all of advertising.  And it was him.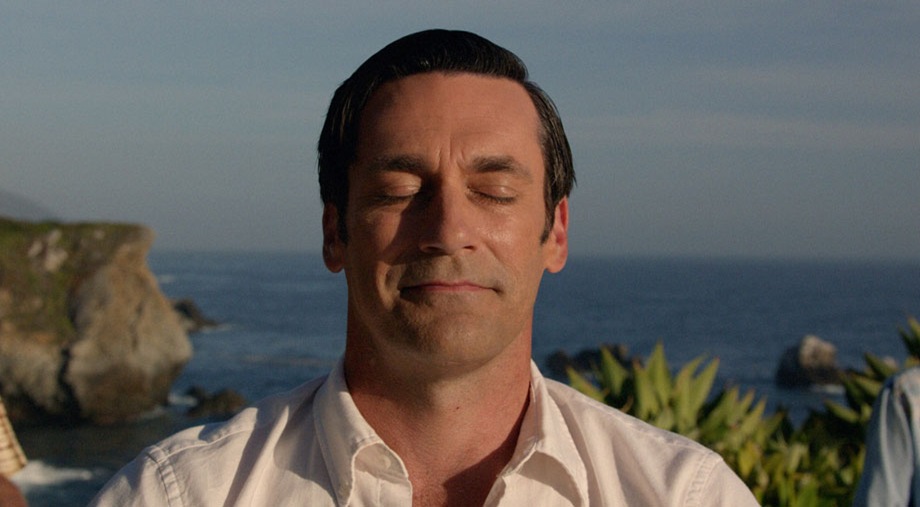 There are some cynics who saw the series finale as Don merely circling back to precisely where he began, with no growth or improvement – still using others to spur his genius and perpetuate his playboy lifestyle.
But I suppose what you see depends on the lens you look through.  As for me…I'd like to teach the world to sing.  I'll leave the cynicism to the cynics and I'll see the series finale through the eyes of someone who believes that even antiheroes can grow and find happiness.
Farewell Kisses & Madison Avenue Chaos,
Alli Woods Frederick
IMAGES  ::   ALL IMAGES COURTESY AMC  ::