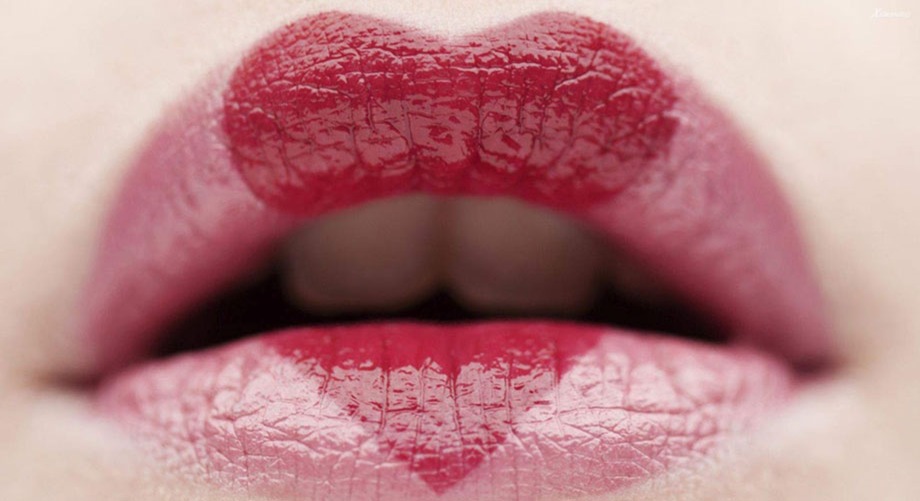 LOVE is in the air and that means lots of kissing, which only makes sense since Valentine's Day is just around the corner.
BUT THERE'S ONE LITTLE PROBLEM…
It's still winter which means your lips are as dry as the Sahara and kissing them would feel like making out with a belt sander.  You want soft, supple lips, kissable lips if you're going to get your snog on.
So I'm here to save your lips (and the lips of your honey because kissing a belt sander?  Not good).  Say farewell to those dry, flaky lizard lips and instead…
GET KISSABLE LIPS WITH THESE DIY LIP SUGAR SCRUBS
(AND THE BEST PART IS YOU ALREADY HAVE THE SUPPLIES IN YOUR PANTRY. BAM! HOW EASY IS THAT?)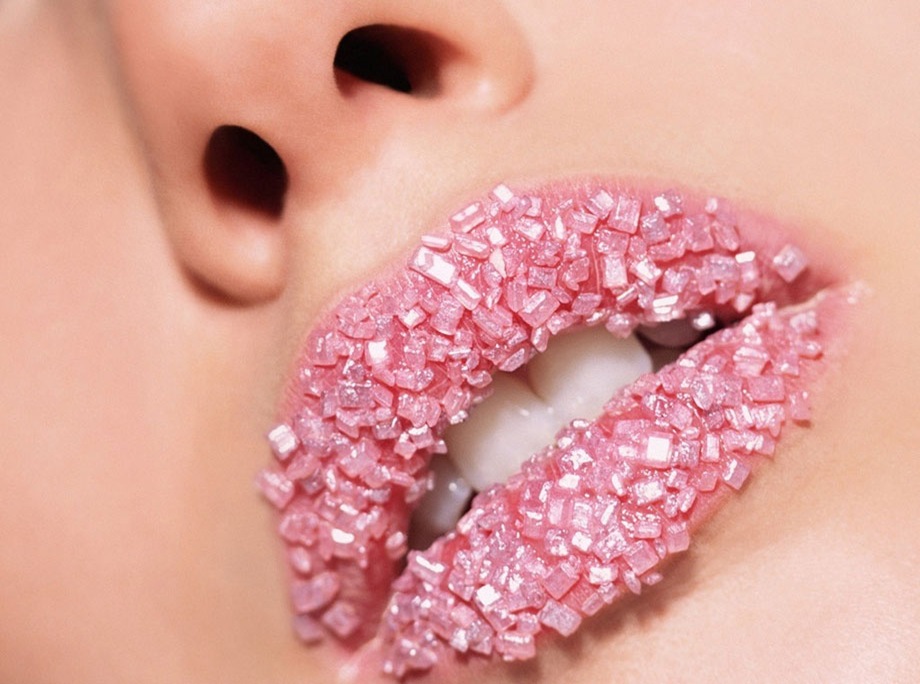 SUPPLIES:
(WHAT YOU NEED WILL DEPEND ON WHETHER YOU MAKE THE CHOCOLATE OR VANILLA VERSION, BUT I LISTED THEM ALL HERE AND WILL BREAK IT DOWN FOR YOU IN EACH RECIPE)
*  Sugar (either white or brown – your preference.  Personally I like brown.)
*  Vanilla Extract
*  Cocoa Powder
* Olive Oil
*  Honey (optional)
*  Cinnamon (optional)
*  Vaseline (optional)
(NOTE: YOU CAN USE OTHER OILS SUCH AS COCONUT, GRAPESEED, OR SAFFLOWER BUT THE OIL YOU CHOOSE WILL EFFECT THE LIFE AND STORAGE OF YOUR LIP SCRUB.  EXAMPLE:  ANYTHING MADE WITH COCONUT OIL WILL NEED TO BE REFRIGERATED AND WILL ONLY LAST TWO WEEKS.  OLIVE OIL IS LESS EXPENSIVE, IS AMAZING ON SKIN AND SEEMS TO BE THE EASIEST TO STORE WHICH IS WHY I CHOOSE IT FOR THIS PROJECT.)
* Small glass or plastic jars to store your delicious creation
* Any little decorations or labels you may want to add to the packaging if you want to get all fancy
VANILLA VIXEN*

INGREDIENTS:  1 tbs brown or white sugar (I prefer brown)
1/8 – 1/4 tsp vanilla (you can adjust to your liking)
1 tsp olive oil (1/2 tsp if using Vaseline)
1/2 – 3/4 tbs honey (optional)
1 tsp Vaseline (optional)
In a small bowl mix the brown sugar with with the olive oil and vanilla and gently blend and place in your small jar.  Store in a cool, dry place and it should keep for about one to two months.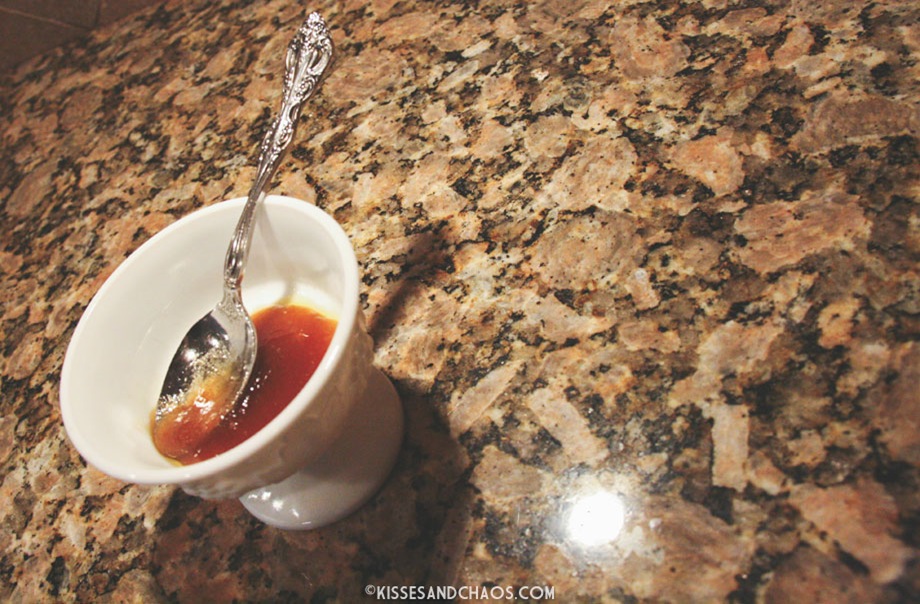 If you're including the optional ingredients then gently mix the brown sugar with the honey then add the Vaseline. Gently blend and then add the olive oil and the vanilla. Place it in your jar and store in a cool, dry place.  This blend should last approximately two-ish weeks.  Use your judgment.  If it looks weird and smells funky, toss it.
It is important not to over mix.  The more you stir the more the sugar dissolves which defeats the purpose. The consistency should be similar to really wet sand, a little squishy but not runny.  If you use honey (as I did) then it will be less like sand and more goopy and gooey. If you don't like goopy and gooey then you can always add more sugar until you achieve a consistency you like.
DEATH BY CHOCOLATE*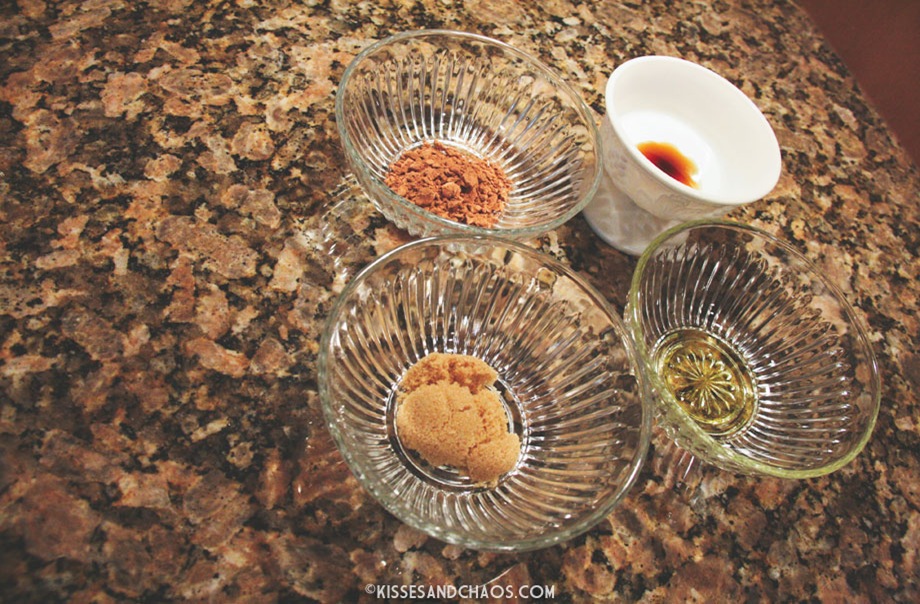 INGREDIENTS:  2 tbs brown sugar
2 1/2 tsp olive oil
1 tbs cocoa powder
3/4 tsp vanilla (you can adjust to your preference)
a dash of cinnamon – around 2-4 pinches (optional)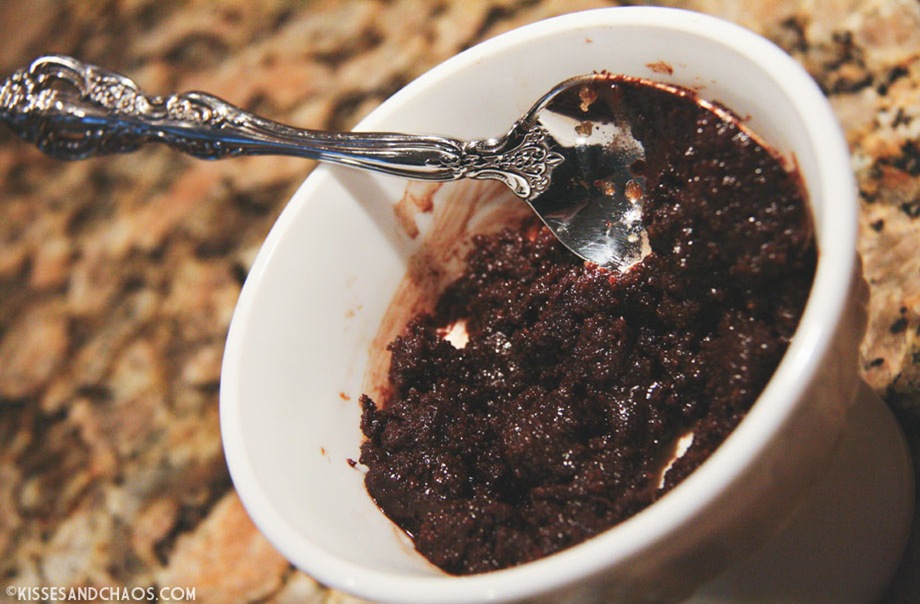 The instructions are the almost exactly same as for the Vanilla Vixen:
In a small bowl mix the brown sugar and cocoa powder with with the olive oil and vanilla and gently blend.  The consistency will be exactly like wet sand – moist but clumpy and gritty. If your batch is too runny or too dry then either add more sugar or more olive oil (in small amounts) until the consistency is just right.
I had to play with the recipe to get the texture just so (thus why this batch is slightly larger than the Vanilla Vixen).  Once you have it just right place your concoction in your small jar.  Store in a cool, dry place and it should keep for about two months.
HOW TO USE THIS DELICIOUS STUFF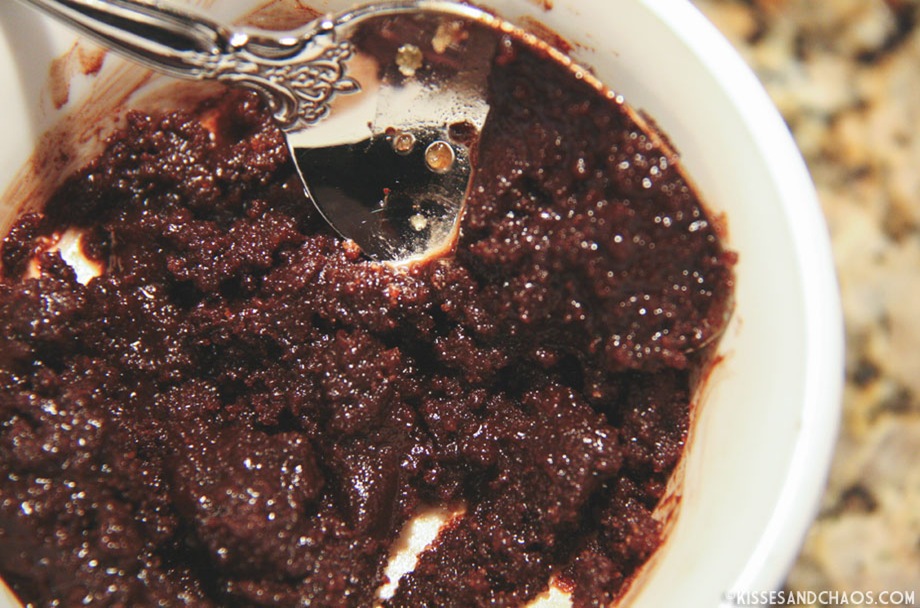 First and foremost don't eat it.  (I did.  I totally ate some and it was yummy.  I'm a hypocrite.  I know, so I don't want to hear it.)  I know it will be tempting but don't eat it…I mean you could eat it but then what about your lips?  You'll be back at square one.  And if you make the Vaseline versions then you really shouldn't eat it…Vaseline doesn't taste all that great and it's pretty goopy.  Just…blech.  But really the directions couldn't be more simple.
All you have to do is moisten your lips with a little warm water.  Take a small little dollop of your scrub and gently rub it in circles on your lips for about a minute.  If a little gets in your mouth, enjoy it.  It's delicious (well…sans the Vaseline, as we've already discussed).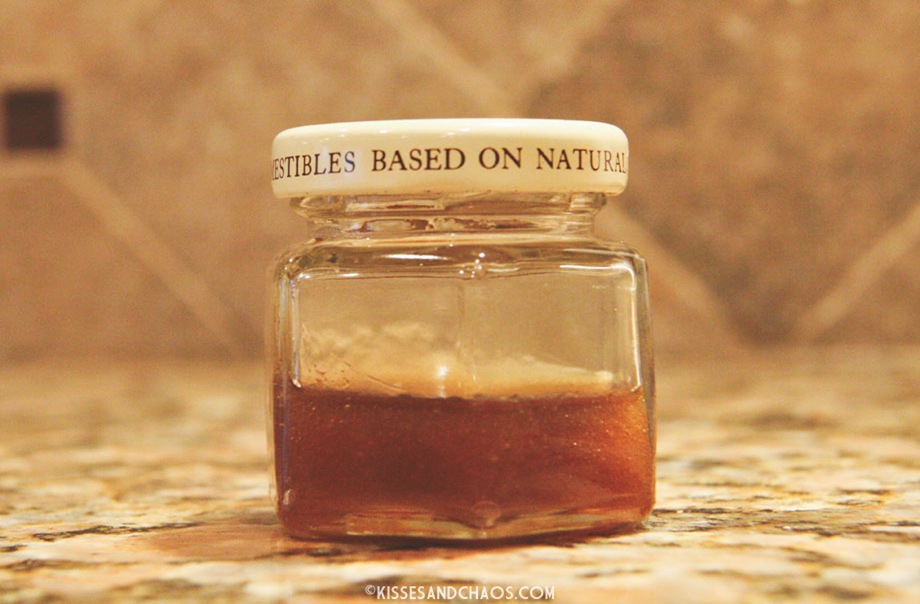 Remember there's no need to press hard.  We want your lips soft, not raw and bloody (unless you're into that).  Once you're done simply rinse with a little warm water or, if you want a little extra exfoliation, you can gently wipe it off with a warm washcloth.  Pat dry and top off with a moisturizing lip balm.  To keep them silky soft give 'em a good scrub a couple of times a week.
Now your lips are soft and smooth and ready for a some super sexy smooching.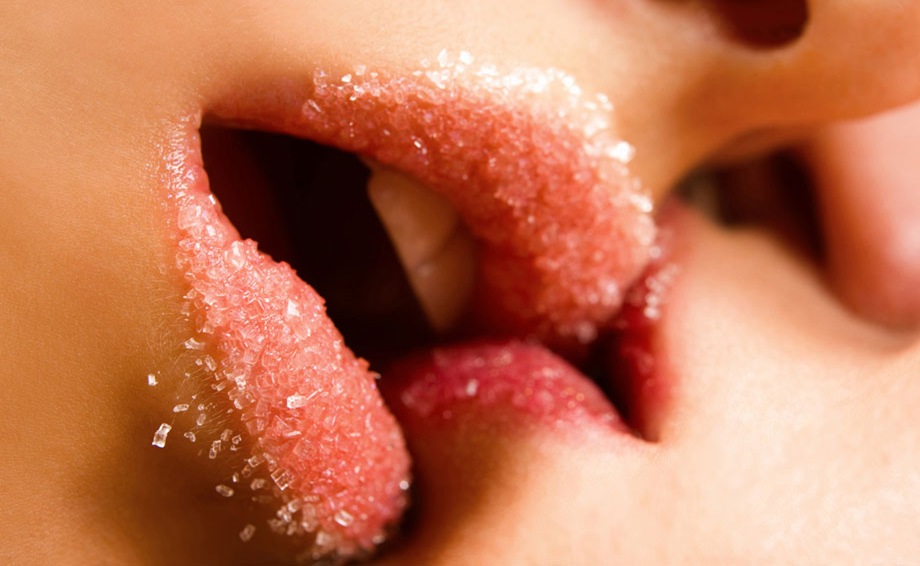 An added bonus?  Your lipstick will look a million times better now since it won't get stuck on those dry flaky patches which, let's be honest, looks pretty gross.  So even if you're kicking it solo this V-Day like me, you can still enjoy the perks of your now perfect pout by rocking that vibrant lipstick flake free with your soft luscious lips.
Not a fan of chocolate and vanilla?  Find them to be more than a bit boring?
SHAKE THINGS UP AND MAKE YOUR OWN VARIATIONS:
(WHICH I WOULD LOVE TO HEAR, BY THE WAY SO FEEL FREE TO LEAVE YOUR CUSTOM BLENDS IN THE COMMENTS)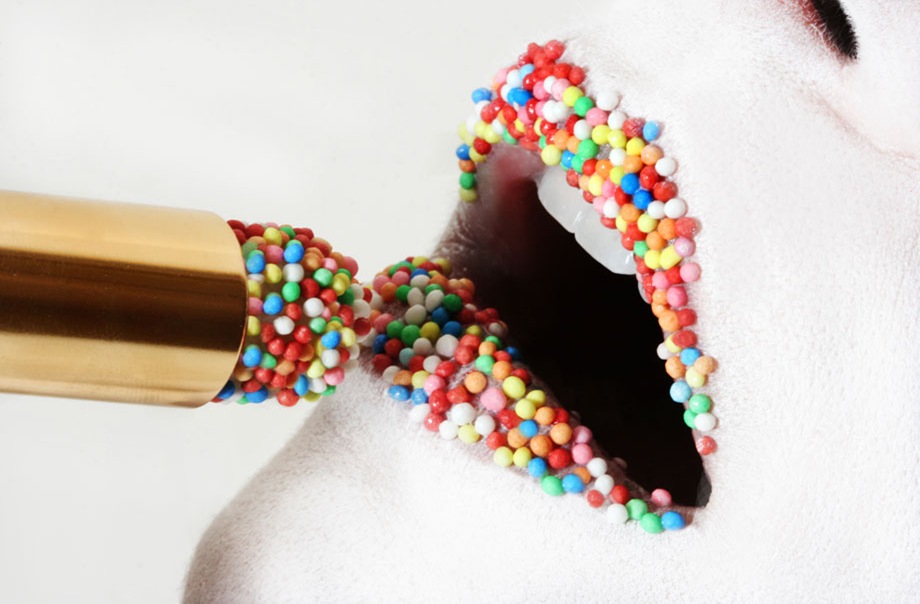 *  Make it red hot by using food grade cinnamon oil** (in the baked goods section of your grocery store) to add some serious hot n' spicy kick.
*  Are you a chai junkie like me?  Add a little chai tea to the mix.  I don't recommend licking this one off.  You really don't want to eat the tea.
*  Like things minty fresh?  Use food grade peppermint oil flavoring** to give you lips a fresh and minty tingle.
*  Can't live without your morning cup of java?  Add some ground coffee to your scrub.  Or if you prefer mochas then why not a chocolate coffee combo?
*  Pine over all things pumpkin?  Sprinkle in some pumpkin pie spice with that vanilla.  Perfect for fall.
Don't be afraid to play and experiment.  Just remember that if you use perishable food items (like pumpkin pie mix, coconut oil or anything that requires refrigeration you will need to store it in the fridge and it will have a much shorter shelf life than using ingredients that don't spoil as quickly.)
Now go get your pout pucker perfect with seriously smoochable lips that will be irresistible and totally kissable.
Super Soft Kisses & Crazy Make Out Chaos,
Alli Woods Frederick
*IF YOU WANT TO MAKE LARGER BATCHES TO GIVE AS GIFTS MERELY INCREASE THE AMOUNTS AS FOLLOWS:
~ LARGE CHOCOLATE BATCH  ~
1 1/2 CUPS BROWN SUGAR
3 TBS COCOA POWDER
1 TBS VANILLA
1/3 CUP OLIVE OIL
1/2 TSP CINNAMON (OPTIONAL)
1/4 TSP* VASELINE (OPTIONAL)
*FEEL FREE TO EXPERIMENT WITH THE AMOUNT UNTIL YOU ACHIEVE A CONSISTENCY YOU LIKE
~  LARGE VANILLA BATCH  ~
1 1/2 CUPS BROWN OR WHITE SUGAR
1 1/2 TBS VANILLA
1/3 CUP OLIVE OIL
2 TBS HONEY
1/4 TSP CINNAMON (OPTIONAL)
1/4 TSP* VASELINE (OPTIONAL)
*SEE NOTE REGARDING PORTION OF VASELINE ABOVE
**IMPORTANT NOTE:  FOOD GRADE OILS ARE NOT THE SAME AS ESSENTIAL OILS.  THE MAJORITY OF ESSENTIAL OILS ARE NOT SAFE TO INGEST AND MANY ARE HIGHLY TOXIC IF CONSUMED.  DO NOT USE ESSENTIAL OILS FOR THIS PROJECT.  ONLY USE FOOD GRADE FLAVORINGS FROM THE BAKED GOODS SECTION OF THE GROCERY STORE.  I CAN'T STRESS THIS ENOUGH.  DO NOT USE ESSENTIAL OILS UNLESS YOU WANT TO SERIOUSLY F' YOURSELF UP AND POSSIBLY DIE THE DUMBEST WAY POSSIBLE.  DO YOU REALLY WANT YOUR OBITUARY TO READ:
"DIED FROM POISONING CAUSED BY HOMEMADE LIP SUGAR SCRUB EXPERIMENT GONE AWRY."
DO YOU?  BECAUSE THAT'S A SERIOUSLY STUPID WAY TO GO.  SO ONE LAST TIME:
DO NOT

USE ESSENTIAL OILS.  DO NOT.  DON'T.  ODDS ARE YOU DON'T KNOW WHICH ARE SAFE AND WHICH ARE TOXIC AND DON'T BELIEVE WHAT YOU READ ON YAHOO ANSWERS BECAUSE THAT PLACE IS POPULATED BY IDIOTS.  JUST ERR ON THE SIDE OF CAUTION AND USE FOOD GRADE FLAVORINGS INSTEAD.  OKAY.  I'VE NAGGED ENOUGH.**



IMAGES  ::  DIY OR DIE LOGO © KISSES & CHAOS  :: VIA MODERN ROSIES  ::  DIY SUGAR SCRUB IMAGES © ALLI WOODS FREDERICK  ::  SOURCE UNKNOWN  ::  SOURCE UNKNOWN  ::  SOURCE UNKNOWN  ::  REIKI LOGO & PHOTO © ALLI WOODS FREDERICK  ::
PS – Today through Sunday, February 15, I'm having a Valentine's Day Reiki Sale for you to treat yourself or to share with friends and family – Buy 3 Get 1 Free!  You can read all about it (and grab yours – there are only 7 available and it's first come first serve so you know what that means!) over in the shop, The Haus of Chaos.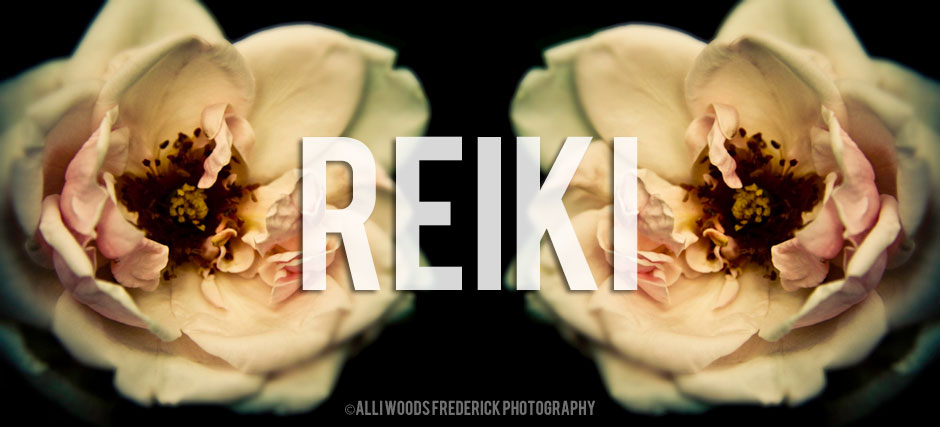 *(and if you're sharing your sessions with friends or family, just make sure you add their names to the little note to seller section during checkout so I won't be wondering who in the world they are when they schedule their appointment. *wink*)