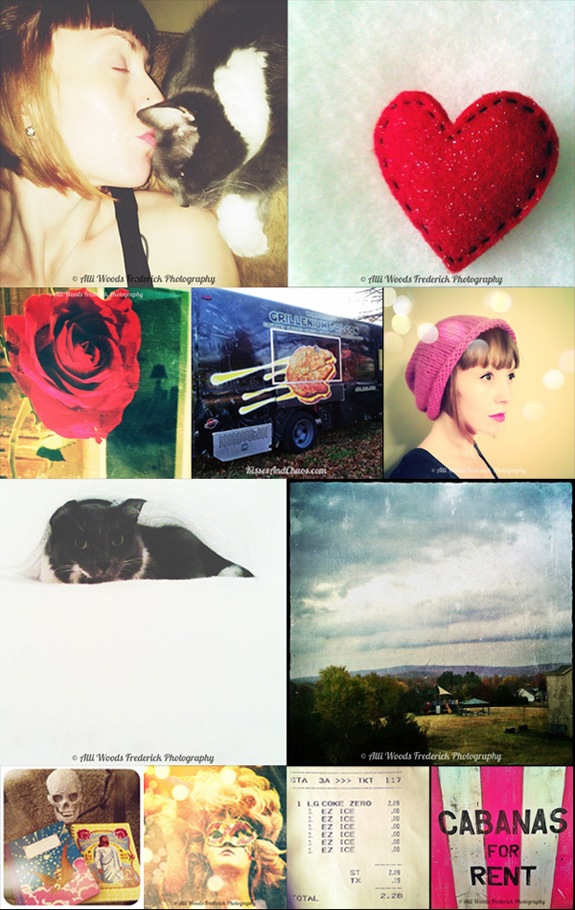 I love November.  The leaves fall from the trees leaving the branches stripped bare, exposing a whole new world.  The air becomes crisp & we turn our attention to family, gratitude & joy.  All the pumpkin flavored everything is a definite perk too.  Yes.  I love November.
This is brilliant.  Are you a typography enthusiast?  Do you look at websites and wish you knew what font they used for this, that and the other?  Then fount is for you.

Fount is a bookmarklet that tells you what font was used on a website.

  You simply press the bookmarklet, hover over the text and tadum!  It tells you precisely what font was used.  I told you it was brilliant.
When the free online editing service Picnic was closed down the outcry was so great that it caused a disturbance in the force.  I have good news for you. 

The free online photo editing vacuum has been filled by PicMonkey!

  It has tons of excellent free editing options as well as some premium features.  I tried it & it's super easy to use with lots of cute extras.  Dig it.
Minted.com, one of the best printers I've come across for quirky business cards and custom printing, is offering a new service…and it's FREE! (One of my favorite words!)  When you order holiday cards Minted will address your envelopes and mail them for you on the house.  It's the perfect solution if you have a billion cards to send.  No strings, no code, no carpal tunnels…just follow this link to get in on the goodness.
I love to read.  I also love zombies…and cats.  Enter Anna Sternik's awesome bookmarks.  I can take my pic between

a pair of bloody, rotting zombie hand bookmarks

reaching out from the top of my book or

cute little cat paws.

  Decisions, decisions.
And what goes better with a zombie bookmark than a zombie book?  As a zombiephile it is my duty to read all the good zombie lit. 

Zombie, Illinois:  A Novel

and

Zombie Ohio:  A Tale Of The Undead

,  both by Scott Kenemore, are on my list.
I'm a fan of Adam Ant…which naturally led to an interest in & collection of ant related items.

Wit & Whistle's cute little ant stamp

is the perfect addition to my family of ant goodies.  I only wish he had antennas…but regardless he's adorable.

Blackbirds & Bumblebees wants to teach you how to make these whimsical nest spoon ornaments.

  They really are precious.
How in the world did I manage to not know about

Idda van Munster's vintage-filled blog

sooner?  Better late than never I suppose.
Cold weather and my undying love for faux fur make this

Faux Fur + Flannel Blanket DIY courtesy of A Beautiful Mess

a must.
I discovered

the work of artist Scott Musgrove

a few months ago & needless to say it was beautifully weird love at first sight.  That loud thump – thump – squish sound you hear is my heart when I look at his paintings.

If you want an instant mood booster and aren't opposed to saying "Awwwwww" every 5 seconds then watch Animal Planet's show Too Cute.

  The name pretty much says it all – puppies, kittens and other new born cuties doing what they do best…stealing our hearts. 

They even have a live kitten cam.

  Prepare for sugar shock.  It really is too cute.
Every now and then I come across a video series that makes me kick myself for not thinking of it.  Bad Lip Reading is one such series.  Check out their

Bad Lip Reading of Twilight: New Moon

– it's comedy gold.
Also not to be missed: 

Bad Lip Reading lends their talent to the presidential debates and ads

of this fall.  The Honey & I nearly fell out of our chairs when we watched these.  Grab a tissue because you will laugh until you cry.
Kisses & Chaos,
Alli Woods Frederick
images: © 2012 alli woods frederick all rights reserved