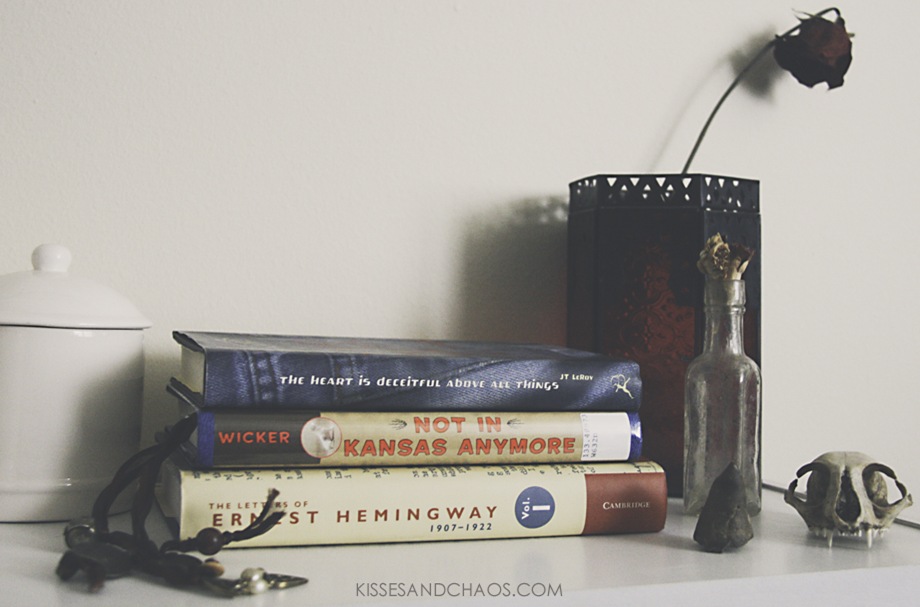 I LOVE BOOKS so I thought sharing my current reads with you was long overdue.  So please join me in welcoming the newest Kisses & Chaos feature, My One Nightstand: a rundown of the books that are currently on my nightstand.  I'm sure you were hoping for something more tawdry.  Sorry to disappoint, but if there's one thing you know by now it's that I never kiss & tell, so get those naughty minds out of the gutter, my dears.
THIS MONTH'S offerings couldn't be more diverse and each is riveting in its own fashion. If you decide to read any of them, please do let me know what you think. I love any opportunity to geek out over books (along with a million other things, but books are pretty high on the list).
My One Nightstand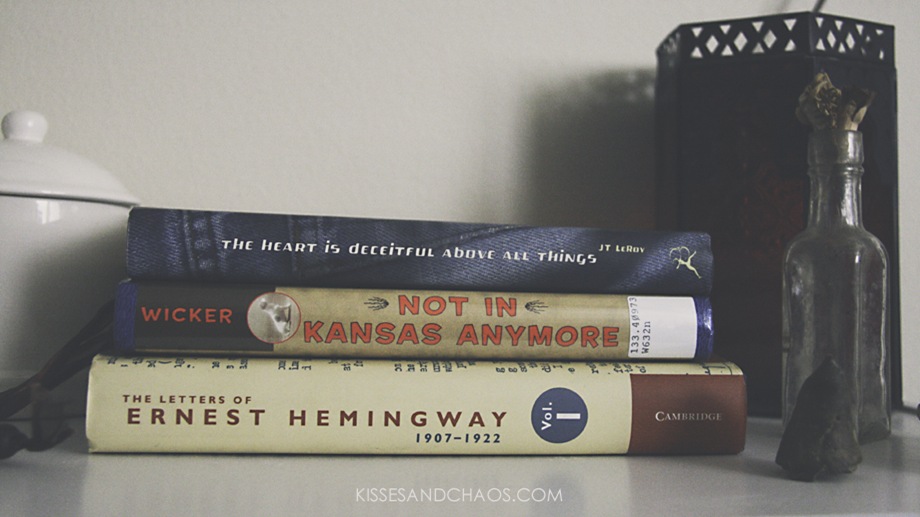 *  The Heart is Deceitful Above All Things by JT LeRoy
IF YOU AREN'T familiar with the giant scam that was author JT LeRoy then you're missing out on half the story.  This book, along with his/her (there was speculation as to LeRoy true gender) other book Sarah were supposedly auto-biographical accounts of a child's horrible life at the hands of a mother who was a "lot lizard," a charming name for truck stop prostitutes, who subjected her child to numerous traumas including prostitution.  LeRoy was later revealed to be a hoax. Every word published was a lie.
THE WHOLE STORY is rather shocking as Leroy had celebrity friends, a band and had become quite the hot ticket all the while remaining elusive and fairly reclusive.  The elaborate hoax and LeRoy mystique sold books hand over fist and even led to a film.
DESPITE ALL THE LIES (which are fascinating…you really should read up on it…hoaxes are always fascinating), the books are fantastic, albeit it very dark, graphic and disturbing.  This will be my second read of The Heart Is Deceitful Above All Things.  I'm hoping it will be as good as I remember it.
*  Not In Kansas Anymore: A Curious Tale of How Magic is Transforming America
by Christine Wicker
I'M ONLY two chapters in and I find it fascinating, despite what I consider to be the rather sad & jaded views of the author (but she is a journalist by trade so there you have it).  Wicker's voice is strong, compelling and witty.  I find myself literally laughing out loud (which is always a bit awkward when reading in a public place).
WHETHER YOU BELIEVE in magic or not this is a great read.  Not only for the way in which it addresses magic and magical thinking across cultures but it also touches on some of the more, shall we say, hilariously dramatic characters of the goth and vampire subcultures…and if you belong to or are familiar with either of these then you'll no doubt recognize some of the "types" she encounters in her quest.
PERFECT for the person who usually finds non-fiction dry and dull, Not in Kansas Anymore is quickly turning into a favorite that will remain on my bookshelf for years to come.
*  The Letters of Ernest Hemingway, 1907-1922 Vol. 1
THIS BOOK is pretty self-explanatory.  It is a (almost) complete collection of Ernest Hemingway's personal letters beginning with his childhood.  Naturally, some letters are missing, some were intentionally destroyed by request, and some are still hidden in boxes left in dusty attic corners to someday be discovered, I'm sure.
IF YOU WANT to see the real man, the real Hemingway, then this is it.  There is no better way to know a man's heart and nature than by the words he shares with those he most loves in his life and Hemingway is no exception.
I CAN'T WAIT to read the rest of the volumes as he grows from boy to man and watch the evolution of the heart and mind of one of the world's greatest authors.
WHAT BOOK is on your bedside table?  Do tell, do tell.  I'm always eager for new reads.  Let your nerd flag fly and share in the comments below or on my facebook page.
Kisses & Chaos,
Alli Woods Frederick
images  ::  © 2014 alli woods frederick.  all rights reserved.  use without express written permission is forbidden and will result in some seriously sh*t-tastic karma for you, so keep your karma clean and don't steal.  ::