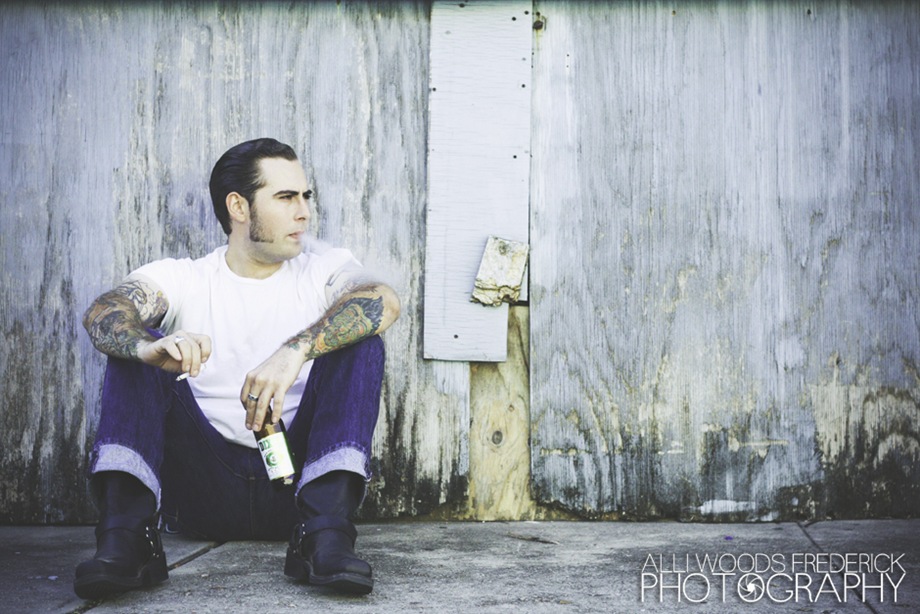 DURING my visit to New Orleans last October I  had the pleasure of shooting one of my friends and sideshow performer, Matt The Pain Proof Man.
SO WHO IS SIDESHOW MATT THE PAIN PROOF MAN (AND WHAT THE HELL IS A PAIN PROOF MAN, ANYWAY)?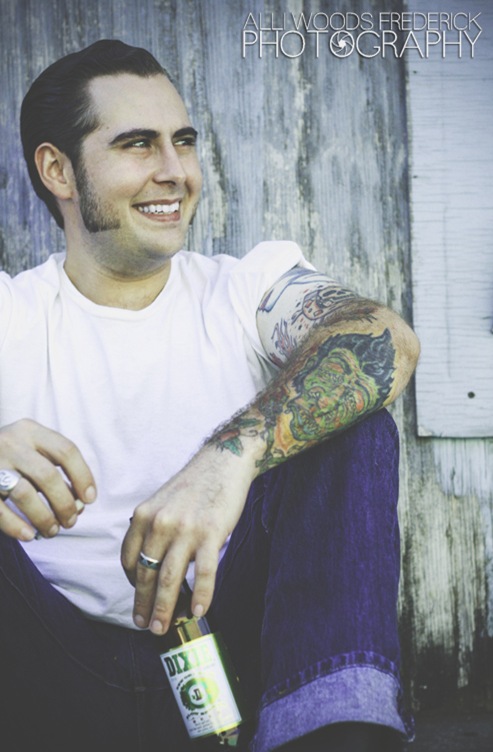 Sideshow Matt performs "classic carnival style pain proof acts."  Basically he's a Strongman and Human Blockhead with a rather eclectic act that defies categorization.  For those of you saying "Huh?" I'll allow Sideshow Matt to elaborate for you:
Me:  "As a sideshow performer what feats of wonder are in your repertoire?"

Sideshow Matt:  "Human blockhead, iron jaw, glass eating, bed of nails, fire breathing and so much more.  I have around thirty different acts I can do…"

Me:  "What sparked your interest in becoming a sideshow performer and how old were you when you started pursuing it in earnest?"

Sideshow Matt:  "I always was interested in sideshows and carnivals as a kid.  But I knew I wanted to get serious about it when I first learned to do blockhead.*  After I did that once I wanted to show everyone I could do it…I was about 20 when I first started.  I have been performing professionally for around 5 years…and learning for about 7."
*BLOCKHEAD ACTS CONSIST OF HAMMERING NAILS AND OTHER INSTRUMENTS INTO THE NASAL CAVITY VIA THE NOSTRILS.  THIS IS BELIEVED TO HAVE ORIGINATED IN INDIA BUT THE FIRST WRITTEN ACCOUNT OF SUCH A FEAT DATES BACK TO 1557 IN ENGLAND.  THE MORE YOU KNOW.*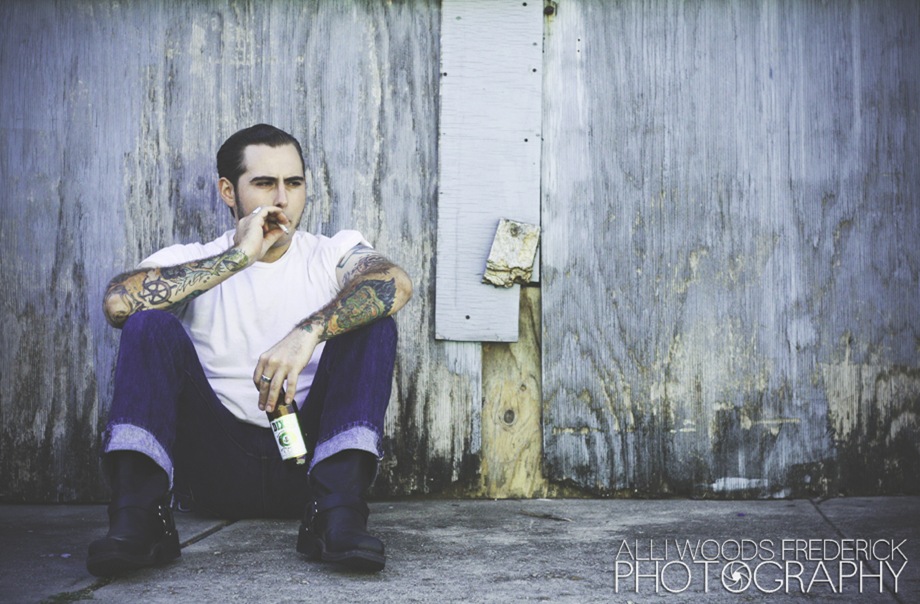 Me:  "How in the world did you learn to do these things?  Did you have a mentor?"

Sideshow Matt:  "I trained myself with everything.*  I usually research the science of how an act works for days or weeks before I do it."
*LEGAL DISCLAIMER:  DON'T BE STUPID AND TRY ANY OF THIS AT HOME.  I KNOW YOU'RE ALL SMART ENOUGH TO KNOW BETTER BUT IN THIS DAY AND AGE I, SADLY, HAVE TO COVER MY ASS AND MAKE SURE TO TELL YOU THESE ARE DANGEROUS STUNTS AND SHOULD ONLY BE ATTEMPTED BY TRAINED PROFESSIONALS.*
Me:  "What is your favorite act to perform?"

Sideshow Matt:  "It's hard to say what my favorite is…it really depends on the crowds reaction…[but] my favorite act is either iron jaw or one where I have an audience member bend a piece of iron rebar around my throat.  Iron jaw is where I pick up a person up with my teeth."

Me:  "What is the most difficult part of your act?"

Sideshow Matt:  "The hardest act I have to perform is probably the iron jaw.  It takes a lot of physical strength and it can actually rupture your spine and break your teeth if you do it wrong.  Sometimes it will cut off my air and make my vision go blurry if I hold my head wrong.  Someone recently told me there are only four other people that do it in the US.  I don't know if that is true or not, but it sounds good so I am going to stick with it.  Haha!"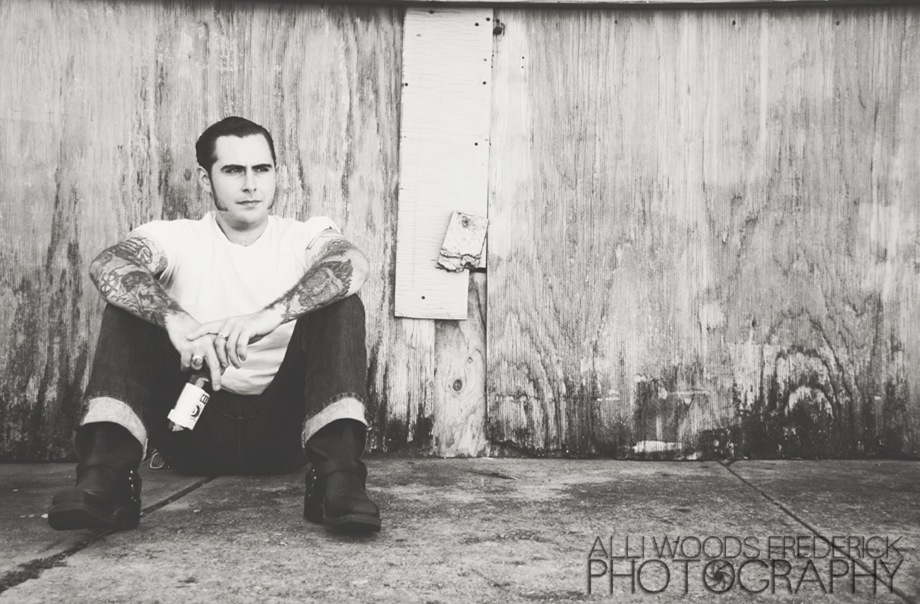 Me:  "Do you have a favorite show?  One that you enjoyed more than any other?"

Sideshow Matt:  "Hmmmmm…favorite show…that is a hard one.  I did a fundraiser for a hospital in Lafayette.  The wrongness that I was eating a light bulb in front of a bunch of doctors in tuxedos was awesome."

Me:  "Who are you biggest role models?"

Sideshow Matt:  "My biggest role models are Melvin Burkhart, Todd Robbins and Captain Don Leslie.  Todd Robbins is the only one that is still alive and, in my opinion, he is one of the best sideshow performers around.  Seriously.  Go watch some of his videos."

Me:  "Do you have any advice for people wanting to get into sideshow?"

Sideshow Matt:  "I have a LOT of advice for people wanting to learn sideshow but the most important pieces are:  never [work] for free and always be respectful to your peers.  Also, it will hurt if you are doing it right."
AND NOW…
INTRODUCING SIDESHOW MATT THE PAIN PROOF MAN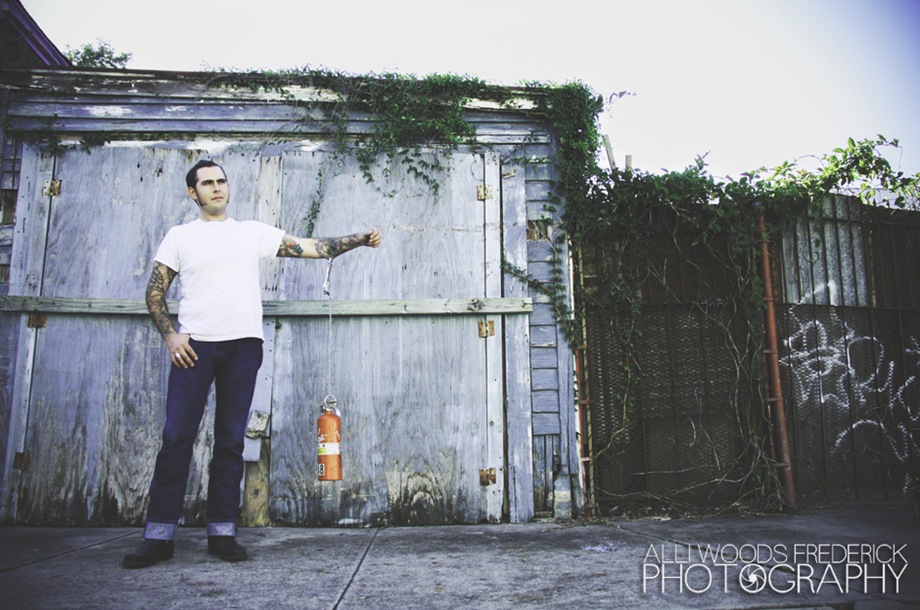 *JUST TO CLARIFY, THAT'S A FULL FIRE EXTINGUISHER CLAMPED TO HIS SKIN.  I REPEAT, CLAMPED TO HIS SKIN.  IF YOU THINK "PFFFT.  THAT'S NO BIG DEAL." GO PICK UP A FIRE EXTINGUISHER AND SEE HOW HEAVY THEY ARE…THEN IMAGINE IT HANGING FROM YOUR SKIN…FROM A CLAMP.  AND LIKE A TRUE PROFESSIONAL HE STOOD THERE FOR AT LEAST 15 – 20 MINUTES LETTING ME TAKE SHOT AFTER SHOT WITHOUT SO MUCH AS A GRUMBLE.  SIDESHOW MATT IS A BADASS.  BELIEVE IT.*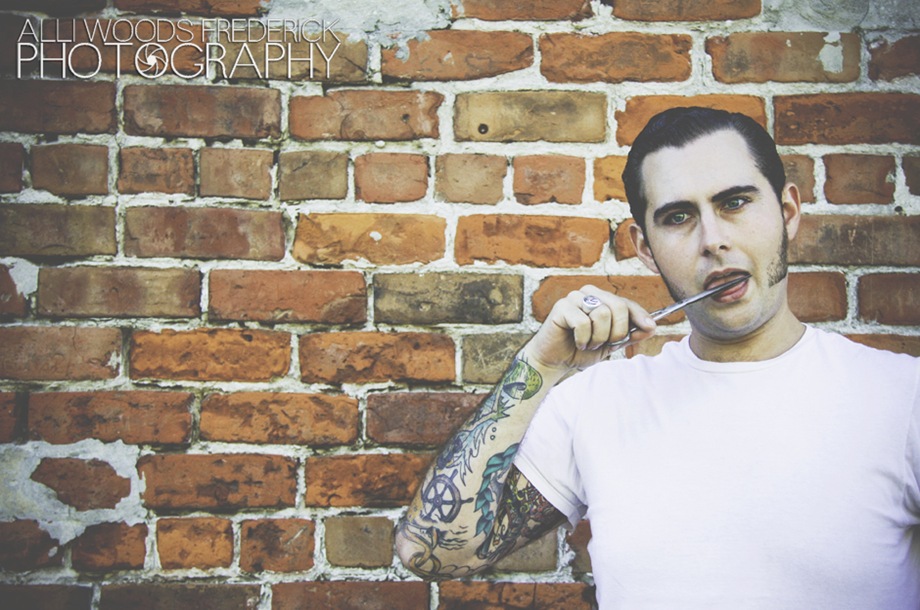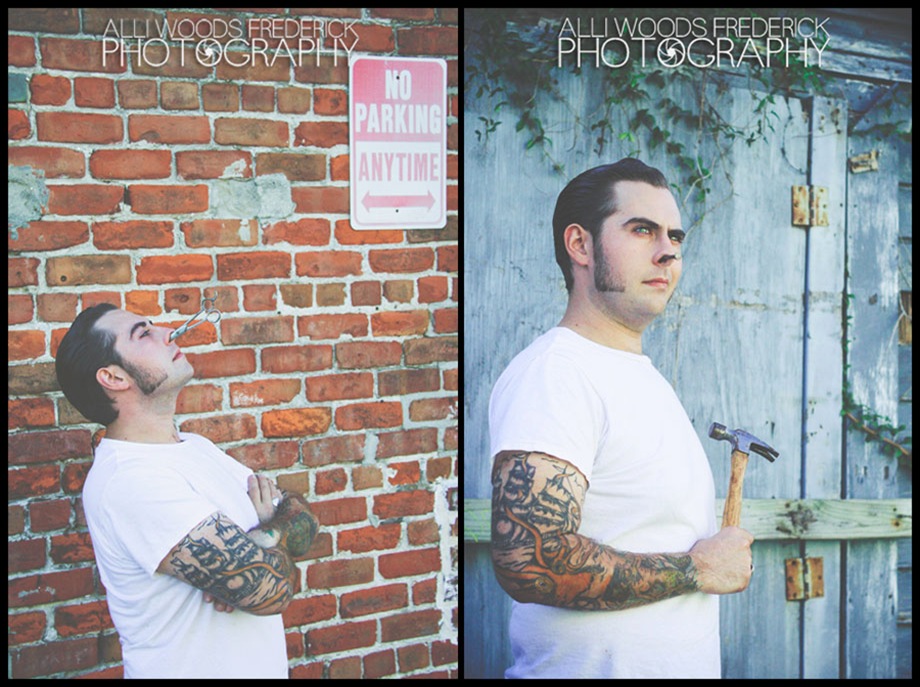 Our shoot was far too short for my liking.  We were pressed for time and, for obvious reasons, not all of his acts could be performed at the public locations where we were shooting without law enforcement turning up and spoiling our fun.  (They tend to frown upon breathing fire in public without a permit…I speak from personal experience, but that's another story for another day.)
Matt and I already have plans in the works for another shoot on my next visit to New Orleans which will feature more of his amazing feats of strength and pain proof-osity and possibly some other surprises that are currently top secret so I am bound to secrecy and cannot share.  Rest assured they will be badass if they come to fruition…badass indeed.
Thanks oodles, Sideshow Matt, for taking time to come out and play and for teaching everyone about the amazing things you do.  I witnessed firsthand, you have truly earned the moniker Sideshow Matt The Pain Proof Man.
Kisses & Chaos,
Alli Woods Frederick
IMAGES  ::  ALL IMAGES © ALLI WOODS FREDERICK.  ALL RIGHTS RESERVED.  USE OR DISPLAY WITHOUT EXPRESS WRITTEN PERMISSION IS STRICTLY PROHIBITED.  ::