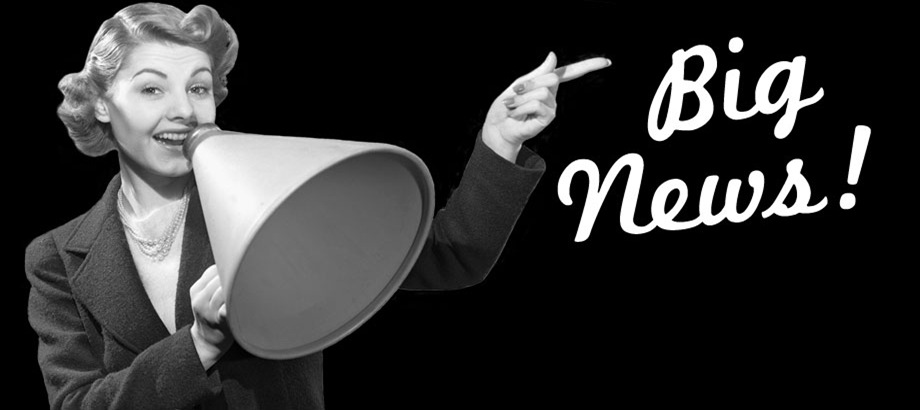 THOSE of you who subscribe to Kiss & Tell™ already know about the changes that are in the works so you can just skip ahead to the end of the post for the new, non-tarot related announcement (which I'm super-excited about).  Those of you who don't receive Kiss & Tell™, read on because…
THE TIMES THEY ARE A CHANGING.
HERE'S THE SCOOP.

These babies take a loooong time and a lot of love to do.  Those pretty (and pretty big) pdf's that come with each reading don't write themselves and there's the time it takes to do the reading itself.  There's a reason there's a 5 day turn around for them and it's not laziness.  After careful consideration I've decided to change the rate for all Year At A Glance readings.
STARTING JUNE 1st, YEAR AT A GLANCE TAROT READINGS WILL CHANGE FROM $55 TO $70 (USD).
NOW THROUGH MAY 31st I'M OFFERING MY FINAL 6 YEAR AT A GLANCE TAROT READINGS AT THE $55 RATE…AND WHEN THEY'RE GONE, THEY'RE GONE.
So this is Farewell to 55 and I'm giving you a chance to grab the last of the readings at the $55 rate.  If you've been on the fence about getting one, now's the time to do it.  Snag yours now by clicking the little 'add to cart' button right down there (checkout is through Paypal so your checkout is 100% secure).
GRAB YOUR YEAR AT A GLANCE READING HERE:
Not familiar with how a Year At A Glance Tarot Reading works?  You can get all the details about the reading (along with rave reviews from my clients) over on the Year At A Glance Tarot Reading page.
(Did you know you can also purchase readings as gifts?  You totally can!  Just include a note to me during checkout with the name of the recipient, any little note or special instructions (like a delivery date) you'd like to include as well as their email address and I'll send them an email with a gorgeous gift card attached.  The best part?  They do nothing to redeem it!  Their reading will arrive in the inbox. Wham. Bam. Thank you, ma'am.)
So if you've been putting off getting your reading for the year, now's the time to pounce before the rates increase forever.  If you have any questions that aren't covered on the Year At A Glance page, please feel free to give me a holler and I'll do my best to answer them.
Remember, this offer is only good through May 31st and there are only 6 readings available, so grab yours now…and now for the non-tarot announcement:
SHE'S GOT LEG(GING)S!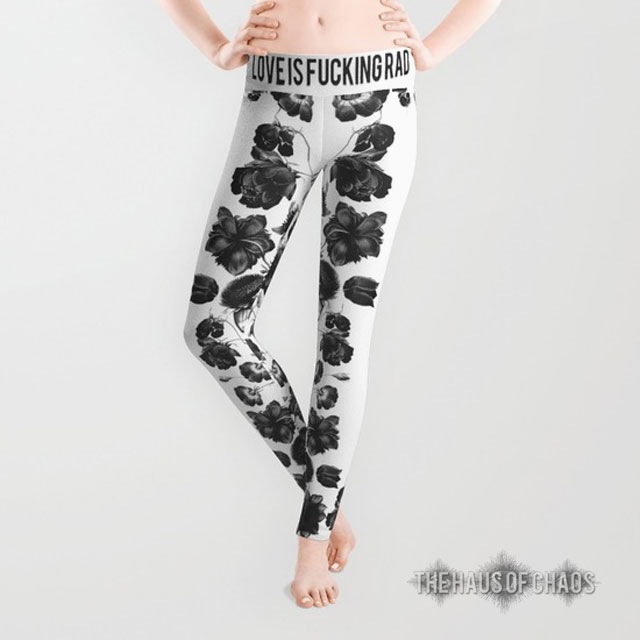 I'm pleased as punch to announce that I'm releasing my own line of leggings based on my photography and design at The Haus of Chaos at Society6!  I am so insanely excited.
I am a leggings junkie but have a hard time finding ones that suit my tastes.  I'm not fan of neon geometric prints or giant smiley faces or tie dye (What?!?! Really?!? You don't say).
IT'S EXCITING TO HAVE THE CHANCE TO CREATE A LINE OF LEGGINGS THAT SPEAK TO MY AESTHETIC…AND HOPEFULLY TO YOURS AS WELL.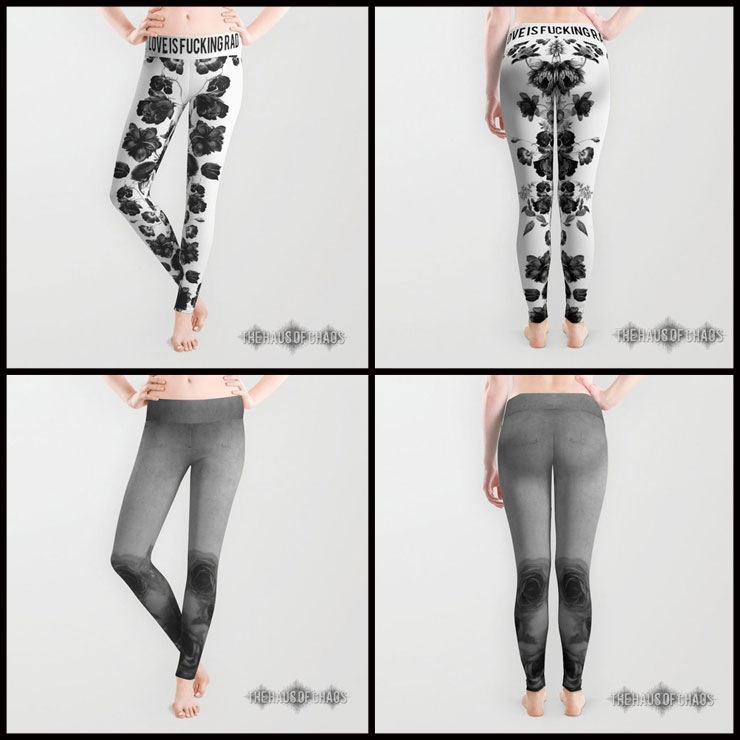 I hope you'll love them as much as I do.  There are only three styles available right now but more will be added over the next several weeks, so make sure to check The Haus of Chaos at Society6 for updates and new pieces.
That's all for now (but I can tell you there's more news to come on Friday and this one's pretty cool so don't miss out).  Have a completely kickass, super-duper, completely rad (yes I still say 'rad') day, my dears.  Great big kisses coming your way, whether you want them or not. *wink*
Kisses & Chaos,
Alli Woods Frederick
IMAGES  ::  SOURCE UNKNOWN  ::  ALL OTHER IMAGES © ALLI WOODS FREDERICK.  ALL RIGHTS RESERVED.  ::