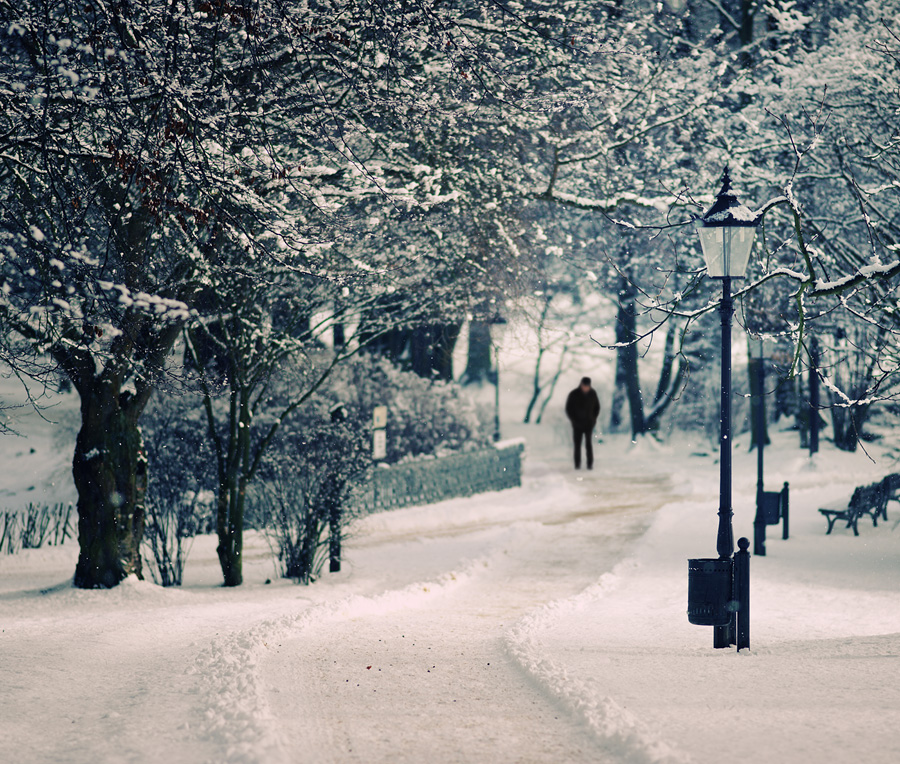 B

eating the Winter Blues
Winter: love it or hate it it's here. So why not make the best of things? Not sure what to do with these cold, dark winter days? Well here are 50 ways to bring warmth and smiles to the dreariest of winter days (which, in case you wondering, I LOVE! Grey days? Bring 'em on!)
Roast marshmallows. No fireplace? Use the oven! Are you a vegetarian? Don't miss out on the fun! Check out these vegan marshmallows!
Catch snowflakes on your tongue.
Heat things up by watching the first 3 seasons of True Blood.
Treat your skin and your psyche with a full body massage.
Learn how to knit your own scarf. Or if you're really adventurous (not to mention patient) knit your own sweater. Ravelry.com is an excellent knitting resource
Wear mismatched socks simply because you can.
Try a new lipgloss to keep your pucker picture perfect and soft. No one wants chapped lips when they're standing under the mistletoe.
Make haystacks…they are the easiest, most delicious and versatile no bake cookies EVER! (FYI – you can totally make these without the peanut butter and with any flavor chip you want…chocolate, white chocolate, butterscotch…)
Want visions of sugarplums to dance in your head? Spray some of Bath & Body Works Sleep – Lavender Vanilla Pillow Mist on your pillow right before you hit the hay. Lavender helps you sleep and it smells absolutely divine.
Read Phillip Pullman's "His Dark Materials" trilogy (The Golden Compass, The Subtle Knife and The Amber Spyglass). Don't let the film version of The Golden Compass deter you. These books are outstanding and well worth the read.
Have a Harry Potter film festival complete with Harry Potter themed snacks!
Commit at least 5 random acts of kindness…and expect nothing in return.
Tip your waiter/waitress 50%. It feels great and you know that it will make their day.
Clean out your closet. Purging your life of things you don't need feels wonderful.
Donate GOOD sweaters and coats to a shelter or charity…and make sure they're nice…no one wants your stained sweater that's riddled with holes.
Make gingerbread men…and then bite their heads off.
Send a card to a complete stranger…just pick a name out of the phone book. Feeling extra generous? Put a gift card inside.
Snuggle up with a stack of magazines. (My favorites are Juxtapoz, TAPS Paramagazine, Victoria, Nylon, Coilhouse and Artful Blogging)
Browse Flickr's Explore page.
Donate your time to a cause like Big Brothers Big Sisters or…
Donate your money to a charity like Stand Up To Cancer.
Dance around like a fool.
Sing your heart out.
Go for a drive and look at Christmas lights…there are some, erm, interesting decorations out there…
Make some vegetarian chili. It tastes better than you think. Honest.
Expand your horizons without leaving your home…discover art! I've put a really interesting artist interview at the end of this post.
Drink a cup of hot apple cider. Whether it's spiked or not is entirely up to you.
Appoint one day "Ugly Christmas Sweater Day" and rock the most hideous one you can find. There is an amazing selection at BuyUglySweaters.com.
Check out Dr. Emoto's images of water crystals. Is there any surprise that love water and hate water look so different? Check out the end of the post for an interesting video about Dr. Emoto's work.
Embrace your inner 11 year old and write a fan letter.
Learn how to meditate.
Can't sit still long enough to meditate? Try yoga. It's meditation in motion. It's great for your health and your spirit.
Draw a picture using one line and without lifting your pen. Yes it will look CRAZY but it's fun! It also helps you let go of perfection.
Give your dry hands some TLC. Give yourself an instant manicure. Just use a little Just A Minute 60 Second Manicure , rinse it off, slap on a coat of clear nail polish and slather your hands with lotion…Voila!
Have a long talk with an old friend.
Adopt a pet. There are thousands upon thousands of little furry fellas that need good homes and want nothing more than to love you. Adopting my Mischa was one of the best decisions I've ever made. The last 11 years with him have been an absolute joy and I look forward to 11 more.
Write a gratitude list. It's guaranteed to warm your heart.
Try to watch as many Bruce Campbell shows & films as possible…in one sitting. He always makes me smile…but then again I've had a tremendous crush on him since I was 14 years old.
Resolve to make resolutions that you WANT to do, not that you "SHOULD" do.
Buy a bouquet of flowers.
Have a themed tea party, complete with fancy dress.
Organize your underwear drawer. We both know it needs it…and while you're in there, throw away the knickers with the stretched out elastic.
EGGNOG!!! Have a cup!
Have breakfast in bed.
Turn off the TV, the computer and put away that smart phone for a day. It feels wonderful to disconnect from the "hive" from time to time. After an hour you won't even miss it.
Try a new food. Variety is the spice of life, after all.
Try acupuncture or reiki. You'll feel lovely and balanced by the end of the session.
Sleep in. This one is a HUGE challenge for me. If I'm not up and going at the crack of dawn I feel like I've wasted the day. But I am willing to give sleeping in the old college try. I'll justifying it by reminding myself that sleep is good for me and, contrary to popular belief, you CAN catch up on lost sleep.
Have a dinner party. Are your cooking skills less than stellar? Is the thought of preparing food for a large group too overwhelming? Then whey not try a Chinese takeout potluck?
This one needs no explanation: Snuggle!
Is there anything you would like to add to the list? How do you have fun when winter weather strikes?
Mistletoe Kisses & Wonderful Wintertime Chaos,
Alli Woods Frederick
Kinetic Art:
Dr. Emoto's Research