Well, my dears, I am out of pocket at the moment.  That being the case, I  have asked a couple of lovely ladies I know to stop by take care of you until I return to you later this week.  I'm sure you'll adore them as much as I do.
First up is a book review courtesy of the ever fabulous Whiskey.  Be sure to stop by her blog, http://hippierockwhiskeyrebel.blogspot.com and give her some love.
All right, my dears…I'll see you in a few days.  So without further ado I give you:
This Ain't Your Daddy's Baker Street:
The Work of Laurie R. King
-by guest contributor Whiskey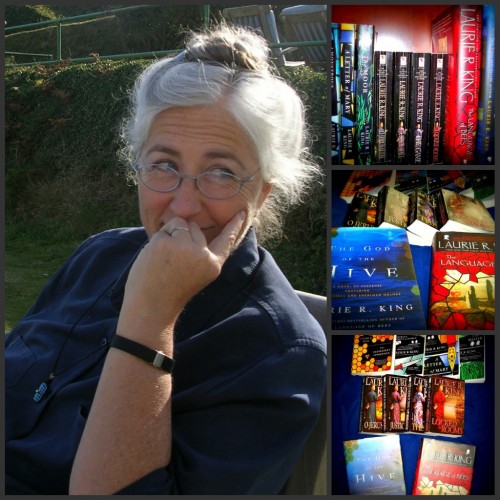 photo of Laurie R. King via
http://www.laurierking.com/
; books my own
"I crawled into my book and pulled the pages over my head…"
I'm so excited to be sharing my book love with everyone today! Last week Alli asked for some guest bloggers and I jumped at the chance. I love Kisses & Chaos! When she asked what I would like to write about my mind instantly went to books. If I could move into a library and read for a living I would. In fact, I usually have at least three books going at any given time. But the perfect book for Kisses & Chaos? How about the perfect dozen? Laurie R. King's Mary Russell series is, hands down, my favorite literary series. With eleven books* in publication and the twelfth installment due on September 6th, what started as another Sherlock Holmes redux has spawned into it's own fabulous world. I'm going to try to avoid sharing too many spoilers but when you're reviewing an entire series it's unavoidable to a degree. (Also, before I jump headfirst into this, I must advise you to read the books in order. While they are completely enjoyable as stand-alone works, the characters' storylines are so much fuller and easier to grasp if you read them as the Ms. King intended.)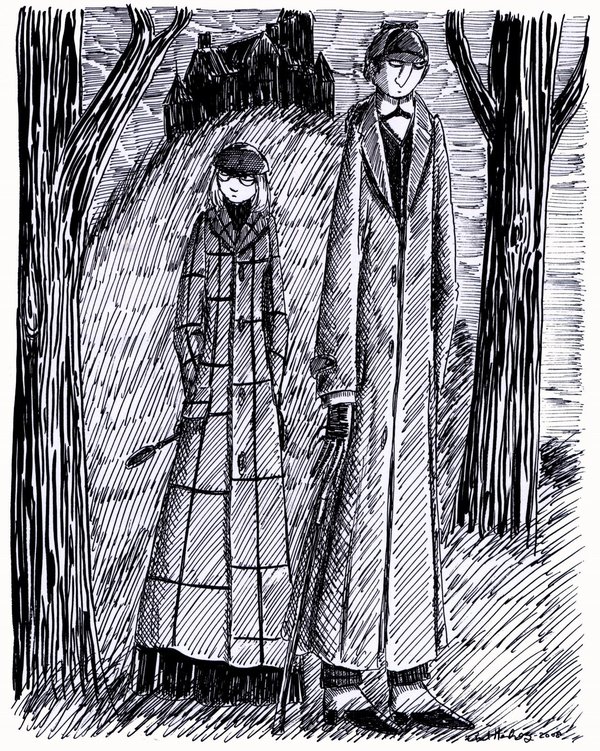 via
http://herbertzohl.deviantart.com/
Let's start with the synopsis. Mary Russell is a 15 year old Jewish-English-American orphan who stumbles across a 54 year old Sherlock Holmes in the midst of his retirement on the Sussex Downs during the height of the Great War. After a brief misunderstanding as to her gender and his identity the two quickly forge an unlikely friendship. Russell and Holmes, as the call each other, have found their intellectual equals. As Russell puts it:
"I became, in other words, more like Holmes than the man himself: brilliant, driven to a point of obsession, careless of myself, mindless of others, but without the passion and the deep-down, inbred love for the good in humanity that was the basis of his entire career. He loved the humanity that could not understand or fully accept him; I, in the midst of the same human race, became a thinking machine."
Over the course of the first three books, with the non-chronological fifth book, O Jerusalem, being an exception, Russell evolves from friend, to companion, to apprentice, to partner, to partner in every sense of the word.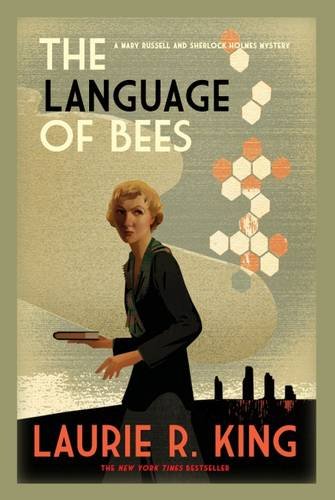 via
meen-readingjournal.blogspot.com
Mary Russell was born to a Jewish-English mother and a Californian father in 1900. Her father's family hails from Boston but she spent most of her early childhood in San Francisco and Sussex. After a traumatic automobile accident that killed her parents and younger brother, Mary is sent to live in England. She is looked after by her mother's sister, but the farm in Sussex and large holdings in California are hers to inherit upon her 21st birthday. She receives formal education from Oxford in chemistry and theology, formal training in self defense at "Uncle John" Watson's insistence, and informal training from Holmes in the arts of deduction and disguise. She is wealthy, sharply intelligent, fiercely independent, at times doggedly stubborn, and shrewd enough to counter Holmes' own manipulative mind.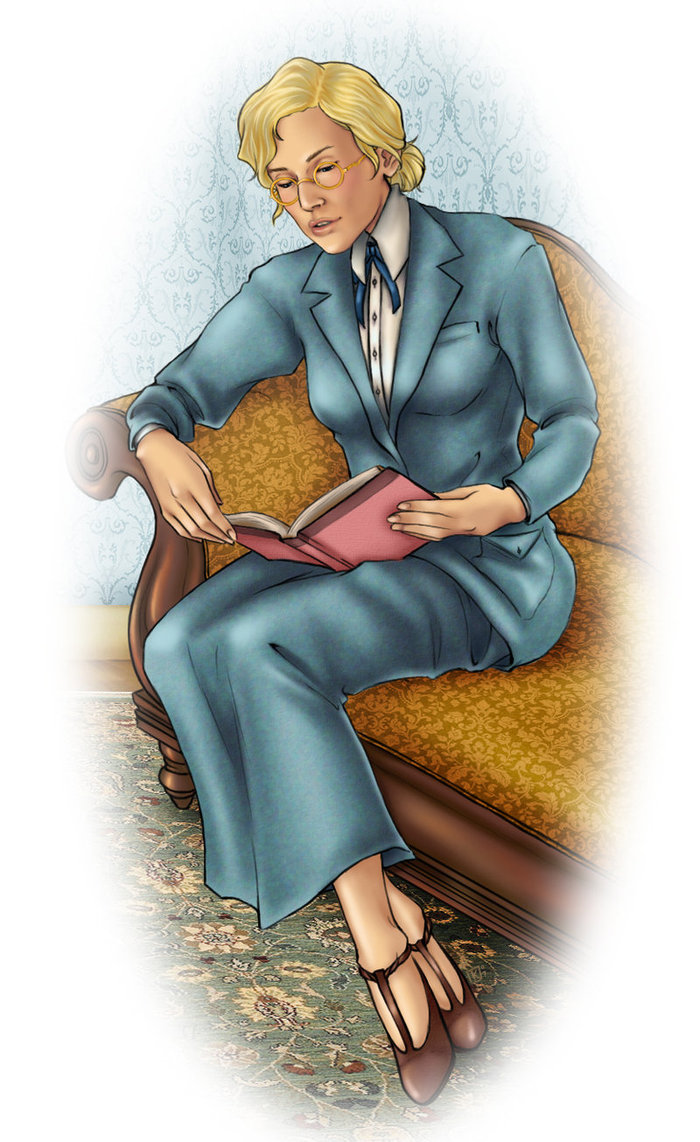 via
http://swankkat.deviantart.com/
Now this may sound odd, but she is also one of my heroes. She may be fictional, or not depending on how you read the prologues!, but she is inspiring nonetheless. She is a feminist but she is not preachy. Mary tends to show that she is equal, or at times much greater, than men through her actions and intelligence. She rarely demands equality. Her early battles with Holmes are the most vocal she gets. Occasionally she must demand equality from her partner who has some difficulty shaking off, not only his fierce independent streak, but also his Victorian chivalry. She politely requests that she be addressed as Ms. Russell even after her marriage. She even drives a car, which in the first quarter of the 20th century was uncommon (even Holmes does not drive). One of the few old-fashioned womanly traits that she maintains, which Mrs. Hudson calls her "last vestige of femininity", is her long hair. When she finally does crop her locks, for a case no doubt, she is originally horrified but soon begins to like her more fashionable 'do, not because it's cute, not because Holmes likes it, but because it's easy.
"Men do, I've found, accept the most errant nonsense from a well dressed woman"

— Justice Hall
If you love Sherlock Holmes, this series picks up where the preface to His Last Bow in the Conan Doyle canon places him. If you love historical drama, the Great War and the Roaring '20s are depicted with a deft hand and accurate detail. If you love a good crime mystery, Ms. King is a brilliant author. She has won multiple awards, including an Edgar, a LAMBDA, and a Nero Wolfe. If you are looking for a strong female, feminist, lead who is relatable and entertaining and embracing her intelligence, then Mary Russell is your cup of tea. I really do recommend these books to anyone and everyone who will listen. I have read the whole series at least four times and have reread my favorites, A Monstrous Regiment of Women and O Jerusalem, a handful more. I cannot wait for the next book, The Pirate King, to arrive in September!
Book Nerd Extraordinaire,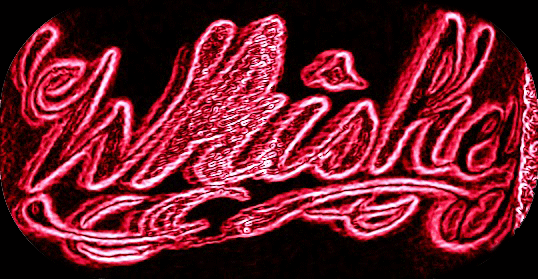 http://hippierockwhiskeyrebel.blogspot.com
You can check out Laurie R. King (and Mary Russell) at these links: