LIFE – it can be a bit of a bitch sometimes.  It can lift you up and tear you down.  Did I mention it can tear you down?  Well, it can.  And sometimes, when life keeps tearing you down it can be easy to give up and just stay down.
Why keep putting yourself out there when you keep getting shot down?  When you keep getting rejected?  When everyone tells you no?
Why bother picking yourself up when life is just going to tear you down? It would be easier to just give in to the fear and be safe.  If you don't play the game then you can't lose.  Right?
THE LOGIC IS THERE AND IT'S SOLID.
Or is it?  What is the point of being alive if you aren't going to live?  Life is a gift – no refunds; no exchanges.  So what if it's a bitch sometimes.  So what if it hurts sometimes.  So what if things don't always work out.  That's life and when it comes to life you have two options (at least according to Shawshank Redemption, and we all know Morgan Freeman would never lie to us, so we'd do well to listen):
'GET BUSY LIVING OR GET BUSY DYING.'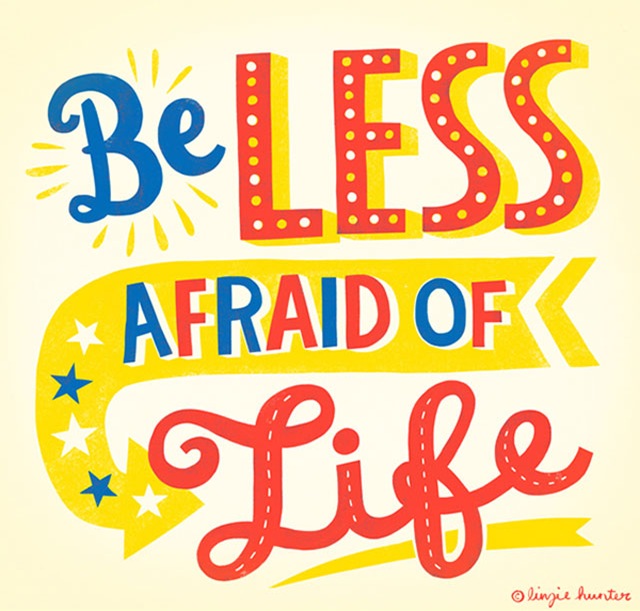 So go out and live.  Take chances.  Take risks.  Don't cower in the corner collecting cobwebs.  Step up.  Be heard.  Be counted.  Leave your mark.  Make your statement.  Live your life.  Be brave.  And be happy because you will always know you tried; you will always know you lived.
Kisses & Chaos,
Alli Woods Frederick

PS – My work is featured in the Spring 2015 issue of Somerset Digital Studio (Thank you, Stampington & Co for once again believing in and supporting my work. You guys are the bee's knees.) – available now at your local bookstore.