YEAH you have.  And if today is one of them then I hope this helps.  And if today isn't one of them, then I hope you remember this the next time it is one of those days and that it helps.
Because nothing makes a day filled with crappy people trying to bring you down…
(OR AS I ACCUSED MY ONCOLOGIST WHILE RECEIVING MY ANESTHESIA, "HARSHING [YOUR] MELLOW" – MORTIFYING TO THE PUNK IN ME TO UTTER SUCH A BLATANT HIPPIE-ISM, BUT I WAS ASSURED I SAID IT IRONICALLY, SNICKERED WITH A SMIRK BILLY IDOL WOULD ENVY AND THEN BURST INTO MADE GALES OF LAUGHTER BEFORE THE GREAT PRE-SURGERY MEMORY WIPE OCCURRED…SO I'M RELIEVED TO KNOW I'M STILL A SMARTASS WHILE UNDERGOING SEDATION FOR MAJOR SURGERY.  F***IN' RIGHT.)
… nothing makes it more uplifting than a precious baby fawn lovingly enveloped in soothing pastels cussing out the energy-sucking, negativity-generating asshat of a vampire who's pissing in your cheerios and annoying him/her in the process.  See…
REVENGE CAN BE NOT ONLY SWEET, BUT ABSURDLY ADORABLE AS WELL.
In short I hope this makes you laugh just in case…
YOU EVER HAVE ONE OF THOSE DAYS.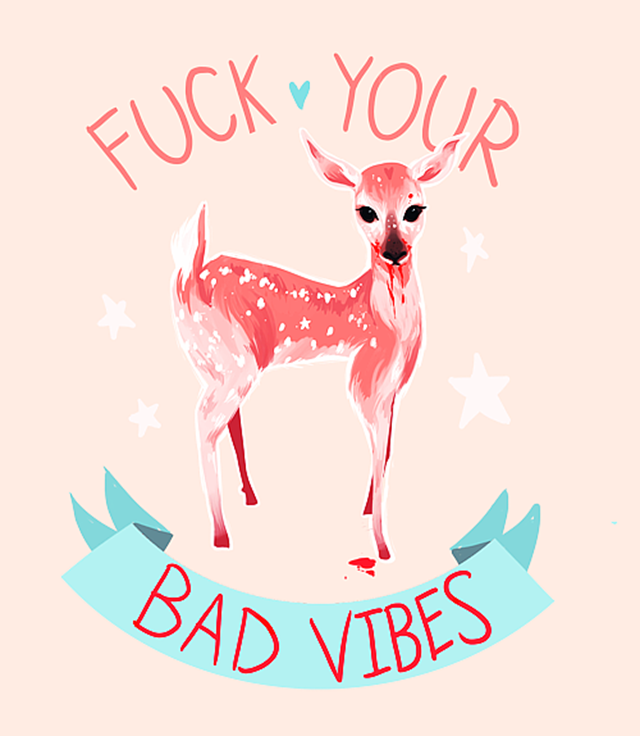 Pissed Fawn Kisses & Good Vibes Chaos,
Alli Woods Frederick
IMAGE  ::  SOURCE UNKNOWN, BUT IF YOU KNOW HOW MADE THIS THEN PLEASE FOR THE LOVE OF GOD TELL ME SO I CAN NOT ONLY GIVE THEM CREDIT BUT TELL THEM HOW MUCH I LOVE THEM FOR THEIR AWESOMENESS  ::