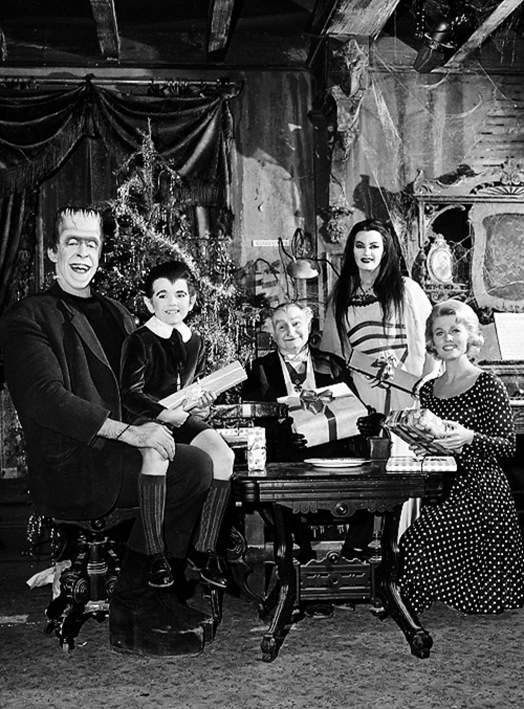 **  NOTE: THIS POST CONTAINS SOME AFFILIATE LINKS.  THIS MEANS IF YOU MAKE A PURCHASE I WILL EARN A SMALL COMMISSION.  AS ALWAYS ALL OPINIONS, WORDS AND CONTENT ARE MINE AND MINE ALONE AND ARE NOT INFLUENCED BY ANY OUTSIDE SOURCES IN ANY WAY, SHAPE OR FORM.  THE COMPANIES AND ARTISTS I AM AFFILIATED WITH ARE ONES I PERSONALLY SHOP WITH AND BELIEVE IN, OTHERWISE THERE'S NO WAY IN HELL I WOULD SUPPORT THEM.  **
We all have those people that seem impossible to shop for.  You know the ones I'm talking about – the normal people, the Marilyns to our Munsters. They make holiday gift giving a nightmare as we brave Old Navy,  Banana Republic and Best Buy trying to find a gift they'll love.  And if we think shopping for them is hard for us. Imagine how they must feel trying to find the perfect gift when our tastes exist so far beyond outlet mall offerings.  Many of them have no clue what to do (thus the gift cards and cash, which are fine, but hardly exciting to unwrap).
SO I'VE PUT TOGETHER THIS LIST FOR YOU TO SHARE WITH THEM.
Help them maintain their sanity.  It's the nice thing to do.  The holidays are crazy enough without adding fuel to the yule log fire.  If they're at a loss, send them this way.  I've got you covered:
Cat lady?  Yup…and they're purrfect. (I couldn't resist the awful pun…sorry.)
Bit of a kinky fetishist?  Silence!  You'll take what you're given and like it, you worm.
Dark and twisty?  Of course…black goes with everything.
You get the idea.  This is a shopping for guide for those of us who aren't represented in Neiman's insane Christmas Book…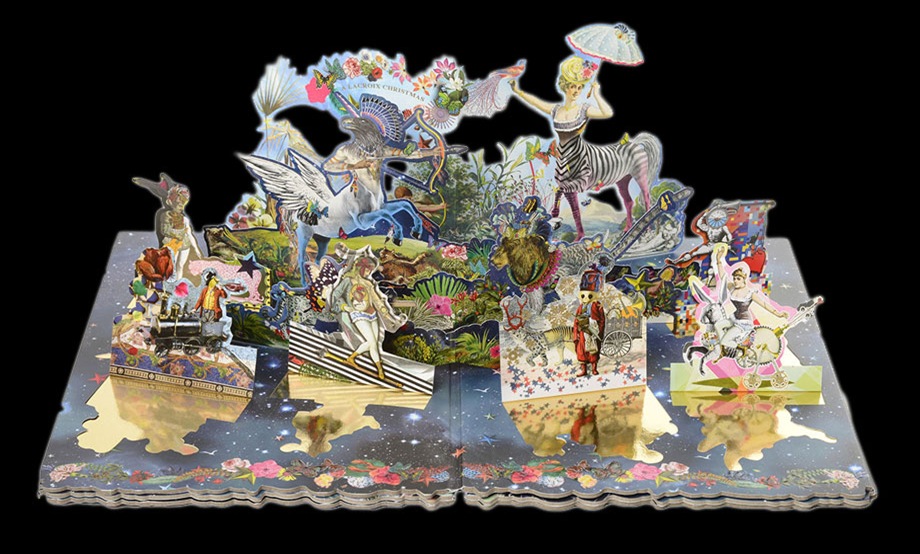 (but really, who is…right?  Although I wouldn't mind having one of those badass popup Christian LaCroix Shaman Night Advent Calendars (that's some frame-worthy shit right there), the World View Exploration At The Edge Of Space Experience (as close to one of my dreams as I'm likely to get (although I saw on IG that NASA is hiring astronauts.  I could be the first reiki master in space, gauging the impact of weightlessness on people's energy.  What!  It could happen.  We've done weirder experiments out there than zero g reiki) – and at a measly 90 grand it's cheaper than the next item I'm about to share…) and I know more than a few friends who would be all over The Orphan Barrel Project, which is 24 bottles of whiskey (to be fair it is really special whiskey…and it damn well better be) for a mere $125,000.)
…have outgrown the likes of FAO Schwartz (which I'm not entirely sure is possible), the massive tome that is the Sear's Wish Book or any holiday ad for any store on TV, radio, online and in 99.9% of magazines.  This is a shopping guide to ease the plight of the people who are forced to love (and subsequently shop, as per our culture's demands) for us, the adorably eccentric.
So with that in mind I now present, for the preservation of your loved ones' sanity:
HOLIDAY GIFTS FOR WEIRDOS AND FREAKS LIKE US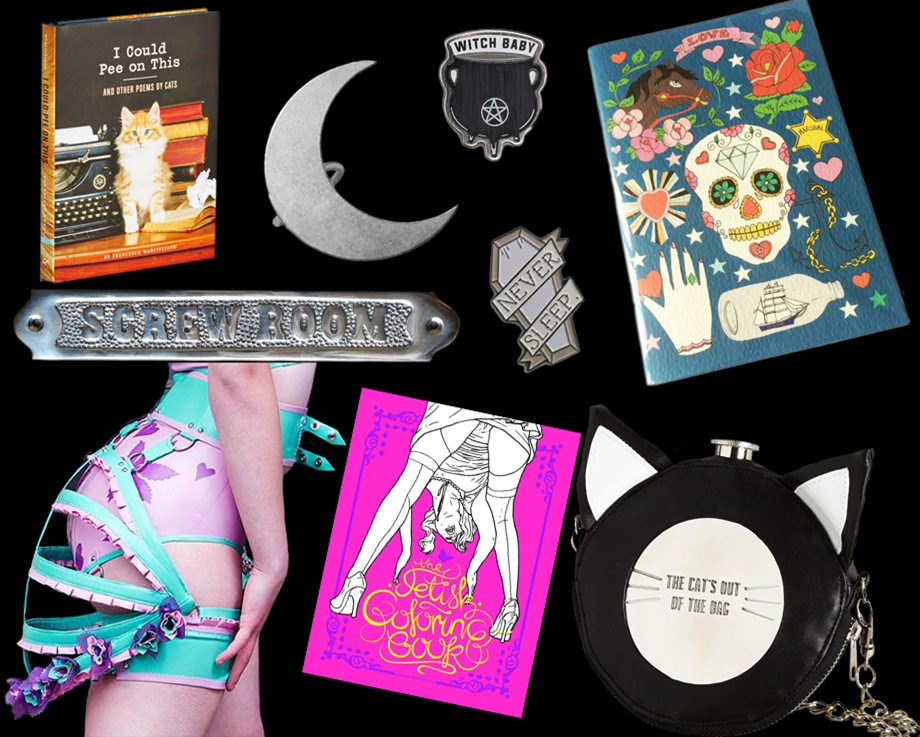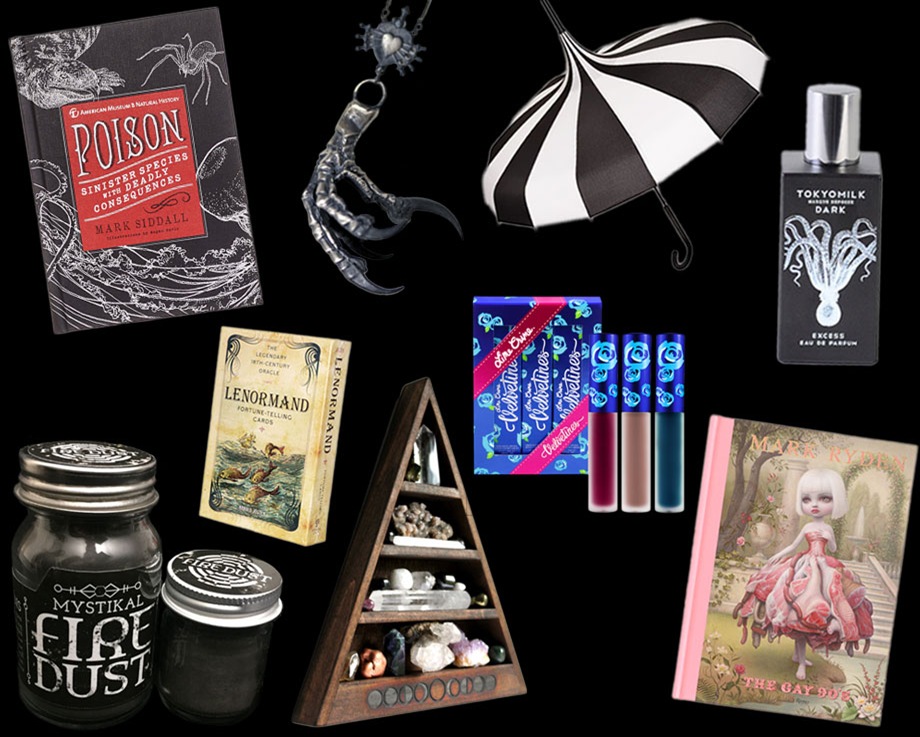 ::NOTE:  SHELF IS EMPTY AND DOES NOT INCLUDE ANY CRYSTALS OR OTHER ITEMS  ::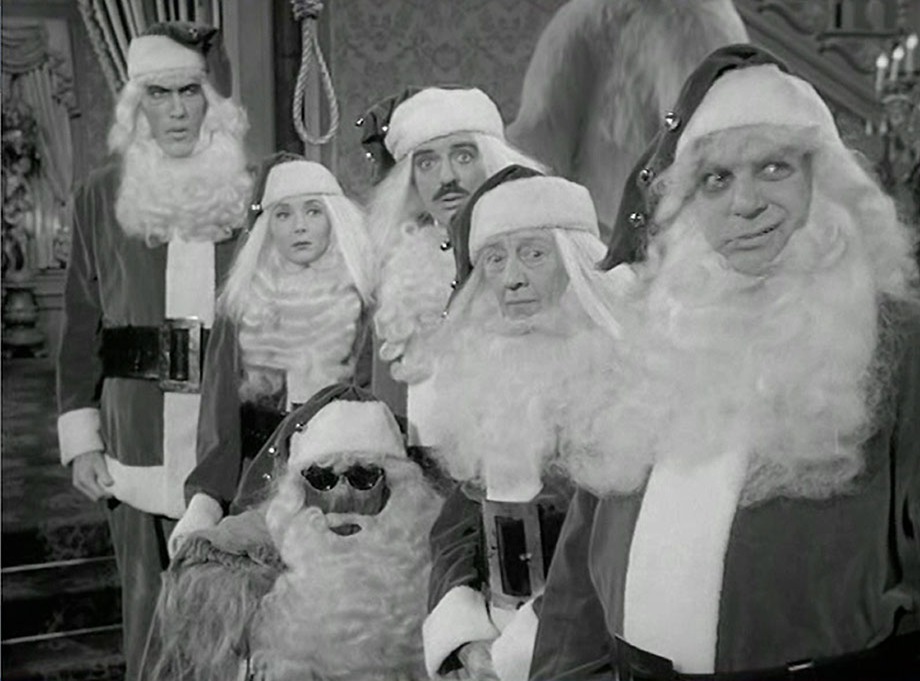 So for all you Marilyn Munsters out there, thank you on behalf of all us Morticias, Lilies, Eddies, Wednesdays, Hermans and Gomezes for taking the time and effort to show us you care by buying us the weird stuff you think is creepy, odd and that you just don't understand. We love you, too…penny loafers, khakis and all.
Creepy Kisses & Kooky Holiday Chaos,
Alli Woods Frederick
ADDITIONAL UNIQUE VENDORS, ARTISTS AND ARTISANS YOU WILL LOVE:
*DEAD THINGS BY KATE
IMAGES  ::  THE MUNSTERS © CBS  ::  © CHRISTIAN LACROIX  ::  © THE ADDAMS FAMILY  ""