ROUND and bright in the night sky, the full moon will be shining down on us with all her glory tonight.  The full moon is renowned in certain spiritual circles for helping to bring all desires into fruition.  In other words, it's potent and badass in a good way.  It's the culmination of everything that's been building during the waxing moon so it's also a time to express gratitude for the changes in your life.
WHAT THE HELL DOES THAT HAVE TO DO WITH YOUR CRYSTALS?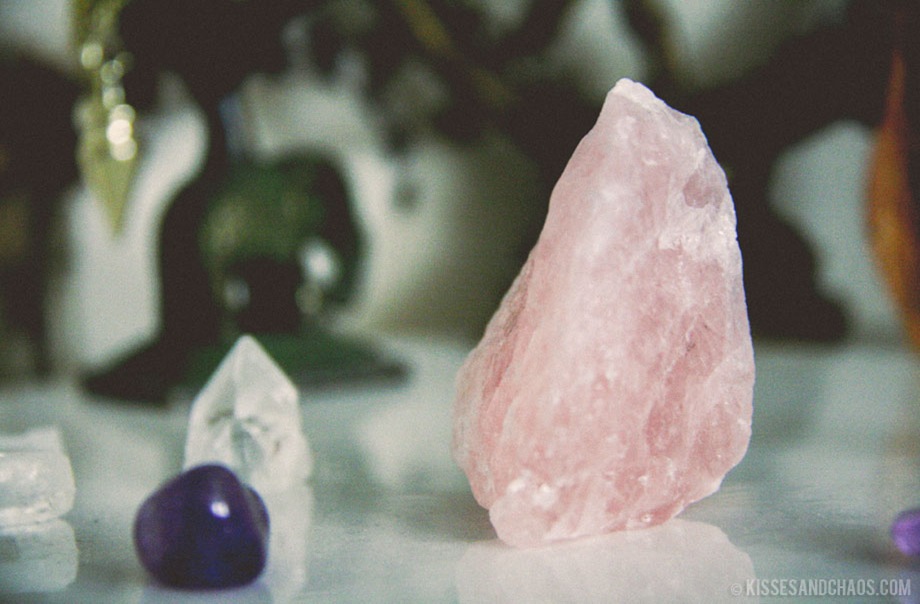 Well, crystals need occasional cleansing and recharging.  Crystals store energy and emit precise frequencies (precisely why it's used in watches).  Since feelings, actions and thoughts are pure energy they can impact crystals, which then store the energy around them, thereby altering their frequencies and changing the way they function.
We've all met people that simply can't wear watches.  They constantly stop working.  They aren't buying crappy watches; these people simply attract and discharge a lot of energy which causes the quartz in the watch to crap out.
AS WITH ANY STORAGE DEVICE, CRYSTALS FILL UP AND NEED TO BE CLEARED OF THEIR ENERGETIC CLUTTER; HENCE THE CHARGING.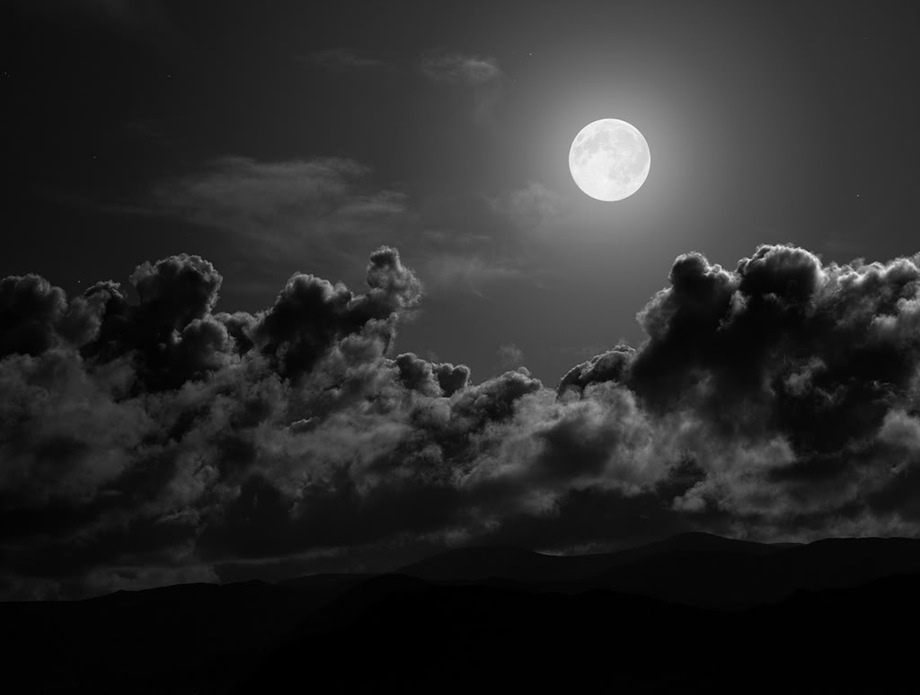 There are lots of different ways to charge crystals, but you can imbue your crystals with all of those lovely lunar properties by letting them bask in the light of the full moon.  By charging your crystals under the full moon you not only clean out their energy and bring their frequencies back into alignment, you also amplify their inherent qualities.
DID I MENTION THERE'S ALSO A LUNAR ECLIPSE TONIGHT (AND THIS ONE'S SPECIAL)?
SO WHAT'S THE BIG DEAL ABOUT A LUNAR ECLIPSE AND WHAT MAKES THIS ONE SO DAMN SPECIAL?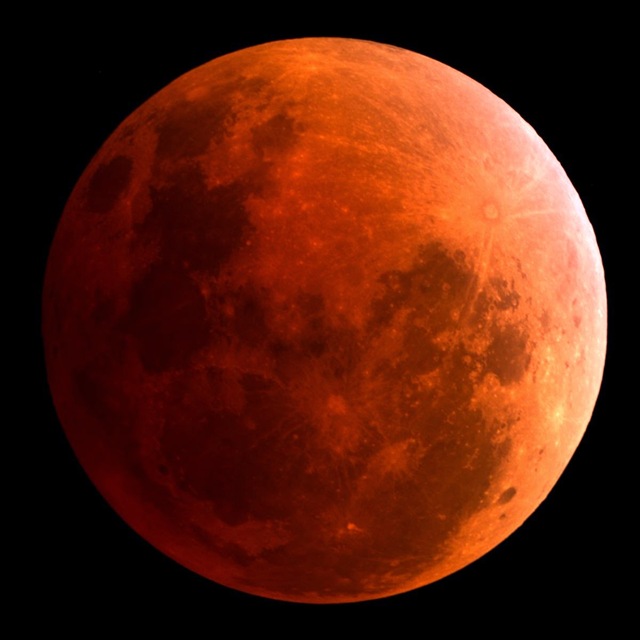 Tonight's eclipse is the first of two total lunar eclipses of 2015 (the second occurring in September).  For those of you in the US, it will be partially visible for people in the eastern and central portions of the country.  If you're out west then you can witness the entire eclipse from start to finish.
Why the discrepancy?  Timing. It starts at 6:15am EST, 4:15am Pacific and will last approximately five minutes.  If you're fortunate enough to be hanging out in the middle of the Pacific Ocean, Japan, Hawaii, northeastern Russian, eastern Australia, or western Alaska then you'll get to see her in all her spectacular glory.
And what makes this total lunar eclipse so spectacular?  Tonight's eclipse will be a blood moon, which means it will glow a beautiful dark orange-y red.  So your full moon yumminess not only gets an extra kick of eclipse energy, but it's pretty too.
YEAH, YEAH, YEAH.  SO WHAT DOES ALL THAT MEAN WHEN IT COMES TO CHARGING CRYSTALS?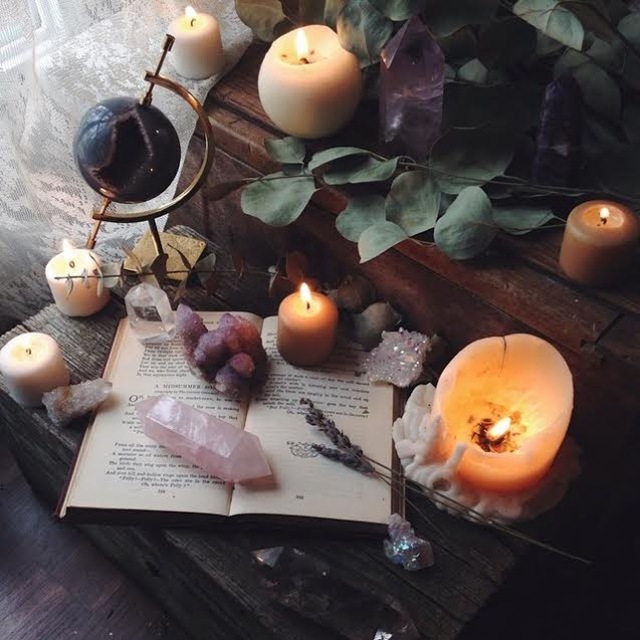 A total lunar eclipse is like going through all the moon phases in one fell swoop – from full to waning to new to waxing and then back to full.  It also involves the alignment of the sun, moon and earth and all that entails.
LUNAR ECLIPSES ARE POWERFUL CATALYSTS FOR CHANGE BUT THEY CAN CREATE WOBBLY AND UNPREDICTABLE ENERGY.
You may notice people act a little off around the time of a lunar eclipse…they may seem more on edge or more indecisive than usual…you get the idea.  For this reason many people prefer NOT to charge their crystals during a total lunar eclipse.
But don't worry.  If you decide to err on the side of caution and not risk the unpredictable influence of the eclipse, you can still reap the benefits of charging your crystals under a full moon?  Just read on…I explain it all a little further down.
HOW TO CHARGE CRYSTALS USING THE FULL MOON
(WHETHER THERE'S AN ECLIPSE OR NOT)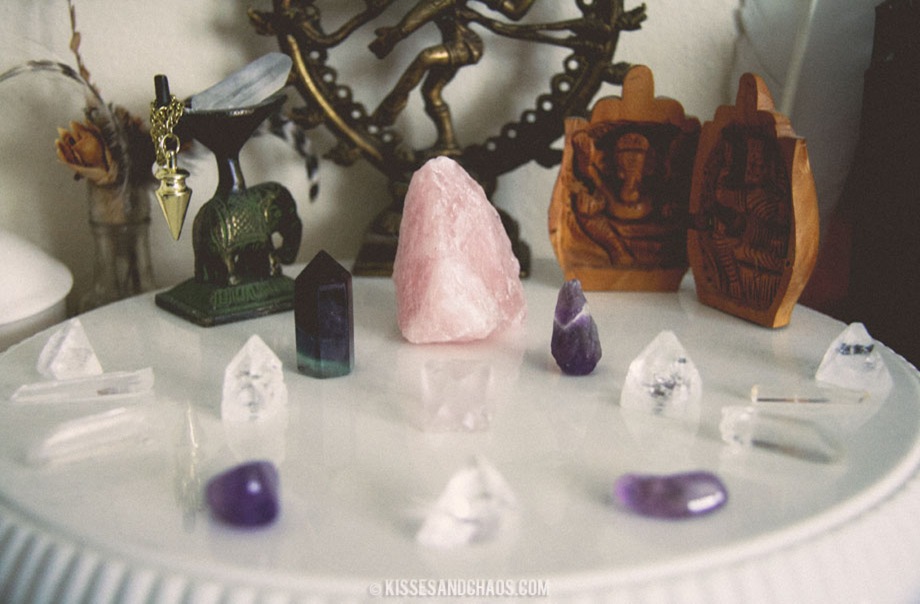 It's insanely easy.  Gather the crystals that you want to charge and, after the sun goes down, either place them on a windowsill or on a plate, mirror, tray, or whatever you have lying around and set them outside in the moonlight.  That's it.  Just give them a moon bath and they're charged.
You don't have to leave them out all night if getting up at that ass crack of dawn and dragging your butt outside in the chilly morning air is your idea of hell.  Leaving them out for a few hours is fine.
I often charge mine while I sit outside and do a full moon ritual (which usually involves burning things.  I do love fire, after all.  Not in a deviant way – I'm not a firebug…fire and I just get along well.  We have a healthy respect for each other, unlike electricity, which is my nemesis and can suck it).
(THIS IS ALSO A GREAT TIME TO WORK ON VISION BOARDS AND POSITIVE AFFIRMATIONS SINCE IT'S A POWERFUL TIME FOR MANIFESTING.  YOU CAN EVEN MEDITATE WITH YOUR CRYSTALS TO HELP CHARGE THEM WITH THE POWER OF YOUR INTENTIONS.)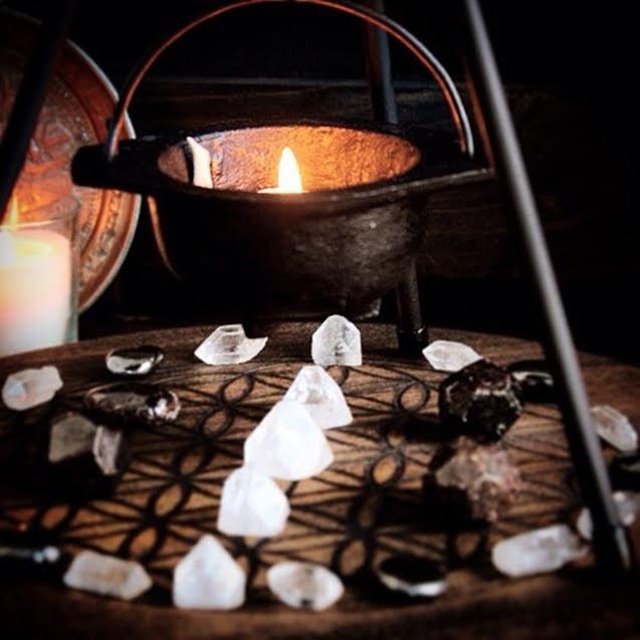 The only hitch?  Think of lunar charged crystals as vampires – they need to get inside before they're flooded by sunlight. The sun's energy is completely different from the moon's.  So get them inside before the sun's rays start peeping over the horizon.
TOO BUSY TO CHARGE YOUR CRYSTALS ON THE NIGHT OF THE FULL MOON?  WANT TO AVOID THE UNCERTAINTY THAT A LUNAR ECLIPSE BRINGS BUT ARE IN DIRE NEED OF SPRING CLEANING YOUR STONES?
No worries.  The three day rule we discussed in the Magic, Manifesting and the Moon mini-guide series holds true for crystals as well.  You have a three day window to capitalize on the power of the full moon's energy – you can charge them the night before, the night of, or the night after.  There's no need to rearrange your schedule to accommodate a crystal cleansing.  (I, for one, will be waiting until after the eclipse to get my crystals clean, happy and overflowing with full moon goodness.)
With your crystals now charged you can use them as you normally would, be it for chakra work, meditation, crystal grids, around your house, on your altar or however you incorporate them into your life or work.
CRYSTALS FEATURED AND THEIR PROPERTIES: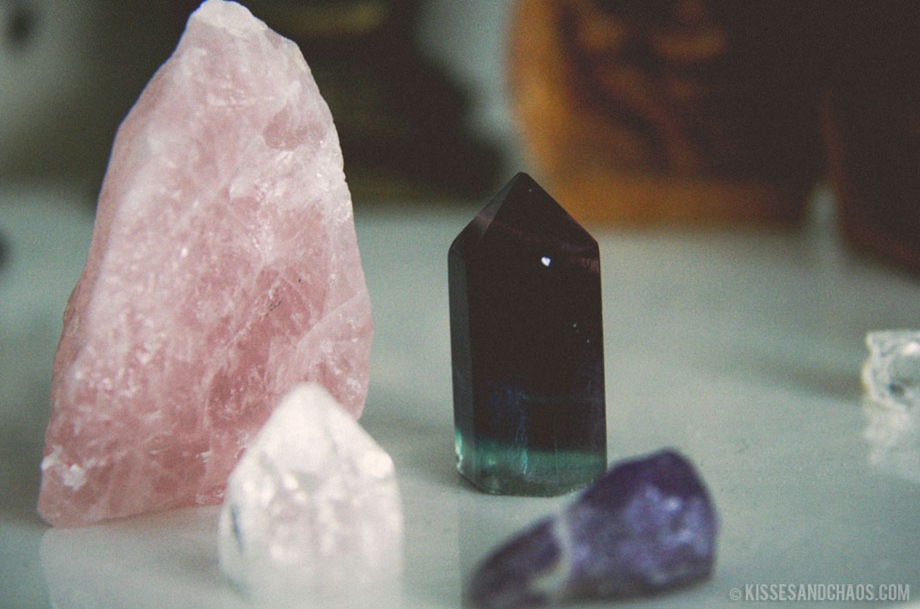 *  ROSE QUARTZ:  romantic love; fertility; unconditional love; self love; opens the heart chakra

*  FLUORITE:  promotes spiritual and psychic development; psychic protection; clears energy fields and auras; helps eliminate negative energy; enhances the properties of other stones; promotes clarity and eases anxiety; helps with weight loss

*  AMETHYST:  amplifies psychic/intuitive abilities; increases spirituality; promotes a sense of calm; encourages love and happiness

*  APOPHYLLITE:  aids in meditation; enhances clairvoyance; promotes connection to the spiritual world and the higher self,

*  QUARTZ:  power; protection; harmony; balance; energy; directs and amplifies energy; manifesting; protection; healing; clear negative energy; powers other crystals
::  PLEASE NOTE:  BE AWARE OF WEATHER CONDITIONS.  WHILE ALL CRYSTALS ARE MOON BATH SAFE, NOT ALL CRYSTALS ARE WATER FRIENDLY, LIKE SELENITE, WHICH DISSOLVES WHEN IT GETS WET.  IF YOU HAVE A NON-WATER SAFE CRYSTAL THAT NEEDS TO BE CHARGED, KEEP IT INSIDE ON A WINDOWSILL.  DON'T EXPOSE IT TO RAIN OR DEW FOR IT TO BE RUINED.  ::
I hope you enjoy the full moon tonight and her blood eclipsed glory.  And if you have any crystals I'd love to know which are your favorites?  Mine are amethyst (always, always amethyst), rose quartz, moonstone, garnet, snowflake obsidian, quartz (duh) and apophyllite.  I told you mine, now you tell me yours.
Moonlit Kisses & Crystal Chaos,
Alli Woods Frederick
IMAGES  ::  SOURCE UNKNOWN  ::  ROSE QUARTZ © ALLI WOODS FREDERICK.  ALL RIGHTS RESERVED.  ::  VIA ANANDA LOS ANGELES  ::  BLOOD MOON – ADAM BLOCK, MOUNT LEMMON SKY CENTER, UNIVERSITY OF ARIZONA  ::  CRYSTAL & CANDLE STILL LIFE –  THE OPAQUE  (WHO YOU SHOULD REALLY CHECK OUT – IT'S A BADASS SHOP RUN BY A TOTAL SWEETHEART)  ::  ALTAR WITH CRYSTALS © ALLI WOODS FREDERICK  ::  CAULDRON AND CRYSTAL GRID – STONE AND VIOLET (ANOTHER BADASS SHOP.  SUPPORT HANDMADE!)  ::  ROSE QUARTZ, FLUORITE AND FRIENDS © ALLI WOODS FREDERICK  ::