***WARNING:  THIS POST CONTAINS SOME MAJOR WALKING DEAD SPOILERS.  IF YOU AREN'T CURRENT THEN I STRONGLY SUGGEST YOU READ A DIFFERENT POST.  MAYBE SOME OF MY OTHER ZOMBIE ARTICLES?  COME BACK TO THIS ONCE YOU'RE ALL CAUGHT UP.  AND FAIR WARNING HERE – THIS IS GOING TO BE A LOOOOONG POST, SO GRAB YOURSELF A BEVERAGE, GO TO THE BATHROOM AND SETTLE IN.***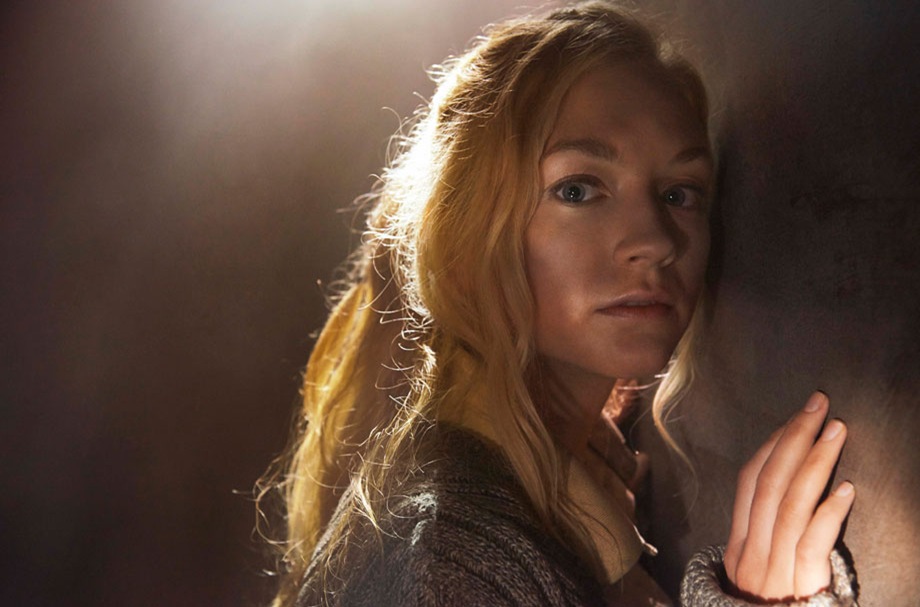 WOW.  I don't know about you but I'm still trying to wrap my head around the mid-season finale or, more specifically, the untimely (and seemingly pointless) death of our beloved Beth Greene.
For many her death triggered a genuine grief response and left countless fans bereft of happiness, sobbing and in shock.  For days and even weeks, fans of Beth mourned her senseless passing.  Even I choked back tears when Tom Waits' "Hold On" came piping through my headphones as I sat in my doctor's waiting room. (You'll recall that as the song Beth sang in the prison in season 3, episode 11.)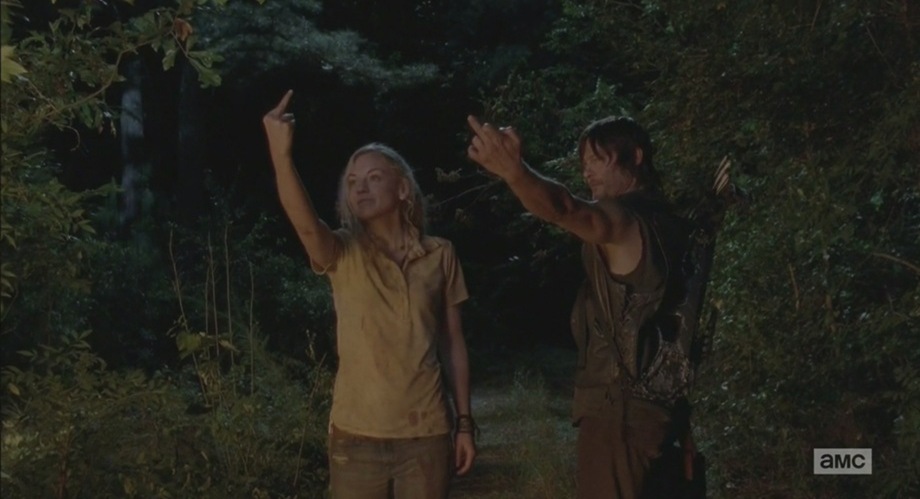 It's hard to understand why the decision was made to kill such a beloved character, especially when she was finally starting to blossom and truly come into her own as a richer, more multi-faceted individual as well as a truly valuable member of the group (not to mention the profound effect she was having on everyone's favorite misunderstood bad boy with a heart of gold, Daryl).  Well, I'm going to attempt to make sense of the senseless as I explore…
THE FALLOUT OF THE BETH-OCALYPSE:  WHAT WILL DARYL DIXON DO?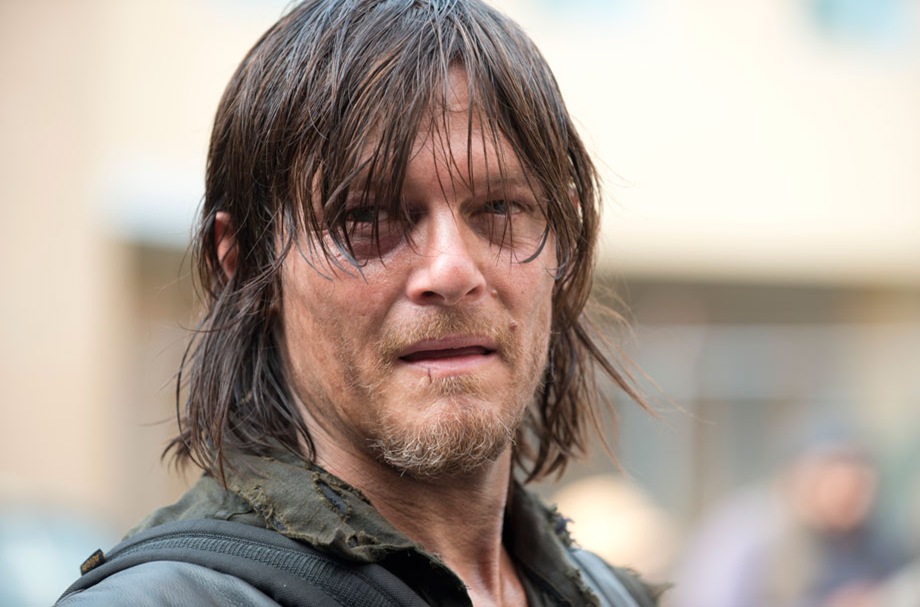 As many of you recall, I stated my firm belief and presented my evidence that Daryl and Beth were falling in love in last year's post "Love Is In The Air: Daryl and Beth on The Walking Dead."
Did this season undermine or shake my belief in their burgeoning romance?  Nope.  Not at all.  In fact, Daryl's actions reinforced my belief that his love for Beth ran far deeper than mere friendship or even family, primarily due to the fact that his focus was his overwhelming desire to find her…and the fact that he successfully did so with great risk to life and limb…but with dire consequences which he, devastatingly, helped to bring about.
HOW DID DARYL CONTRIBUTE TO BETH'S DEATH?
LET'S RECAP, SHALL WE?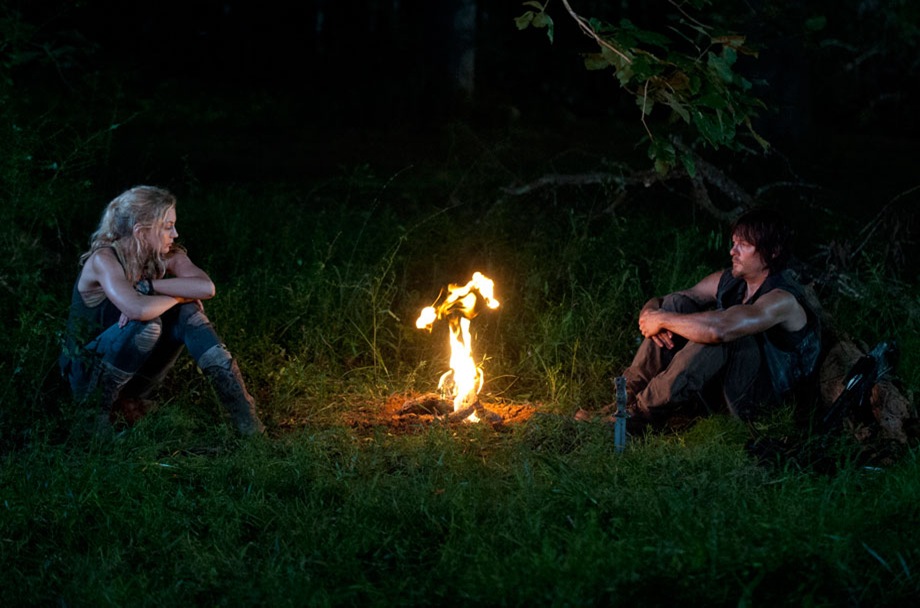 At the end of last season Beth is kidnapped by a then unknown party in what is clearly a set-up to acquire more recruits/victims for the hospital.
Think of the funeral parlor as a post-apocalyptic "bait house" created by the hospital – clean and stocked with food, it creates a feeling of comfort that lulls them into a false sense of security, which is why the normally cautious Daryl carelessly opens the front door where a herd of zombies greets him.  (Strike one…at least in Daryl's mind and heart.)   Beth's kidnapping occurs because Daryl tells her to run outside to safety, where she's then carried off into the night by her unknown captors.  (Strike two.)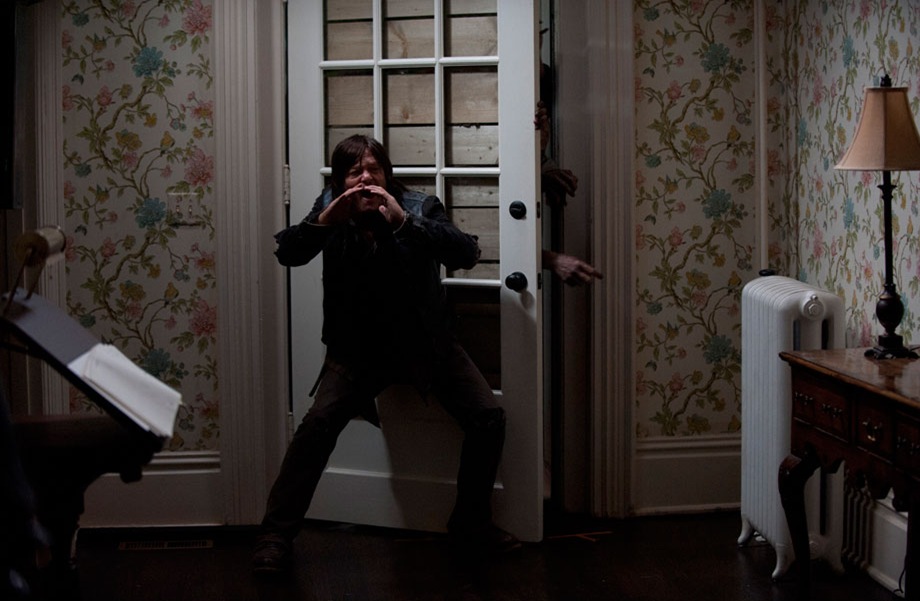 CUT TO THE OPENING OF THIS SEASON…
…where we hear Daryl lamenting to Maggie that "…she's just gone,"  the remorse, helplessness and hopelessness evident in his voice.  He has now not only failed Beth but Maggie and the rest of the group as well (strike three)…
A HEAVY BURDEN TO CARRY ON SUCH A SOFT AND DAMAGED HEART.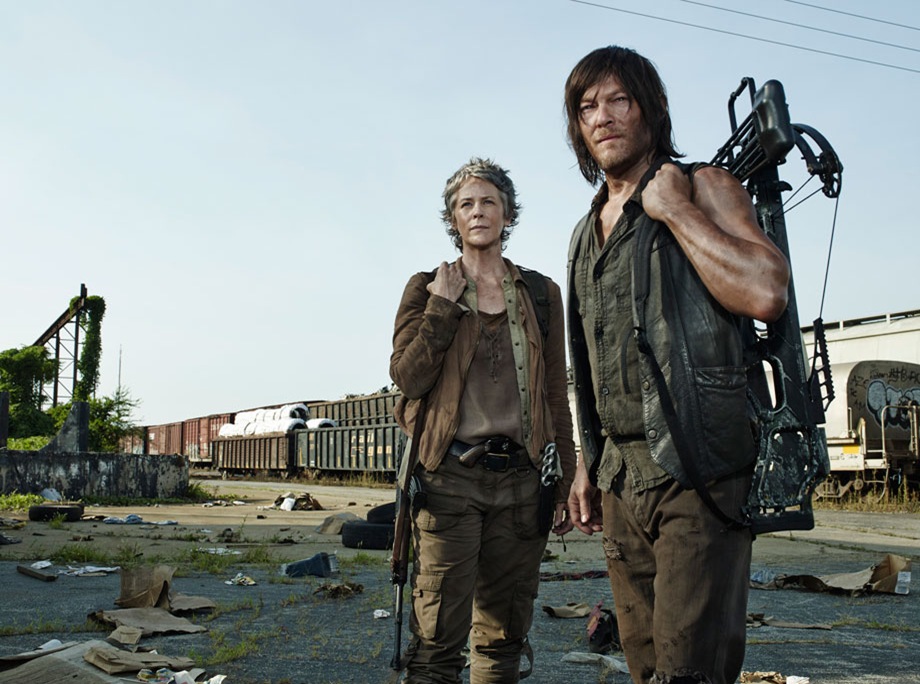 In a turn of fate that can only be described as miraculous, Daryl spots the car that stole Beth and he immediately springs into action to rescue her with Carol in tow.
As he tries to rectify his mistakes and find the woman that holds that special place in his heart he feels some of the guilt lift and hope return. (Strike three successfully erased.)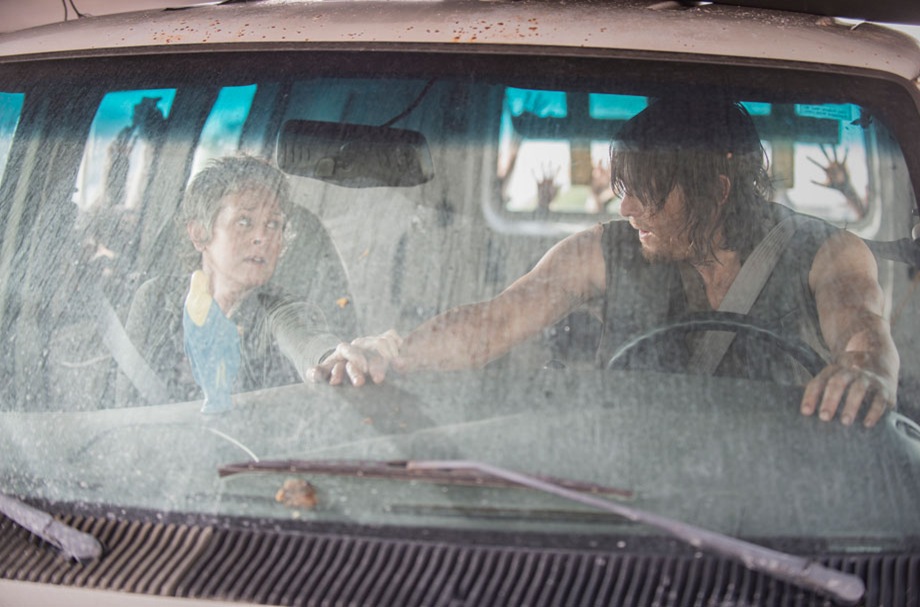 *I WOULD LIKE IT NOTED THAT HE INTENTIONALLY PUT HIMSELF IN HARMS WAY AND THEN TOOK A HEADLONG DIVE IN A VAN OFF AN OVERPASS JUST TO BE ABLE TO FIND HER, FOR CRYING OUT LOUD.  TELL ME THAT'S NOT LOVE AND SOME SERIOUS DEDICATION.  F*CKIN' RIGHT IT IS.*
After a series of unfortunate events (which included the intentional hitting of Carol with a squad car by the evil police), Daryl and his new found friend, Noah, return to the group to organize a rescue team, who then head to a hideout and hatch their plan to save Beth…and now Carol as well.
While Rick wants to use a tactic dependent on surprise, stealth, bullets and more than a little luck, Tyreese comes up with a second plan – a hostage exchange which he feels carries less risk.  And this is where Daryl makes his critical error.
DARYL AGREES WITH TYREESE.  A DECISION WE ALL KNOW CONTRIBUTES DIRECTLY TO BETH'S DEATH.
AND THERE IS DARYL'S STRIKE THREE.
As the exchange plays out and Beth makes her fatal miscalculation, Daryl witnesses the woman he loves lose her life.  Her blood sprays the faces of her adopted family.  She crumples to the floor in front of him and without a moment's hesitation he does what you would expect him to do in that position.  With indescribable grief and pain contorting his features into a visage of pure and profound loss, of despair and rage personified, he shoots Beth's killer in the head.  He doesn't think twice.  He just drops the megalomaniacal bitch.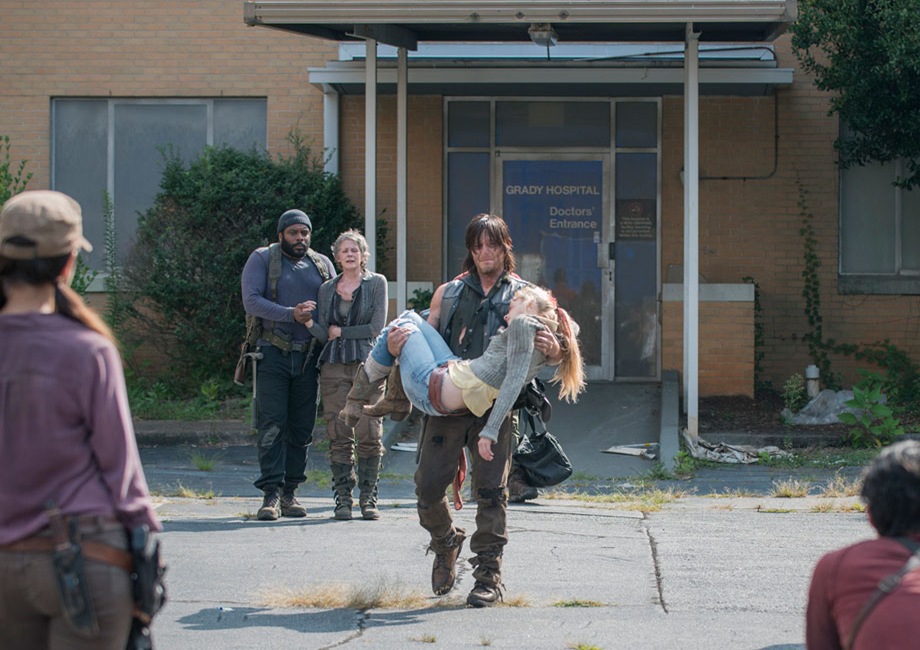 With tears streaming down his face, Daryl lifts Beth into his arms and proceeds to carry his heartbreak and guilt along with her limp, lifeless little rag doll body down five flights of stairs to her excited family and group who are waiting hopefully outside – his grief uncontrollable, his heart inconsolable and everyone else's hope and hearts quickly shatter in turn.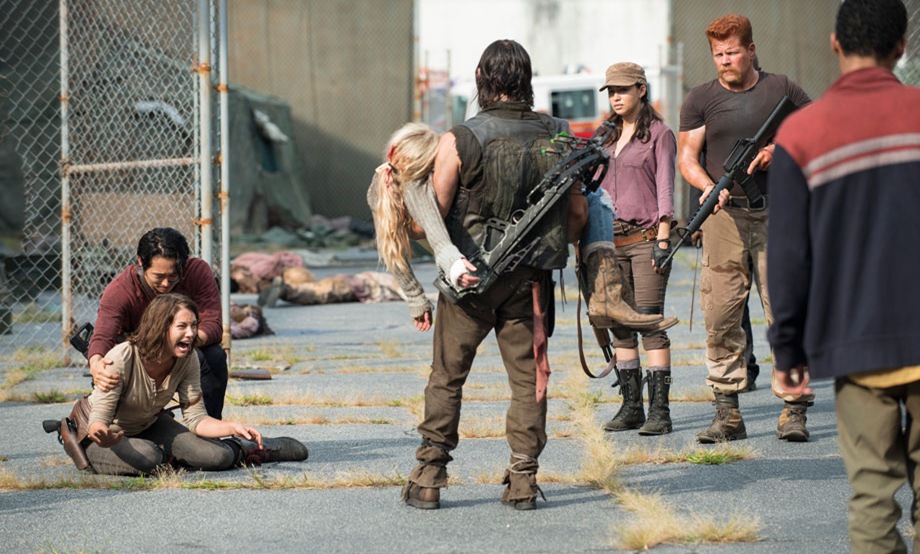 As he stood there holding her limp in his arms we saw a broken man – and a man who blamed himself for the death of the only joy and light in his world.  He held in his arms the death of his love and his hope.  They died the moment Beth did.
DARYL IS A DEEP AND PROFOUNDLY EMOTIONAL MAN, DESPITE HIS OUTWARD ATTEMPTS TO CONCEAL THIS FACT…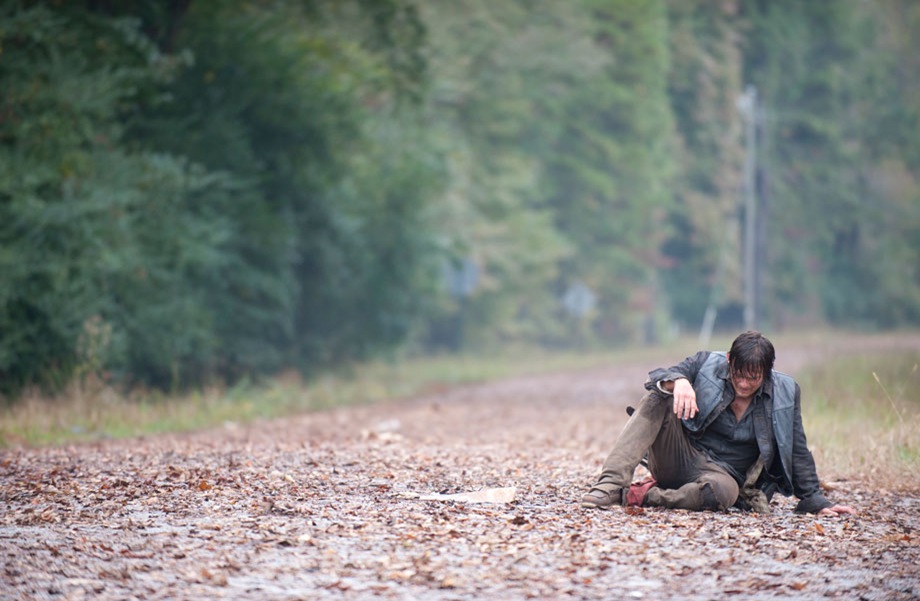 …and there is little doubt he will feel responsible for Beth's death, which will only serve to compound the sense of loss and heartbreak he's experiencing.  Heartbreak alone is soul-wrenching but add guilt to it and the suffering, the emotional burden can grind the strongest of spirits into dust.
BUT HOW WILL THIS PROFOUND LOSS IMPACT DARYL?
MAGGIE? THE REST OF THE GROUP? 
WHAT PURPOSE WILL BETH'S CRUEL AND SHOCKING DEMISE SERVE?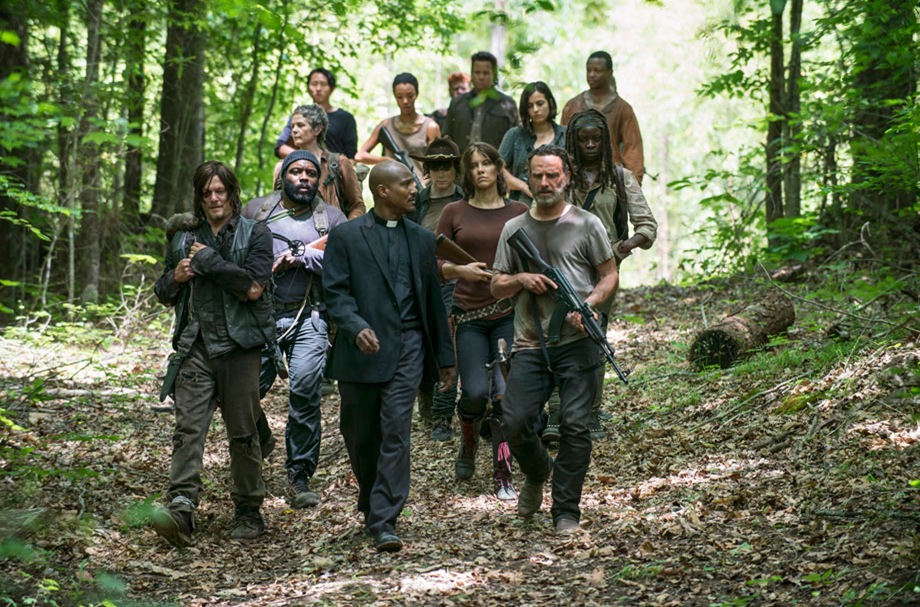 To understand the choices that lay before the characters we must first understand Beth and her role within the group.
There are many who feel Beth was nothing more than a cute blonde girl who served as babysitter to Judith; that her purpose on the show was…well…nothing.   And to those who hold this belief I tell you you I couldn't disagree with you more.
Beth Greene was far, far more than the post-apocalyptic bubblegum princess many would have her be.  It takes far more strength and courage to hold on to the good than to give in to anger, cynicism, bitterness and despair in a world overflowing with horror.  Beth's purpose was profound; even though she was small, she was mighty.
BETH GREENE WAS HOPE.
BETH GREENE WAS LIGHT.
BETH GREENE WAS FAITH THAT THERE IS STILL GOOD IN THE WORLD, STILL BEAUTY TO BE SEEN, STILL JOY TO BE EXPERIENCED, STILL LOVE TO BE FELT.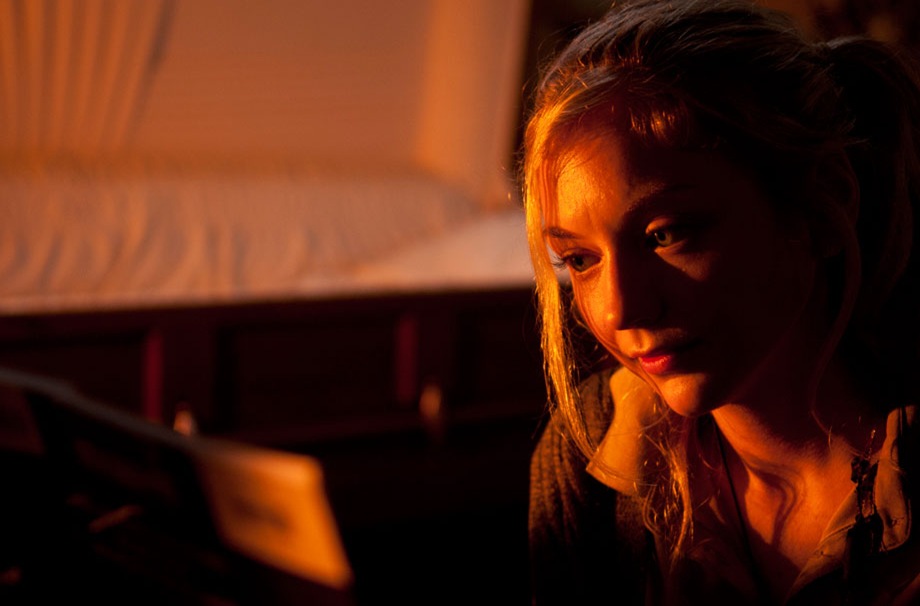 And Beth spread her infectious goodness to those around her.  She provided comfort.  She provided courage.  She provided confidence.  And she did it when those around her, when those she loved, could not provide those things for themselves…just as her father had done.
DID SHE FALTER?  DID SHE HIT SOME ROUGH PATCHES?
Of course.  Wouldn't you?  But when it came down to it she was able to find a balance between the harsh reality of the world she lived in and her belief that there was still light to be found in the darkness.  That was her gift to the the group.  This was her gift to Daryl:
HOPE IN THE HOPELESSNESS;
LIGHT IN THE DARKNESS;
BELIEF IN THE GOODNESS OF A MAN WHO DIDN'T BELIEVE IN THE GOODNESS OF HIMSELF;
LOVE FOR A HEART THAT FELT UNWORTHY OF RECEIVING IT.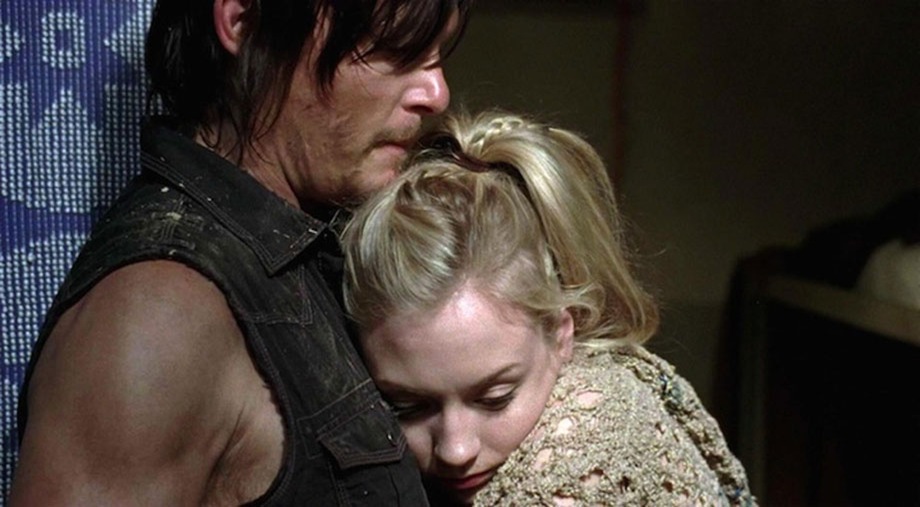 Daryl had just begun to see; Daryl had just begun to believe; Daryl had just begun to hope.  Daryl asked for a future with Beth, for happiness and a home with her as they sat at that kitchen table in the funeral home.  Beth succeeded in opening his heart and in return he offered her a home inside it.  And then she was ripped away, torn from him.
SO WHAT WILL DARYL DO WITH THAT GIFT NOW THAT HE NO LONGER HAS HER TO INSPIRE HIM?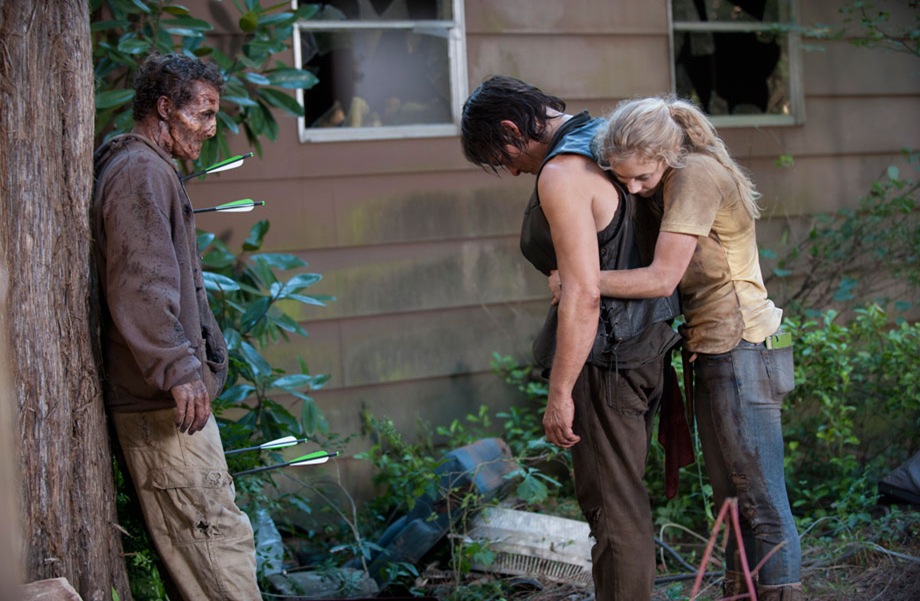 Daryl is at a fork in the road.  He has to choose which path he will travel.  This is a defining, if not THE defining moment in Daryl's life.
PATH ONE:
Daryl can return to his old ways.  He can rebuild the walls around him, fortify them with sadness, rage and emptiness and continue to fight not because he believes there is something better waiting for him but because he has only known fighting his entire life.  His childhood, his adulthood – his entire life has been nothing but a miserable sh*t storm where the best he can hope for is to merely survive for survival's sake.  This is the easy path; the path of least resistance because it is familiar, because it is habit.
HE CAN RESET TO DEFAULT OR…
PATH TWO:
Daryl can fight for Beth.  He can keep her alive in his heart by holding onto the gifts she gave him.  She can walk with him through this journey, encouraging him to be the man she knew he really was, the man he doubted truly existed – the good man, the kind man, the loving man, the brave man, the worthy man.
He can leave the broken and wounded boy he carried inside himself for so long behind and continue to be the man she knew him to be.  He can believe in light, in hope, in goodness, in love.  We saw a glimmer of this while he was searching for Beth when he tells Carol "…We ain't ashes…"  He can choose to believe that a better life is possible.  He can make that decision, that very, very hard decision and in doing so…
HE CAN HONOR BETH AND KEEP HER WITH HIM FOREVER.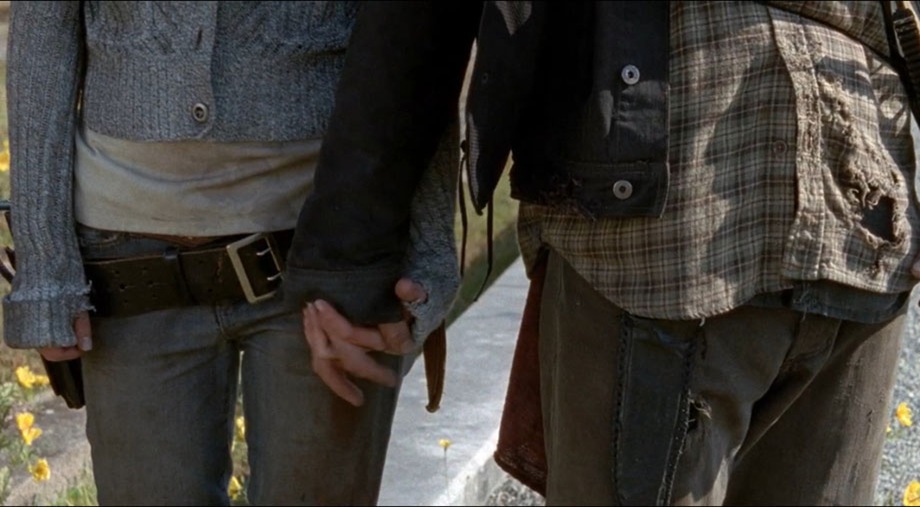 The same holds true for Maggie and the rest of the group.  She was the innocence and purity that had been lost to the world.  She was the spark inside them that was in danger of burning out.  The songs she sang…while many viewers mocked them as mere vehicles for actress Emily Kinney's music career, that was not their function.  They served a greater purpose to the group.
THE SONGS SERVED AS A COMFORT.  THEY SERVED AS A REMINDER.  THEY SERVED TO INSPIRE.
Think I'm full of sh*t?  How many times do you turn to music during moments of need, times of heartbreak, of celebration?  How many songs, the moment you hear them, take you back in time to a far off place in your memory as it reminds you of a first kiss or of someone you lost?
Her voice provided the group those very gifts.  If you still don't believe me, go read the lyrics to the Tom Waits song I mentioned earlier, 'Hold On.'  The song choice was intentional.  It's a song of escaping.  It's a song of remembering.  It's a song of hardships.  It's a song of hope.
SO WHAT CHOICE WILL THEY MAKE?  WILL THEY HONOR HER OR WILL HER DEATH CREATE A VACUUM THAT THEY CAN'T FILL?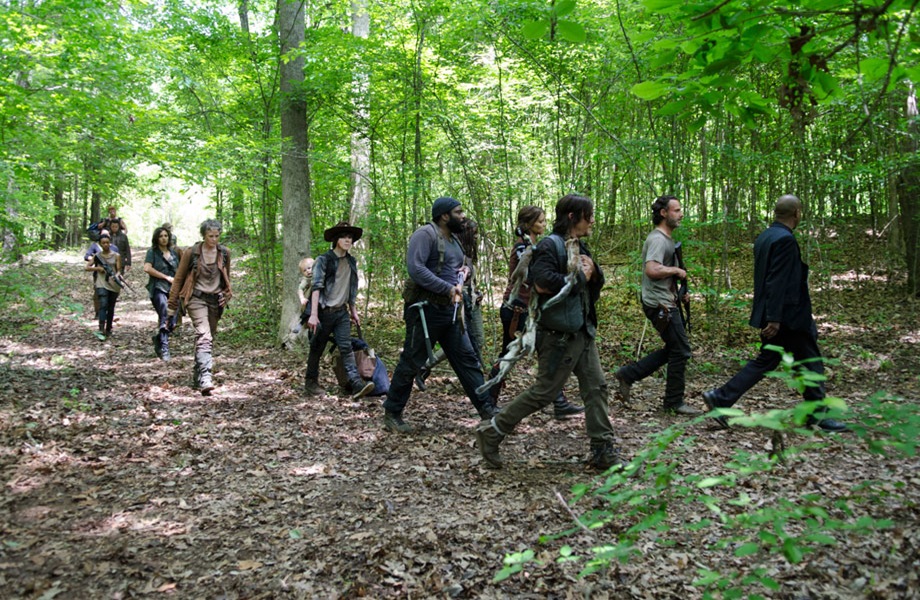 Personally I refuse to believe that Beth's death was merely to create more emotional turmoil for Daryl and to send him rocketing backwards, to make him devolve and collapse back into himself as a troubled soul, to lock him into the broken bad boy mold for the sole purpose of keeping his throngs* of female fans who suffer from I-Can-Fix-Him Syndrome (not an actual syndrome, but FFS it should be.  That belief causes more pain and heartache in relationships than there are stars in the sky) on the hook and tuning in.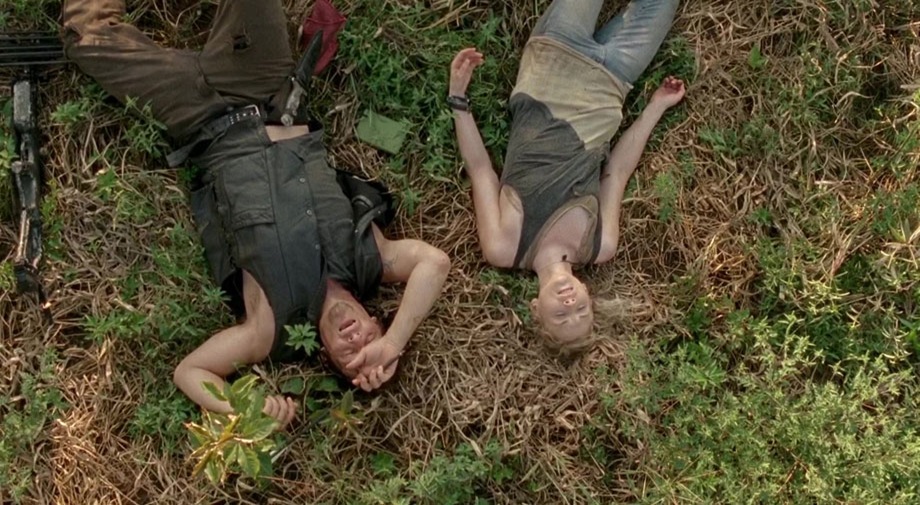 I also refuse to believe the purpose was to harden Maggie or cause the total annihilation of hope within the group and chip away at it from the inside out (as opposed to the outside in approach that has been used since the beginning of the series).
IF EITHER PROVES TO BE THE CASE IT WILL BE A GRIEVOUS ERROR ON THE PART OF THE WRITERS AND PRODUCERS.
It will make Daryl's character stagnant as his story, his evolution gets stuck in some hellish Groundhog Day-esque binary loop and it will destroy the dynamics of the group which is why the majority of us tune in.  We watch The Walking Dead for the characters, not the zombies.
But in a few short hours, these questions, my theories, will begin to be answered.  Soon we will know the true impact and scope of the Beth-ocalypse.
I have never been more disgusted and disappointed nor more curious for a Walking Dead premier before.  It is with equal parts resentment and love that I will be tuning in this Sunday.  (Oh!  I almost forgot!  I often live tweet during the show so if you guys want to join me, follow me on Twitter: @AlliWFrederick. Just remember West Coast people, I'm in the central time zone, and while I try to keep my tweets vague-ish there is the occasional spoiler, so if you don't want to know then don't look at my Twitter feed from 8 – 9 CST.)
NOW I WANT TO KNOW YOUR THOUGHTS AND OPINIONS.
What do you think will happen Sunday night?  How do you think Beth's death will change the group and Daryl?  Do you think there will be flashbacks to scenes between Daryl and Beth that will reveal the true nature of their feelings?  We know how fond the writers are of doing that and with the backlash they received from Beth's (as well as Bethyl's) fan base I wouldn't be surprised if they tried to provide us with more insight and closure.
WHAT DO YOU THINK?
Let's talk theories before the Sunday night premier.  Leave yours in the comments below.  I would absolutely love to hear them.  I know I'm not alone, so come on and share.
***
A QUICK REMINDER

:  I KNOW THIS IS A HOT BUTTON TOPIC FOR MANY FANS SO I JUST WANT TO REMIND EVERYONE TO PLAY NICE.  KISSES & CHAOS IS A PLACE OF LOVE AND RESPECT.  WHILE DIFFERING OPINIONS ARE ALWAYS WELCOME HERE, ALL CONVERSATIONS MUST BE CONDUCTED WITH RESPECT, MATURITY AND COURTESY TOWARDS YOUR FELLOW COMMENTERS.  TROLLING, AGGRESSIVE LANGUAGE, HATEFUL REMARKS, NAME CALLING AND GENERAL RUDENESS WILL NOT BE TOLERATED.  I WILL DELETE ANY COMMENTS THAT VIOLATE THE RULES OF MY HOUSE AND REPEAT OFFENDERS WILL BE PERMANENTLY BANNED FROM COMMENTING (TO MAKE MY LIFE EASIER SO I DON'T HAVE TO KEEP AN EYE ON PEOPLE WHO JUST WANT TO STIR THE POT).  YOU ARE ALWAYS 100% WELCOME TO DISAGREE AS LONG AS YOU DO SO IN A MANNER THAT IS THOUGHTFUL AND IN THE INTEREST OF FURTHERING THE CONVERSATION IN A HEALTHY AND PRODUCTIVE WAY. ***



Heartbroken Kisses & Zombie Chaos,
Alli Woods Frederick
ALL IMAGES COURTESY OF AMC © 2014
IMAGES  :: BY FRANK OCKENFELS AND GENE PAGE  ::
*I've never really thought about how weird that word sounds and feels in my mouth.  Throngs.  Say it with me.  "Throngs."  It's a weird word, right?  It's not just me, is it?  No.  It can't be.  Throngs.  Nope.  Definitely weird.