Confessions: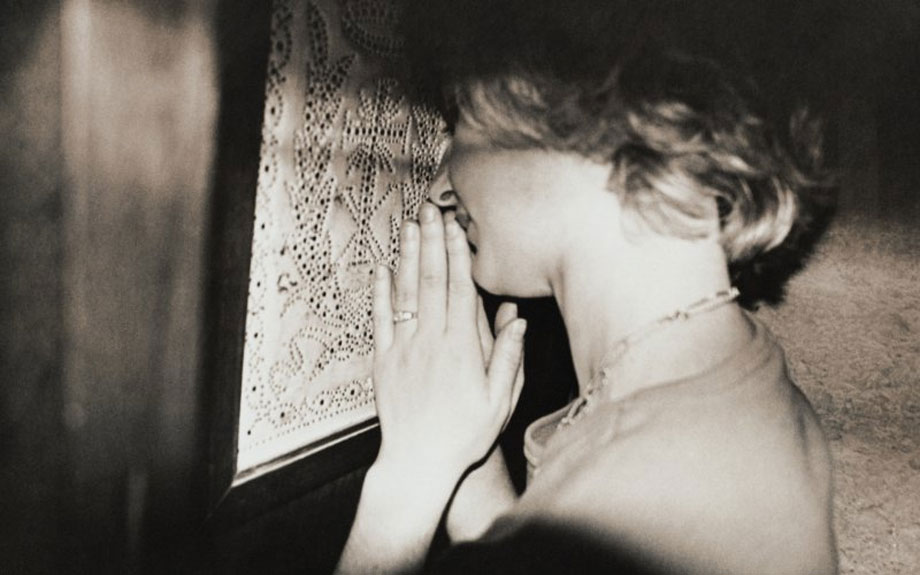 This past year I underwent a massive and I mean MASSIVE amount of painful change and upheaval in my life.  When I say massive upheaval what I really mean is excruciatingly painful, agonizing, rip-your-world-apart, never-be-the-same-again, catastrophic change…if you think I'm exaggerating then I will remind you I am a cancer survivor and that experience didn't come close to touching what I went through over the past year.  I don't know that I'm ready to share the details of what I went through…hell, I don't know if I'll ever want to talk about it here, but my point is that over the past 365 days I've been to hell and back.  The "and back" is the important part of that statement.
"If you are going through hell, keep going."
-Winston Churchill
For a long time I felt like I was a slave to my mood.
My mood was something apart from me…separate and beyond my control.  Be it good or bad, my mood was my mood and I was, for all intents and purposes, married to it for however long it lasted.  I had read all the books and heard all the testimonies of people who espoused such clever (and, let's be honest, somewhat obnoxious) beliefs as "turn that frown upside down" and "only you can make you happy."  I always thought…


"Well that's a load of shit. I'm in a bad mood because X,Y & Z happened.  I have every right to be pissed off and miserable about it for as long as I damn well please."


And you know what?  I was right.  I did have every right to be pissed off and miserable about it…but I didn't have to be.  I'm not sure when it happened, but one day it actually clicked. I GOT IT.  It really is a choice, happiness.  Awful things happen to all of us.  That's part of living.  Some days you're the bird and some days you're the worm.  Some things are beyond our control, but how we react isn't.  We are 100% responsible for our actions and REactions.  This epiphany prompted me to take action.  I began a daily newsletter called "Your Daily Dose" to help myself and others explore this new path and to help start each day with a dose of joy and love.  Your Daily Dose chugged along for a little while but it began to take up a lot of my time and I could no longer give it the love and attention it deserved so it fell by the wayside.


*Cut to 7 months later*
 As I sifted through the remnants of my shattered life I thought back to "Your Daily Dose."  It was "Your Daily Dose" that gave me the idea to write while I processed and healed from my ordeal.  And write I did.  I wrote about the things that mattered to me.  I wrote about the things that made me smile, the things that really counted, and how I could build on them.  The writing helped me focus on the good in life and on the days when no good could be found it helped me through the bad.  Either way it was healing.  When I felt I had said all I had to say I realized something:
This might help people.
This might encourage good in the world.
And that's when "52 Doses: A Prescription for 52 Weeks of Positivity, Love & Growth" was conceived.  It has taken a year to transform my ramblings into what they are now – a book that will help you pop emotional wheelies and make mental donuts in the parking lot…a book that makes the process of discovering your happiness fun & practical…a book that gives you time to process it all.
52 Doses is a collection of reflections, quotes and thoughts to help move you to a place of positivity, happiness & love.  I created cute and fun little play sheets for you too, because what fun is anything without the…well…FUN?
What others are saying about 52 Doses
AMANDA OAKS OF KIND OVER MATTER: "52 Doses is visually & verbally charged with both practical & profound ways to help you recognize & cure your habits of pessimism & bring your optimism back to health. It is chock full of artful messages, valuable intentions, sage wisdom, insightful questions & exercises to help you dance through your days in a lovingly upbeat & offbeat way. Fun, quirky & completely badass, 52 Doses is the perfect fix."

I want to share Week 14 (& its worksheet ) with you as a gift. The week's theme is self-forgiveness, which seems to be something we could all use some help with from time to time.  You can download Week 14 here.  It's short, simple and to the point.  I truly hope you enjoy it.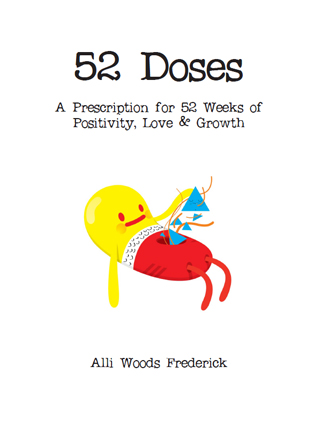 My life has come full circle.  That which I thought was destroyed has been rebuilt like the million dollar man – bigger, better and stronger than before.  It's better than ever and I am so very very eternally grateful for that fact.  My heart soars and sings when I think about it.  I feel truly blessed.  I have learned that the impossible is possible…and that's a helluva a thing.  I hope you recognize the blessings in your life today and everyday…and may you achieve the impossible.
So here it is. Just for you.
52 ideas.
52 chapters of love.
52 opportunities to consider something new.
Writing this provided me with a massive amount of healing and I hope it does the same for you. You deserve to be happy. You deserve to love yourself. You deserve to be loved. We all do. I sincerely hope 52 Doses will help you along your path.


Kisses & Chaos,
Alli Woods Frederick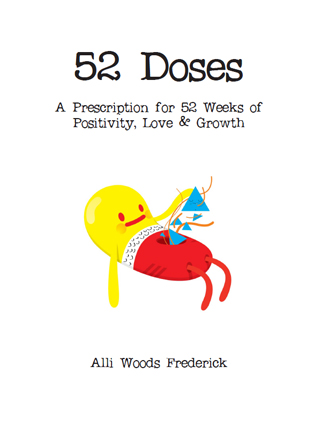 Ebook: $12
image:  Terry Dixon/Getty Images  |  HELP by Christopher Lee